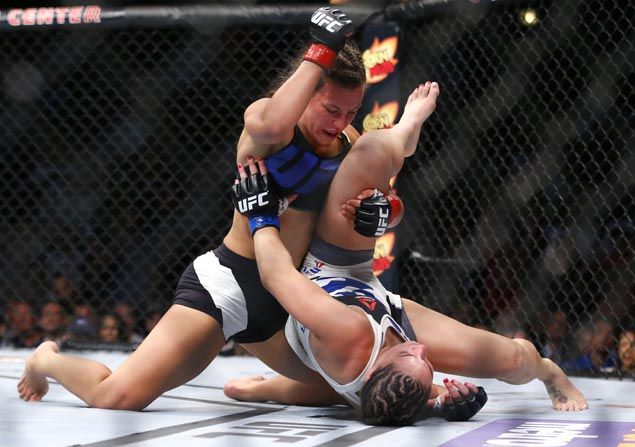 CHICAGO — Miesha Tate won in a unanimous decision over Jessica Eye in the bantamweight fight on Saturday in UFC Chicago.
Tate had her work cut out for her. Eye controlled the first round by landing a combination of punches. Late in the round, Tate landed a right hand knocking Eye to the ground and keeping her there until the end of the round. Tate controlled rounds two and three with multiple takedowns.
Barring a major upset next week, Tate will most likely face Ronda Rousey for a third time. Rousey is scheduled to fight Bethe Correia for the bantamweight championship at UFC 190 in Brazil on Aug. 1.
Tate is relishing another opportunity to fight Rousey.
"I'm always ready. I love punching Ronda in the face," Tate said.
Earlier in the evening, Tate was in the corner boyfriend Bryan Caraway for his bantamweight fight between Eddie Wineland. Caraway (20-9) set the tone for Tate with a three-round unanimous decision over Wineland (21-11-1).
"I was prepared to put it behind me either way," Tate said. "So once he won it was great, but I knew no matter what happens I was going to separate my fight from his fight, emotionally."
On the main card, Joe Lauzon (25-11) didn't waste any time taking care of former Pride champion Takanori Gomi (35-11) in a lightweight fight. Lauzon dropped Gomi to the ground and then dropped punches to the head of Gomi before referee Dean called it midway through the first round.
In the second fight on the main card, Edson Barboza (16-3) won in a unanimous decision over Paul Felder (10-1). Felder scored on multiple kicks to Felder's body. In the first round, Barboza's spinning right kick caught Felder in the groin area, sending him to his knees. The referee gave Felder a few moments to gather himself before resuming the fight.