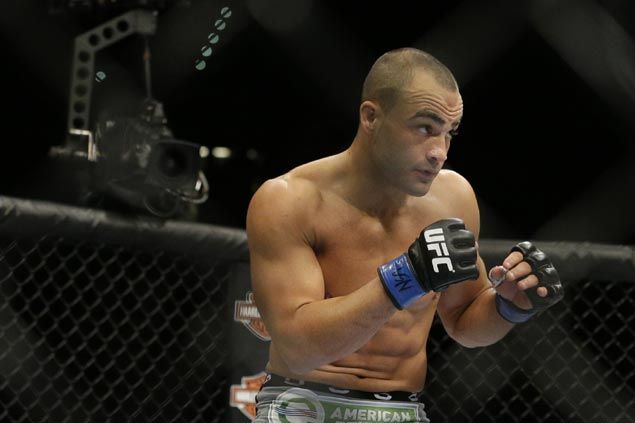 PHILADELPHIA — Eddie Alvarez got a kick out of seeing the landmarks in his Kensington neighborhood on the big screen in "Creed."
When the fictional fighter Adonis Creed spars at Front Street Boxing, it's the same gym where Alvarez got his start at 8 years old. Alvarez's padman, Ricardo McGill, had a cameo. The beat-up bars and hardscrabble streets all stirred emotions for one of the UFC's top lightweight contenders.
"Just seeing where I grew up, the streets, that was the coolest part of 'Creed' for me," he said.
Alvarez (26-4) wants to give Philly fight fans a real reason to cheer when he takes on Anthony Pettis (18-3) at UFC Fight Night 81 on Sunday (Monday, Manila time) in Boston.
Both fighters have plenty to prove in the co-main event of a stout card. Pettis, who made a splash after coming over from WEC, fights for the first time since he lost his lightweight title to Rafael dos Anjos at UFC 185. Alvarez lost his UFC debut to Donald Cerrone in the wake of a bitter split with Bellator and is fighting for just the third time in three years.
"I feel like it's taken me a little while just to get comfortable and enjoy a UFC fight," Alvarez said. "There's been so much built-up anxiety and I hate fighting like that. I think I'm settled down there and usually that's where I do my best. Third round is always my best, so I'll call my third fight my best."
Alvarez has his aim on a championship bout — with or without Conor McGregor in the way — and beating Pettis can only solidify his spot as a pay-per-view title contender.
"The only way I lose is if I make small, fundamental mistakes," he said. "I just don't see it."
Alvarez hoped a return to his roots could help him return to form.
The 31-year-old Alvarez ditched his training camp in Florida and moved back to Philadelphia in January 2015 to train year-round in the area. He boxes in Kensington, between the lower northeast section of Philadelphia and north Philadelphia, and has strength and conditioning training in New Jersey. Alvarez commutes more than he did when trained in Florida, but with a wife and four young children, he wanted to stay close to home.
With his family in the stands, Alvarez said he would love to fight for a championship and headline a card in Philadelphia. Philadelphia hasn't been the site a card since UFC 133 in August 2011, and the promotion's only other show was UFC 101 in August 2009. UFC is looking at a return trip and could run the Wells Fargo Center for a major show or even a Fight Night at Temple's Liacouras Center.
ADVERTISEMENT - CONTINUE READING BELOW
"Philadelphia is on the short list of cities we'd like to visit in 2016," UFC spokesman Dave Sholler said. "We don't have a date secured yet, but it's on the radar and we are hopeful to make our return soon."
Alvarez could even share the card again with Philadelphia native Paul Felder. "The Irish Dragon" fights Sunday on the Fight Pass prelim card against Daron Cruickshank. Felder, coming off two straight losses, spent the last few weeks training in Philadelphia.
Like Alvarez, Felder (10-2) credited his Philly upbringing for sparking a love of MMA.
"The karate school I trained at when I was a kid saved me from sitting out on those steps and drinking 40s," he said.
He mixed training with acting and earned roles in plays staged at three major Philadelphia theaters. Felder has become friends with Rob McElhenney, one of the stars and creators of "It's Always Sunny in Philadelphia." McElhenney, a noted MMA fan, lived for a week in a fight ranch with Felder and Cerrone in Albuquerque, New Mexico to write a screenplay in isolation.
Both fighters refrained from alcohol during interviews at a French cafe in Philadelphia. Felder even lugged his own gallon of water with him, sipped black coffee and declined to eat from a basket of mixed breads.
Playing the role of veteran mentor, Alvarez gave Felder a training tip that doesn't necessarily include alcohol abstinence.
"Some Saturdays during sparring, I have wine in my water bottle," Alvarez said. "That is incredible, by the way. If you even want to have a great Saturday, and your training has become monotonous, fill your bottle up halfway with wine, don't tell anyone and (go and) spar."
Felder bust out laughing.
"Five minutes into sparring, you'll be whacked," Alvarez said. "Once your blood's pumping and, right after in between rounds, your first squirt, 8 minutes in and you won't give a (darn) about anything. It's a fun, fun, Saturday."
Oh, Alvarez prefers an apothic wine. He tried the bottle once on friend Frankie Edgar and the UFC great nearly threw up.
Both fighters promised they'd cut loose and celebrate with a night — or two or three — on the town with victories.
Alvarez said the true happy hour could come with a decisive defeat against Pettis.
"I don't think it's if I win against Anthony, it's how I win that will determine a title shot or not," he said. "I have to do it in a manner that warrants a title shot. Come Sunday, it has to be furious."
ADVERTISEMENT - CONTINUE READING BELOW