IT's going to be a real team effort for Team Pilipinas in the 2017 ICU World Cheerleading Championships in Orlando, Florida.
National Cheerleading Championships (NCC) president Itos Valdes said the Philippines will be sending its biggest delegation yet of four teams to the world championships on April 24-30 at the Walt Disney World Resort.
For an event described as "the Olympics of cheerleading," the 90-strong Team Pilipinas will come from the top three teams in the major categories of the NCC's three-day national finals at the Mall of Asia Arena last week.
Valdes said three of the four teams are "all-star" level with selected members from the champions of the recently held 2017 national finals of the National Cheerleading Championships.
The All-Girls Elite and Cheer Pom teams will come from champions St. Paul (high school) and the University of Santo Tomas (college), second place Holy Spirit (HS) and De La Salle University (3rd, HS). Also rounding out the teams are cheerleaders from Assumption, Colegio de Sta. Rosa and College of St. Benilde.
For the COED cheer squad, past champions of different divisions that include FEU, NU, ADMU, DLSU, UST and Perpetual Help will have representatives.
"Our All Girls Elite team are mostly rookies so I'm expecting they finish in the top 4 or 5. Coed should finish in the top 5 or 6. International squads are gearing up as well, so I expect the competition to be really tight," Valdes said.
"The Cheer Pom team has a puncher's chance to podium this time, even if they are competing for the first time," added the NCC head.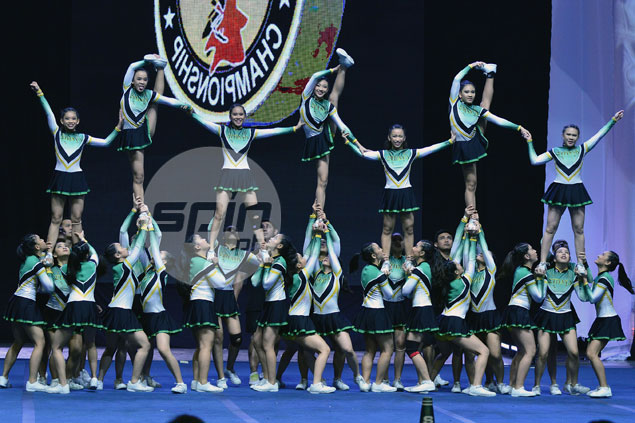 Encienda, the Poveda dance team headed by Chinky Asilom, will represent the country in the Cheer hiphop division, where Miriam College won the bronze medal in 2015.
Preparing the various teams are head coaches Randell San Gregorio (All Girls), Ramon Pagaduan (Pom), Ivy Tabares (assistant coach) and Coed coaches Arnold Villanueva and Lester Go.
For the annual event, Valdes expects the mood to be more festive since the IOC has declared cheerleading as a provisional sport, a discipline Valdes believes the Philippines has an advantage over its Asian neighbors.