ST. Paul College Pasig and St. Pedro Poveda College had a lot to cheer about in Day One of the 2016 National Cheerleading and Cheerdance Championships at the Mall of Asia Arena on Saturday.
Pasig-based St. Paul College toppled last year's champion, School of the Holy Spirit, with a solid program that offset their errors, scoring a total of 307 accumulated points against 302.5. The Terpsichors also made it four in a row by taking the All Girl Junior Jazz Dance plum while the Seniors took second place.
Poveda dished out impressive performances and was named national champions in the All Girl Cheer in the Juniors and the All Girl Senior Hiphop divisions during the whole-day event.
Miriam College won the All Girl Jazz in the Seniors Division in the 11th edition of the annual competition that has lured more that 70 teams from different schools in Luzon, Visayas and Mindanao.
In the college ranks, University of Santo Tomas turned in a flawless routine as the Salinggawi captured the All Girl College Cheer against sister schools De La Salle and College of St. Benilde while the National University Pep Squad showed fine form as its Gold and Blue Squads dominated the All Girl Group Stunts.
Continue reading below ↓
Recommended Videos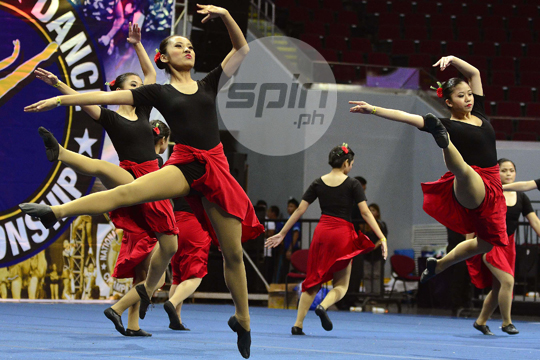 Lyceum Laguna's college dance team also showed it was a force to be reckoned with by placing first in the All Girl and Co Ed College Hiphop divisions.
La Salle Greenhills' Air Force repeated as champions in the Mixed Senior Hiphop.
NCC head Carlos "Itos" Valdes said Day One is considered "the glamour division" where the all girl squads of popular colleges and high schools go against each other. He said the NCC welcomed eight new schools this year.
"I'm surprised how teams level up every year. We have the usual suspects at the Top 3 which are Holy Spirit, Poveda and St. Paul. Poveda has upped their routines and you have Meriam coming up and Angelicum on its second year is getting better—they have a champion coach whose philosophy is to join as many tournaments as you can and that's how you get better and better," Valdes told SPIN. "the only way to get better is to play against the best."
Day Two continues on Sunday with mixed college cheerleading squads from the UAAP and NCAA taking part.