NATIONAL Cheerleading Championship president Itos Valdes likes to share an anecdote when describing what he considers one of his best achievements in the country's biggest cheerleading competition.
"On the day of the competition we start at 7 a.m., that's when the teams arrive to register and do their four-minute run-throughs on the competition floor," he recounted to Spin.ph in an interview.
Valdes said a team from an affluent school would arrive in an airconditioned bus accompanied by a retinue of uniformed security officers, make-up artists and utility staff in charge of carrying the bags of the students, whose shoes and uniforms would always be of the best quality.
Then the next participants would come in a rented jeep filled with the all-girls squad with only their coach who also doubles as their make-up artist and security. And all of them are sweating when they sign in.
"But they all know when it comes to the competition floor, all things being equal - and it's an achievement for us when we tell the teams - 'Look, this is the standard, when you compete and when you're better than the other team - you will win.'"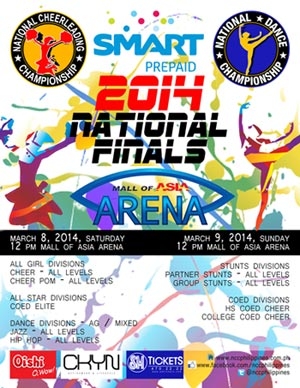 Continue reading below ↓
Recommended Videos
In the name of team spirit and school pride, the best cheerleading teams from all over the Philippines will try to "leap higher, dance better and cheer louder" in the 2014 National Finals of the National Cheerleading Championship on March 8 and 9 at the Mall of Asia Arena.
Considered as the country's biggest cheerleading competition, the NCC will be fielding 100 teams competing in six divisions, the largest so far in its nine-year history.
All eyes will be on 2013 National Finals champions National University after its Cheer Squadron followed up its first-place finish in last year's UAAP Cheerdance Competition by topping the NCC NCR qualifying (story here: http://www.spin.ph/sports/volleyball/news/national-university-tops-ncr-qualifying-for-national-cheerleading-championship).
Also making its NCC debut is the University of Santo Tomas Salinggawi, which placed fourth in the qualifying round. Other serious contenders are past champions Central Colleges of the Philippines and University of Perpetual Help. Other favorites are Ateneo de Manila University, University of the East and Taguig City University.
Aside from the Manila-based teams, regional champions are also expected to make their presence felt in the two-day event. Angeles University Foundation (Pampanga), Liceo de Cagayan University (North Mindanao), Notre Dame of Dadiangas University (South Mindanao) and Cavite State University (Southern Luzon) have all landed in the Top 10 rankings.
The high school division is considered a wide open race, with 2014 NCR champion Las Pinas East National High expected to challenge last year's national champions Lanao Del Norte National High School for the title.
This weekend is the culmination of six months of qualifying competitions around the country. March 8 will feature the All-Girls Divisions, the National Dance Championship and the All-Star Division while March 9 will have the Stunt and Coed Divisions.
The NCC is the Philippines' first and only cheerleading competition that employs American cheerleading rules and regulations. The annual competition, which started in 2006, is modeled after US competitive cheerleading competitions.
The NCC is the only Philippine cheerleading organization that has brought well known American names in cheerleading to judge its competitions, as well as its camps and trainings sessions.
For Season 9, a total of 165 teams took part in the NCC qualifiers. The NCC also conducted 30 camps with approximately 300 participants attending each camp.
"We're teaching unity. This is the only sport that has no superstar. Just because one guy is very strong can lift one girl that's just one guy, it has to be the whole team, you have to support each other this is a very unique sport," Valdes said.
Tickets are available through SM Tickets (www.SMtickets.com.ph)