TWENTY years ago, a Mike Tyson-Roy Jones Jr. showdown would have been intriguing and competitive. Unfortunately, one cannot turn back the hands of time and boxing fans will have to find ways to get excited with the idea of the two legendary fighters swapping mitts in an eight-round exhibition match on September 12 in California.
Perhaps it will not be a bad idea for the fighters to bring with them in the ring life-size, cardboard cutouts of their young selves. You know, just to remind fans how formidable they looked during their prime.
Tyson, the youngest boxer to win a version of the heavyweight crown and the most electrifying fighter in the 1980s, is now 54 years old and has been inactive for 15 years. Jones, easily the best fighter in the 1990s, is 51 and has not fought since 2018.
The year 2000 would have been the ideal and most realistic fight date for the two. Back then, Tyson was already getting up in years but still looked dangerous despite back-to-back losses to rival Evander Holyfield in 1996 and 1997. In January 1999, Tyson showed that his fists still packed a wallop with a one-punch knockout of Frans Botha. In January 2000, Tyson, ranked No. 1 by the WBO in the heavyweight class, devastated then British heavyweight kingpin Julius Francis in two rounds.
ADVERTISEMENT - CONTINUE READING BELOW ↓
Around the time Tyson beat up Francis, Jones was cleaning up the light heavyweight division (175 lbs.) with his uncanny combination of speed and power. So good was Jones at light heavyweight that many felt he was ripe for a jump to the heavyweight division. A fight with Tyson was within the realm of possibility at this point in time, but Jones played it safe and opted to continue defending his light heavyweight crown.
ADVERTISEMENT - CONTINUE READING BELOW ↓
Jones did not move up to the heavyweight class until March 2003, when he faced pedestrian heavyweight John Ruiz for the WBA heavyweight crown. Facing the least dangerous heavyweight champ at the time, Jones ran rings around Ruiz to win the title by unanimous decision. Jones' victory made him the first former middleweight (160 lbs.) champion to become heavyweight champion in 106 years, since Englishman Bob Fitzsimmons pulled the trick in 1897.
Jones' stay in the division, however, was over in a wink of an eye. He did not entertain any talk of a fight with the formidable Lennox Lewis and promptly returned to the light heavyweight division.
By 2003, Tyson was almost done as a fighter. He fought WBC-IBF champ Lewis in June 2002, his last high-profile fight, and was viciously knocked out in eight rounds. Tyson was knocked out in two of his next three fights, eventually retiring in June 2005 after being stopped in six rounds by Kevin McBride.
ADVERTISEMENT - CONTINUE READING BELOW ↓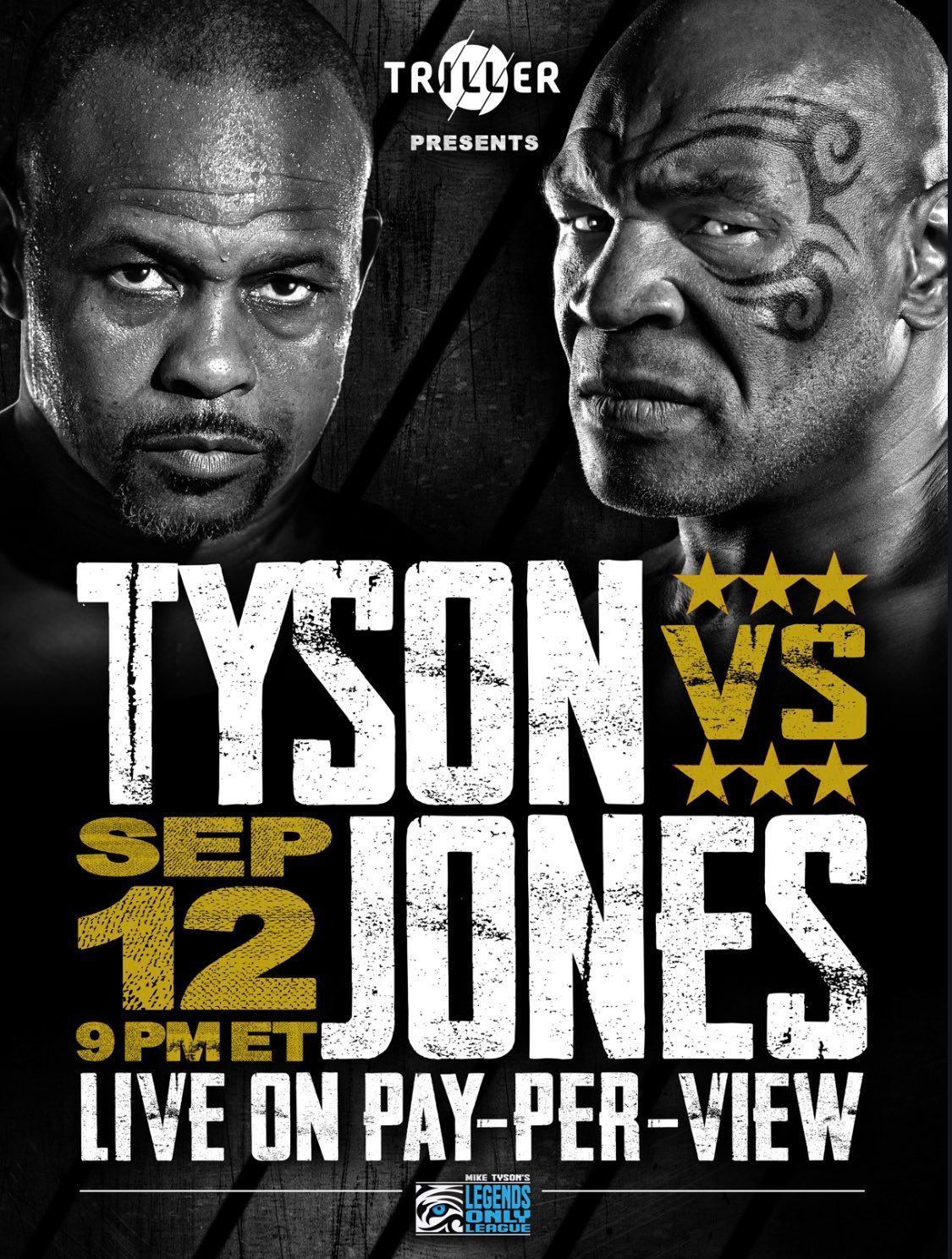 Toying with his weight, Jones was never the same after the Ruiz fight in 2003. He returned to the light heavyweight class and within a year was knocked out by Antonio Tarver. Jones lost three straight fights from 2004 to 2005 and basically took a nosedive into oblivion. The Ruiz fight turned out to be Jones' last great performance. He basically extended his career for the money and in so doing was humiliated on several occasions, getting knocked out cold by boxers who would have fallen down from a mere wink from a younger Jones. Jones (66-9, 47 knockouts) last fought in February 2018, winning a lackluster decision over Scott Sigmon.
ADVERTISEMENT - CONTINUE READING BELOW ↓
Predictably, the upcoming 'exhibition' bout between Jones and Tyson is receiving a lot of flak from boxing purists. Top trainer Teddy Atlas, who once handled Tyson, dismissed the match as nothing more than "practice." Atlas nonetheless concedes that the fight will sell because of the viral Tyson training video and the fact that, to this day, "a sucker is (still) born every minute."
Speaking of the viral Tyson training video, it is really the reason why the fight with Jones is happening. Tyson hitting the mitts with ferocity drew a lot of 'likes' on social media, but only a few noted that the mitts never bothered to hit back.
George Foreman, the author of the greatest comeback in boxing history, took down notes upon watching the Tyson video and offered a discerning opinion.
"Tyson only sees what he wants to see. And we are only looking at what he wants us to see. Maybe a few minutes later, when he's getting out of bed, he gets dizzy and falls on the floor," Foreman told TMZ.
ADVERTISEMENT - CONTINUE READING BELOW ↓
Foreman even noted that there was something wrong with the way Tyson unloaded his punches. "The right leg, when he was trying to throw that right hand, I noticed that the right leg didn't move with the right hand, it kind of stayed there. The left leg moved okay."
Regardless, Tyson-Jones is pushing through as scheduled because there is so much money to be made. One social media site has reportedly shelled out around $50 million for the broadcast rights. The card will be made up of 10 fights, including the 'circus' match between former NBA player and slam dunk champion Nate Robinson and YouTube star Jake Paul.
Though it is only an exhibition match (the result will not be included in the boxers' official records), Tyson has emerged as the solid pick to prevail. Not a few are even envisioning an early ending in the fight considering that Jones only made a cameo at heavyweight. At one point in the exhibition, many expect Tyson to turn on the heat and go for the jugular. As a safety precaution, the boxers are expected to wear bigger gloves, but it will not really make a difference once Tyson starts flailing away.
ADVERTISEMENT - CONTINUE READING BELOW ↓
Boxing fans will just have to take Tyson-Jones for what it is: a match between two faded legends who just want to scratch a boxing itch and, oh, make truckloads of money while doing it.