LAS VEGAS -- When Floyd Mayweather visited Chicago to promote his blockbuster fight against Saul "Canelo" Alvarez last June 2013, I remember watching him storm out of the famed Chicago Theater mouthing the following words into a wireless microphone.
Hard work! Dedication! Hard work. Dedication!
Soon after, a mesmerized audience, who lined up for hours to see boxing's biggest draw, was chanting along as the echos of their deafening roar bounced off the walls of the packed auditorium.
With the crowd held captive, Mayweather, ever the master showman, then lifted his shirt to expose the residue of hard work and dedication - a glorious six-pack and a pair of huge rope-like arms.
Four years later, now aged 40 and idle from boxing for 714 days, Floyd still looks Pretty damn good. And whether you're a Money Mayweather well-wisher or ill-wisher, you must be impressed.
In the weigh-in at the T-Mobile Arena for his mega fight versus MMA star Conor McGregor on Saturday night (Sunday morning, Manila time) at the same venue, Mayweather tipped the scales at 149.3 pounds, easily making the 154-pound junior middleweight limit.
Mayweather, who calls himself 'The Best Ever,' looked battle-ready, sculpted marvelously like Mount Rushmore.
A few days ago, social media sizzled with photos of Mayweather wolfing down a burger, triggering speculation that he isn't taking training seriously and that he got out of retirement for the sole purpose of feathering his nest.
The moral of the story here is to not always believe what you hear or see. Floyd, notorious for his partying ways, clearly knows how to separate work from play, which is why his body continues to have the built of a "Greek God" instead of a "Greek restaurant."
McGregor had been similarly doubted. Just 24 hours ago, word spread that the UFC's reigning two-division champ was still 10 pounds north of the weight limit, a situation in which his commitment was put into question.
But when he stood on the scales, the Irish with a viking's bluster, was just 153 pounds and ready to rumble.
"I am a professional. I make weight. It's sacrifice, it's dedication. It's focus, but I made it, and that's it," an obviously relieved McGregor said after belting out a savage scream that delighted his supporters, all of whom worship at the altar of his mixed martial greatness.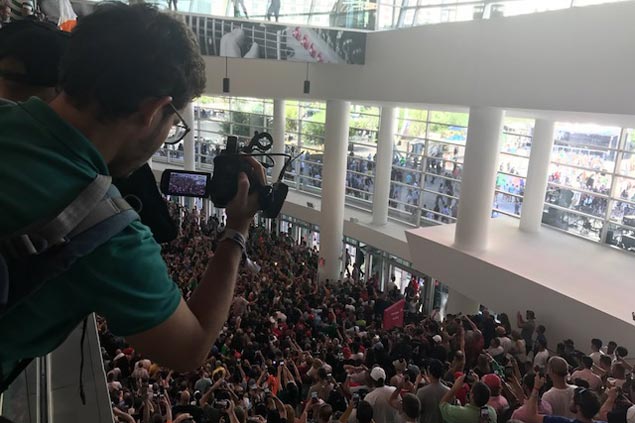 McGregor will balloon to about 171 pounds at fight night, a thought that did not inspire fear from the unusually stoic and contemplative Mayweather. "Weights don't win fights," he said.
The bookmakers, and some three unknown dudes who reportedly bet $1 million each on Floyd, agree. As the fight inches closer, Mayweather remains a solid minus 700 favorite while McGregor is a plus 500 underdog.
A SHOW FOR THE AGES. Except for the Lennox Lewis versus Mike Tyson brouhaha, where punches actually flew across the FedEx Forum stage, the weigh-ins that I have covered as a fight scribe are nothing more than routine functions that induce sleep.
In the case of Mayweather and McGregor, you wink at the risk of missing out something special. Their weigh-in was something else, a cross between a rock concert and a political rally.
While nobody has beaten Mayweather in 49 bouts, he has finally found his match as a showman. Oh boy, McGregor can fire up a crowd like a dictator, making them scream even with the slightest nod or a wave. And when he speaks, his faithful fans listen as though the commandments were just being handed down.
Because May and Mac can both sell ice in Alaska, they will each make a massive fortune.
According to the Nevada State Athletic Commission (NSAC), which revealed to the public the fighters' purses, Mayweather is guaranteed $100 million while McGregor is guaranteed at least $30 million.
When the upside for the projected five million pay-per-views buys roll in, both will require at least a dozen accountants to sort through the pile of cash.
And so here we are. Just hours to go before the opening bell.
The weights are in. The trash talking is done. Income is flooding and the arena will be sold out, grossing an amount that will rival, if not surpass, the $72 million ticket revenue for the Mayweather-Manny Pacquiao showdown.
The only thing left to do is for Mayweather and McGregor to give the paying public a knockout performance.
Continue reading below ↓
Recommended Videos