FORMER six-division world champion Oscar De La Hoya wants us to believe that he still has what it takes to beat some of the biggest names in the sport today. But fight fans only have to check out YouTube to readily see that he was already a fossil in his last pro fight in 2008 and that any comeback will only make sense if he had stumbled on the fountain of youth in the years that he has been away.
De La Hoya, 47, did sound serious when he confirmed reports that he is gearing up for a ring return. De La Hoya claims he felt the itch to lace on the gloves again after watching the training video of Mike Tyson that went viral. Tyson, 53, is planning to return by way of some exhibition bouts. De La Hoya wants to pick up the ante and figure in a real, sanctioned fight. De La Hoya is eyeing the middleweight or 160-pound division.
De La Hoya earned over $500 million in a pro career that stretched from 1992 until 2008. He was dubbed the 'Golden Boy' because he won an Olympic gold medal and delivered charm and harm in the ring. But truth be told, De La Hoya was also one of the most pampered fighters in the sport. Coming off a dramatic gold medal victory in the 1992 Barcelona Olympics, De La Hoya turned pro in the same year and was meticulously guided, if not spoon fed, in the punch-for-pay ranks.
Continue reading below ↓
Recommended Videos
After just 11 pro fights, De La Hoya was positioned to fight for his world title, the junior lightweight (130 lbs.) crown, in March 1994. But instead of taking on the big names in the division at the time (crafty veteran Azumah Nelson, a young WBC champ Jesse James Leija and the then dominant WBA champ Genaro Hernandez), De La Hoya's handlers had him settling for the then lightly-regarded WBO title and an equally low-risk foe in Denmark's Jimmi Bredahl. Predictably, De La Hoya picked Bredahl apart in 10 rounds.
In June 2004, De La Hoya won his sixth and last division title by again taking the safe route. De La Hoya captured the WBO middleweight (160 lbs.) crown by winning a disputed decision over Felix Sturm. De La Hoya's middleweight title victory was looked upon as a joke and, true enough, the Golden Boy was viciously knocked out three months later when he faced the genuine middleweight king Bernard Hopkins.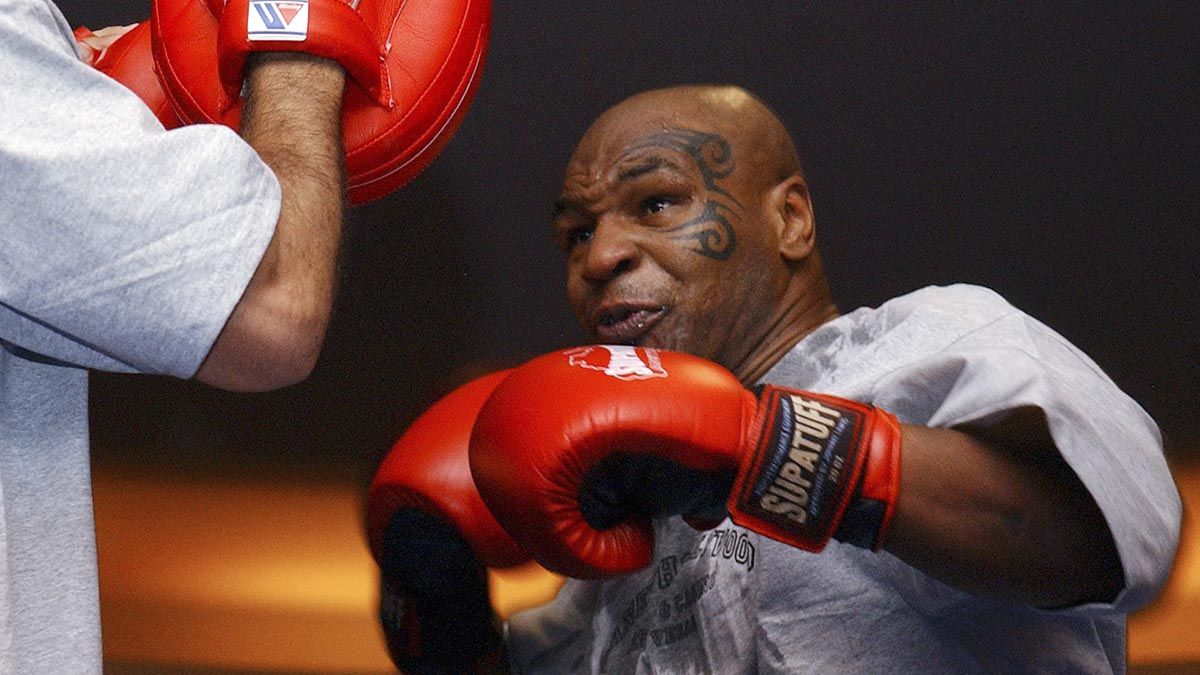 De La Hoya's resume shows victories over legends like Julio Cesar Chavez and Hector Camacho, but they were all over-the-hill when they faced the Golden Boy. In the three biggest fights of his career, a prime De La Hoya lost. In September 1999, De La Hoya faced fellow unbeaten Felix Trinidad in a welterweight unification battle. De La Hoya was leading but played it safe in the last few rounds. Trinidad rallied and won by majority decision. In June 2000, De La Hoya took on the unbeaten Shane Mosley for the WBC welterweight plum and again lost by decision. Seven years later, in May 2007, De La Hoya started out strong but ran out of steam and eventually lost on points to Floyd Mayweather Jr. in a battle for the WBC junior middleweight crown.
De La Hoya's last ring outing, a December 2008 fight against Manny Pacquiao, was all about the paycheck. Then already a natural junior middleweight (154 lbs.), De La Hoya agreed to go down to 145 pounds to face the streaking Pacquiao. De La Hoya remained a favorite in the fight, but when he looked gaunt in the weigh in the odds instantly shifted to Pacquiao's favor. In the fight proper, De La Hoya fought like a zombie and was battered by Pacquiao. De La Hoya, his face battered and swollen, quit on his stool at the end of the eighth round.
De La Hoya offered a litany of excuses for the Pacquiao debacle, including following a wrong training diet. But trainer Freddie Roach summed up De La Hoya's lost with a very simple explanation: "He couldn't pull the trigger anymore."
The last twelve years, life has been anything but serene for De La Hoya. In 2011, during a boxing promotion in Las Vegas, he confessed to having serious drinking problems. De La Hoya said he had his first drink when he was only 8 years old.
He claimed his battle with the booze got so serious it nearly drove him to kill himself.
De La Hoya admitted to a cocaine addiction, too. De La Hoya entered rehab and declared in 2014 that he had rededicated himself, but just three years later he was busted for driving while under the influence of alcohol.
De La Hoya, 39-6 with 30 knockouts, admitted he is still not in shape to go 12 rounds, but reiterated his intention to return to the ring. A few months ago, De La Hoya talked about how he would demolish mixed martial arts star Conor McGregor in two rounds. McGregor immediately challenged De La Hoya to a fight, but the latter clarified that he was just trying to drive home the point that McGregor does not belong in a boxing ring. These days, De La Hoya seems dead serious, adding that he will officially make an announcement once he sees how Tyson fares in his ring return.
De La Hoya figures to earn a few more millions should he return as he remains popular with the fans. The extra dough also figures to add to the coffers of Golden Boy Promotions, but in terms of competitiveness nobody is taking De La Hoya's possible return seriously. With the injuries he had suffered in the ring (wrist, shoulder, hand, back, to name a few) and the substance abuse issues that refuse to go away, De La Hoya's comeback may not even get off the blueprint stage. As far as boxing goes, De La Hoya had already driven into the sunset and it is difficult to imagine that he still has one more good day left in him.
Spin fans unite at Spin Viber Community! Join the growing community now! Complete the experience by subscribing in the Spin Chatbot and download the Spin Game Sticker Pack.