MANNY Pacquiao believes that if the Department of Tourism can shell out enough cash, in the vicinity of P3 billion, he can convince Mexican rival Juan Manuel Marquez to make a brief stop in the country for a fifth showdown. Pacquiao has singled out Marquez as the ideal adversary for what could be his swan song later this year, noting that the Mexican is never shy to slug it out.
There is, however, one little hiccup to Pacquiao's ambitious plan: It appears that no amount of money can convince Marquez to lock mitts with him. Marquez has been quoted as saying that he has no plans of fighting Pacquiao again, not even for the insane amount of $100 million. Marquez's lukewarm response comes across as befuddling considering that just about every fighter wants to be included in the Pacquiao sweepstakes.
[See Marquez says he won't fight Pacquiao in PH - even for $100M]
It is relatively easy to conclude that Marquez does not want a piece of Pacquiao because he is scared stiff of the Pacman. If the fifth fight takes place, Pacquiao is expected to come out with both guns blazing to avenge the most humiliating defeat of his illustrious career.
Continue reading below ↓
Recommended Videos
Oh, that humiliating defeat. The last time they met, in December 2012, Marquez caught a lunging Pacquiao with a cataclysmic counter right hand that knocked the Pacman cold in the sixth stanza. Marquez's chilling victory was his first in the epic four-right series; the first (2004) ended in a draw while the second (2008) and third (2011) were won by Pacquiao via razor-close decisions.
Marquez may have won only one fight in the rivalry, but his victory was the most concussive, err conclusive. Years from now, when fight fans discuss the historic rivalry, what will stand out is the fact that it was Marquez who scored a knockout. This is the primary reason why Marquez does not want a fifth encounter; for all intents and purposes, the stoppage win already closed the chapter on Pacquiao. Marquez wants the six-round holocaust he registered to be Pacquiao and the fans' lasting memory of the rivalry. The last thing Marquez wants is to give Pacquiao an opportunity to avenge the knockout loss.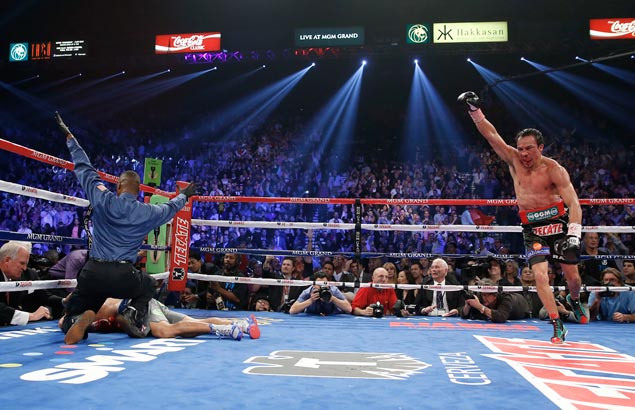 Recall, too, that after Marquez lost a disputed decision in the third meeting in November 2011, he literally chased Pacquiao all the way to the Philippines and guested in just about every radio program to convince Pacquiao to give him another shot. Marquez was that obsessed to fight Pacquiao. This obsession was finally satisfied when Marquez hammered Pacquiao into submission in their fourth meeting. The fourth encounter was never about money for Marquez; it was all about proving to all and sundry that he can beat Pacquiao. This is something Pacquiao arguably did not take into account when he started rolling out plans for the fifth fight; Marquez was never into the rivalry for the money; he was in it to prove to himself that he is the better fighter - a credo sadly lost in today's money-driven athletes.
And then there are the obvious reasons: Marquez is already 43 years old and has not fought since May 2014, when he outpointed Mike Alvarado. Marquez's problems with his right knee have also scuttled plans for a ring comeback. He injured the knee before the Alvarado fight and re-injured it late in 2014 when he resumed training. Marquez can do an Oscar De La Hoya, that is, fight Pacquiao despite knowing fully well that his skills have greatly diminished, but the prevailing observation is that Marquez is too proud a warrior to just take the money and run.
It remains to be seen if Marquez (56-7, 1 draw, 40 knockouts) will lace on the gloves again. Reports of Marquez fighting former middleweight champ Miguel Angel Cotto didn't fly owing to weight issues and the sheer absurdity of such a matchup.
Marquez's career is now in limbo. Like Pacquiao, Marquez also wants to go out in a blaze of glory. Then again, if Marquez decides to call it day, he will always have the memory of the knockout win over Pacquiao to cherish for the rest of his life.