LAS VEGAS — Sin City is a slice of heaven for a wretched writer such as myself, who needs a poisoned bottle to lubricate the vocabulary and allow the thoughts to flow freely like the liquor, beer and wine that gets overly served here on a 24-7 basis.
But since my arrival late Thursday night, I have been more sober than the Pope. After sitting four hours in a frigid airplane cabin, I stood 40 minutes in the curbside of a steaming McCarran airport waiting for a hotel shuttle. The abrupt temperature change gave me a cold and a headache, and it robbed me of the desire to drink.
Being alcohol-free, however, didn't make this assignment any less enjoyable. Covering GGG versus Canelo Alvarez, a middleweight brawl that is potentially the Fight of the Decade, requires no liquid enhancement. All you need is an appetite for blood and a deep passion for boxing, ingredients that Las Vegas is perpetually abundant with.
Friday began with the wailing sound of a reliable alarm clock. Peeling myself off the crumpled sheets took some willpower because sleep had been difficult, rudely interrupted by coughing spells and the constant need to moisten a parched throat.
Somehow, I staggered my way to the MGM hotel to claim my temporary credentials and camp out at the media center.
MEETING AN ICON. Weigh-ins are usually an afterthought in big cards, a rudimentary task where the fighters climb the scale to make sure they make their respective weight limits. Clearly, this is no ordinary card.
The Grand Garden Arena, where the weigh-in was held free for the public, turned like a fiesta in Guadalajara. A mariachi band played, Mexican flags were everywhere, and the chants of Ca-ne-lo! Ca-ne-lo! echoed throughout the building. The Tecate round girls were there, too, barely clothed and leaking with sex appeal. They dropped more jaws than a dentist.
I interviewed Pacquiao nemesis Juan Manuel Marquez and spoke with WBC president Mauricio Sulaiman. But the highlight was meeting Julio Cesar Chavez Sr., a murderous puncher I adored growing up. Now 55 and toiling as a TV analyst for ESPN Deportes, the former six-time world champion who went undefeated for 13 years, looked great. Apparently, legends age more gracefully than mere mortals.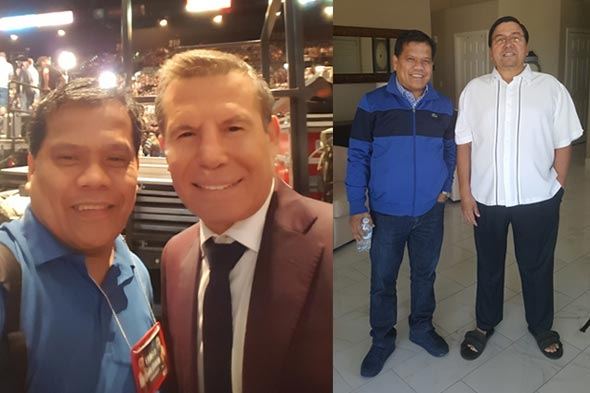 The author with Julio Cesar Chavez Jr and Dr. Carlos "Chic" Ezpeleta
HANGING OUT WITH THE EZPELETAS. After a long day's work, I took an Uber to nearby Henderson, Nevada to meet up with Dr. Carlos "Chic" Ezpeleta, a physician by profession and boxing nut by recreation.
A longtime family friend, I've known Dr. Chic, his wife Lynn, and their kids — Chuck and Chaveli — since I was a kid.
Instead of paying an outrageous US$500-plus for a Friday night stay at a hotel down the Strip, Dr. Chic offered me a spare bedroom in his house, a massive place equipped with a pool, a basketball half-court, and state-of-the-art furnishings that would make Ikea seem lame.
After catching up and reminiscing, we headed for dinner at Ohjah, a culinary paradise masquerading as a noodle house. With the cold still stuffing my nose, I resisted the temptation of Sapporo beer and drank tea like a thirsty monk. Soon after, I joyfully demolished a bowl of Tonkutso Ramen.
A pair of pain relief tabs and some lathering with Vick's vapor rub helped make for a restful night. So I woke up this morning with enough energy to take on either GGG or Canelo. I skipped breakfast like I've stubbornly done for years, and just before the media center opened at noon, Chuck drove me to the MGM hotel, his Mercedes sedan churning the miles with effortless efficiency.
At 3 p.m. Vegas time, I was at T-Mobile Arena. And in a few short hours I will bear witness to what could well be one of the greatest fights in the brutally colorful history of boxing.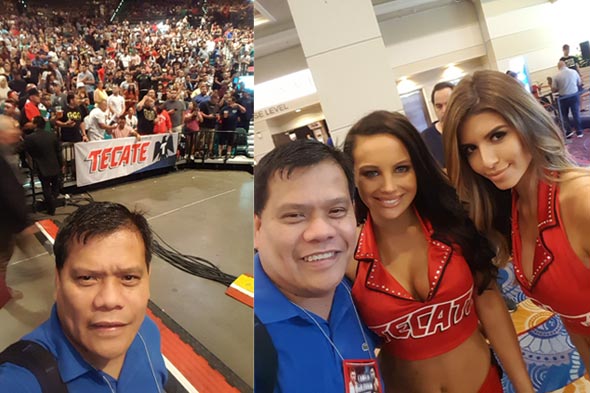 The author at the weigh-in where he met Julio Cesar Chavez Jr and rubbed elbows with the Tecate round girls.