LOS ANGELES – If Floyd Mayweather's mouthpiece cost him US$25,000, Manny Pacquiao is getting his free of charge.
Doctor Ed De La Vega will again provide Pacquiao's customized mouthguard for free as his way of honoring the country's most beloved sports hero for the honor he has brought to the Philippines.
A longtime US resident, De La Vega has been the official provider of mouth piece for Pacquiao in all of his fights since his first meeting with Mexican Eric Morales over a decade ago.
"I never charged money for his mouth guard. It is my little way of showing respect for what he has done for our country. For all the honor he has done for our country, I think he deserves a free mouth guard," said De La Vega on Wednesday (Thursday Manila time) at the parking lot of the Wild Card gym here.
Aside from Pacquiao, De La Vega also made a mouthpiece for former world champions Nonito Donaire Jr. and Julio Cesar Chavez Jr.
The Filipino dentist also took a dig at Mayweather's much-ballyhooed mouthguard trimmed with diamond, gold and dollars made by Manhattan-based dentist Lee Gause.
"Mayweather's mouthguard, from my perception, is something that is really used for a show, really used for a hype," he said. "The function of a mouthguard is to protect the athlete, not to show off that you have a lot of money."
Continue reading below ↓
Recommended Videos
For Pacquiao's mouthguard for the Mayweather fight, the Filipino dentist said he again used the four colors of the Filipino flag, which is red, white, blue, and yellow.
But instead of separating the colors in different layers, De La Vega explained he decided to just mix them up.
"By mixing them, it show there's a lot of mixture of people who are supporting him, the blacks, whites, Filipinos, Latinos. That's what I tried to project when I mixed the colors in his mouthguard," he said.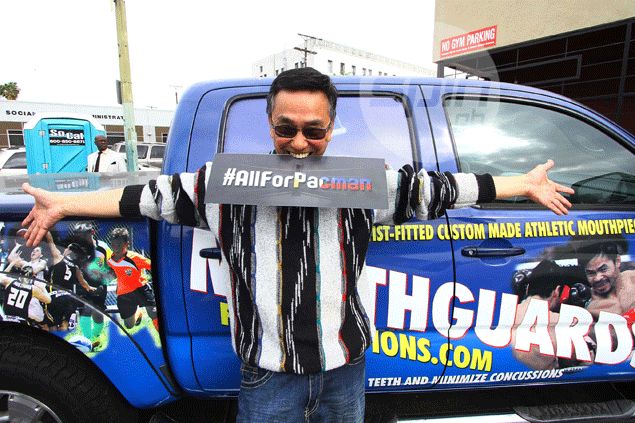 And unlike the extravagant Mayweather mouthpiece, the one for Pacquiao is just a simple one.
"It's a regular, simple mouthguard that is really meant to protect him (Pacquiao)," said the veteran dentist.
If he's going to send the bill to Pacquiao, De La Vega said the mouthguard normally cost around $500.
"But I never charged Manny eversince. I get tickets," he said with a laugh, although with the high cost of tickets for the Mayweather bout, he doubts if he'll ever get one.
"But not this time," added De La Vega.
ALSO SEE:
Renewed power in Pacquiao punch stuns Roach: 'Hardest shot in my life'
Two cerebral palsy patients wait seven hours for Pacquiao outside gym. Then this
View VIDEO: Apl.de.ap perks up Pacquiao training with impromptu rap session
Floyd Sr. on Pacquiao: 'We're not fighting Cassius Clay; we're fighting an ordinary guy'
Judge who made costly error in Pacquiao-Marquez I back for Mayweather fight
Learn more about Mayweather strengths, weaknesses. See ALL ANGLES podcast
The champ meets his match. View VIDEO
Even in terms of 'Class A' imitations, Pacquiao shirts still a class unto itself
Price tag of ads on Manny Pacquiao's trunks nothing short of staggering
Pacquiao had a classic retort after Mayweather called him 'reckless'
Basketball talk a welcome distraction for Pacman after hard day at gym
Wondering why Pacquiao never got a shot at Olympic gold medal?
Advertising spots for megafight to cost an arm and a leg. Find out how much
Two Filipino fighters came close to fighting Mayweather. Find out what happened
Mayweather camp better not do anything foolish: 'Boy Kapre' will climb ring with Pacquiao