IT looks like we are bound to experience a Manny Pacquiao overdose this year.
For the record, Pacquiao initially announced his 'retirement' in April 2016 after he hammered out a decision win over American Timothy Bradley Jr. As expected, Pacquiao's retirement turned out to be as brief as a Taylor Swift relationship and he returned to the ring just seven months later to outpoint Jessie Vargas.
Promoter Bob Arum is once again using the 'retirement' angle this year to drum up interest in Pacquiao. But after whetting the appetite of fight fans with names like Terence Crawford, Arum ended up serving them with breadcrumbs by settling for Australian Jeff Horn. The fight is expected to take place in Australia on April 22 with Pacquiao defending his World Boxing Organization (WBO) welterweight (147 lbs.) hardware.
Arum had originally envisioned just two more fights for Pacquiao this year, and not a few piped in that it should be against marquee names like Crawford and Floyd Mayweather Jr. Now Arum is talking about a Pacquiao farewell "world tour" that covers four fights within the year in places like London, Russia, and, hopefully, the Philippines. Talk about milking the cash cow down to the last drop. The last time Pacquiao logged in four fights in one year was 2001, when he was still fighting as a super bantamweight (122 lbs.). It is difficult to imagine Pacquiao being hyper-active in the ring considering his age (38) and various extra-curricular activities (legislator, preacher, etc.). But reading Arum's card, the idea is to insert one or two pedestrian foes that Pacquiao can demolish with just one Darth Vader-like stare.
Continue reading below ↓
Recommended Videos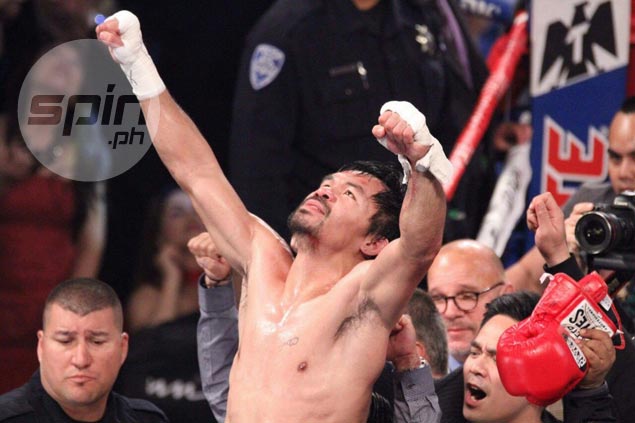 Apparently, it all starts with the Horn fight. Nicknamed "The Hornet," the 28-year-old Horn totes a record of 16-0, 1 (draw) with 11 knockouts. He grew up in Brisbane, Queensland, Australia and took up boxing to avoid being picked on by bullies in his neighborhood. Horn represented Australia in the 2012 London Olympics but went only as far as the quarterfinals. He turned pro in March 2013 and has since won his share of regional belts.
Style-wise, Horn is tailor-made for Pacquiao. He does not own a killer punch but throws a lot of combinations coming in, particularly the right straight to the head and the short left hook to the rib combo. Horn offers little head movement and his penchant to bully his way forward makes him the ideal target for Pacquiao's booming left straight.
Moreover, except for former world junior welterweight champion Randall Bailey, who was already way past his prime when Horn stopped him in seven rounds in April 2016, Horn has not fought anyone with a decent pulse. There are also questions about Horn's chin as a 41-year-old Randall managed to floor him in the third round of their scuffle. In his most recent outing, a sixth round stoppage win over South African Ali Funeka in December, Horn also locked lips with the canvas in the third round.
As things stand, Horn is being looked upon as a pawn in Pacquiao's grand farewell tour. If things go according to plan, Arum plans to have Pacquiao back in the ring for a fight in Russia. Thereafter, Pacquiao may head to London and take on former champ Kell Brook before finally ending his career with a showdown with Crawford late in the year. It remains to be seen if Pacquiao will able to keep up with such a schedule; for now the only thing certain in the minds of many is that Horn will find it difficult to keep up with the Pacman once they square off in April.