MACAU – Not until he hears it straight from the horse's mouth will one of Manny Pacquiao's top advisers feel certain about a fight with Mayweather finally happening by next year.
Michael Koncz admitted he's not keeping his hopes up yet for a Pacquiao-Mayweather showdown in 2015 since Floyd Jr. himself has been quiet about the match that boxing fans have long dreamed to see.
"Until I hear something from Floyd, I don't hold high hopes," said Koncz with a straight face in the midst of reports about the revived talks for the megafight.
"Until I hear something from Floyd's mouth, I'm not too optimistic."
[See Pacquiao steps up call for megafight, says it has to happen even if Mayweather is 'afraid of me']
Koncz of course, knows where he's coming from.
He once served as Pacquiao's point man in negotiations with the Mayweather camp and at one point even had direct talks with the unbeaten champion from Grand Rapid, Michigan.
Koncz disclosed he was actually surprised with the way Mayweather conducted himself in the few times that he talked and met him personally, far from the confident and outspoken persona he exuded.
"I was pleasantly surprised with his demeanor and professionalism. He was by himself. He's a great guy when he's by himself," Konz recalled of his meeting with the 37-year-old Mayweather.
Continue reading below ↓
Recommended Videos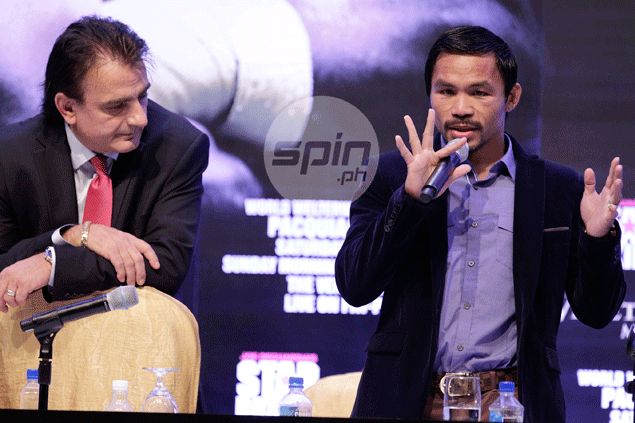 [See Arum says all nonsense should be left out of table for megafight to happen]
But amid raised expectations over the rekindled talks, Koncz noted that Floyd Jr. has been silent about the matter.
"This time around, I haven't heard anything from Floyd himself other than there's one statement attributed to him saying Pacquiao has a fight on November 23, let's see what happens after that," said Pacquiao's Canadian adviser.
Pacquiao easily won that fight by disposing American challenger Chris Algieri in 12 lopsided rounds to retain his world welterweight title, clearing the way for a fight with Mayweather.
But the ball is now on Mayweather's court.