WHEN Filipino ring icon Manny Pacquiao enters the ring on Sunday (Manila time) to defend his 'regular' World Boxing Association (WBA) welterweight championship against American Adrien Broner, it will mark the Pacman's 70th appearance in the ring. It's hard to believe that it has been 24 years since Pacquiao made his maiden appearance – a four-round unanimous decision over Edmund Ignacio in January 1995.
In the list of Filipino world champions, Pacquiao's 70-fight total is matched by former world junior flyweight champ Rolando Pascua, who logged in the same number fights in a career that stretched from 1986 to 1999. Pacquiao's total is surpassed by Pancho Villa (flyweight: 85 total fights), Small Montana (flyweight: 114), Little Dado (flyweight: 87), Ceferino Garcia (middleweight: 164), Dado Marino (flyweight: 75), Gabriel Elorde (junior lightweight: 118), Rolando Navarrete (junior lightweight: 74) and Manny Melchor (minimumweight: 79). As the numbers reveal, former middleweight king Ceferino Garcia tops the list with a 164-fight haul.
Between them, Pacquiao and Broner had won 12 division world titles. Pacquiao, of course, holds the all-time record with eight division crowns, having won titles in the flyweight (112 lbs.), junior featherweight (122 lbs.), featherweight (126 lbs.), junior lightweight (130 lbs.), lightweight (135 lbs.), junior welterweight (140 lbs.), welterweight (147 lbs.) and junior middleweight (154 lbs.). Pacquiao is the only former flyweight (112 lbs.) champion in boxing history to win a title as heavy as the junior middleweight (154 lbs.) crown. For the record, Frenchman Georges Carpentier fought in just about every division in boxing, from flyweight to heavyweight, but he only won the light heavyweight crown in 1922.
Continue reading below ↓
Recommended Videos
Broner, a native of Cincinnati, Ohio, won world titles in the junior lightweight (130 lbs.), lightweight (135 lbs.), welterweight (147 lbs.) and junior welterweight (140 lbs.). Broner is one of only 18 boxers in history to win at least four division crowns. Broner won his fourth crown in 2016 at age 26, making him the second youngest boxer to accomplish the feat. The youngest four-division champ? Oscar De La Hoya, who was only 24 when he nailed his fourth plum.
In terms of championship experience, Pacquiao easily tops Broner. Pacquiao has a record of 17-4, 2 draws and 9 knockouts in fights where a world title is at stake. In Philippine boxing history, Pacquiao's 17 wins in world title fights is matched only by current WBO junior bantamweight (115 lbs.) king Donnie Nietes, who is a 17-0 with 2 draws in title fights.
Broner is 7-1 with six knockouts in world title fights. Broner won four division titles, but he lost three on the weighing scale. The only boxer to actually beat Broner in a world title fight is slugger Marcos Maidana, who bamboozled Broner in December 2013 for the WBA welterweight crown.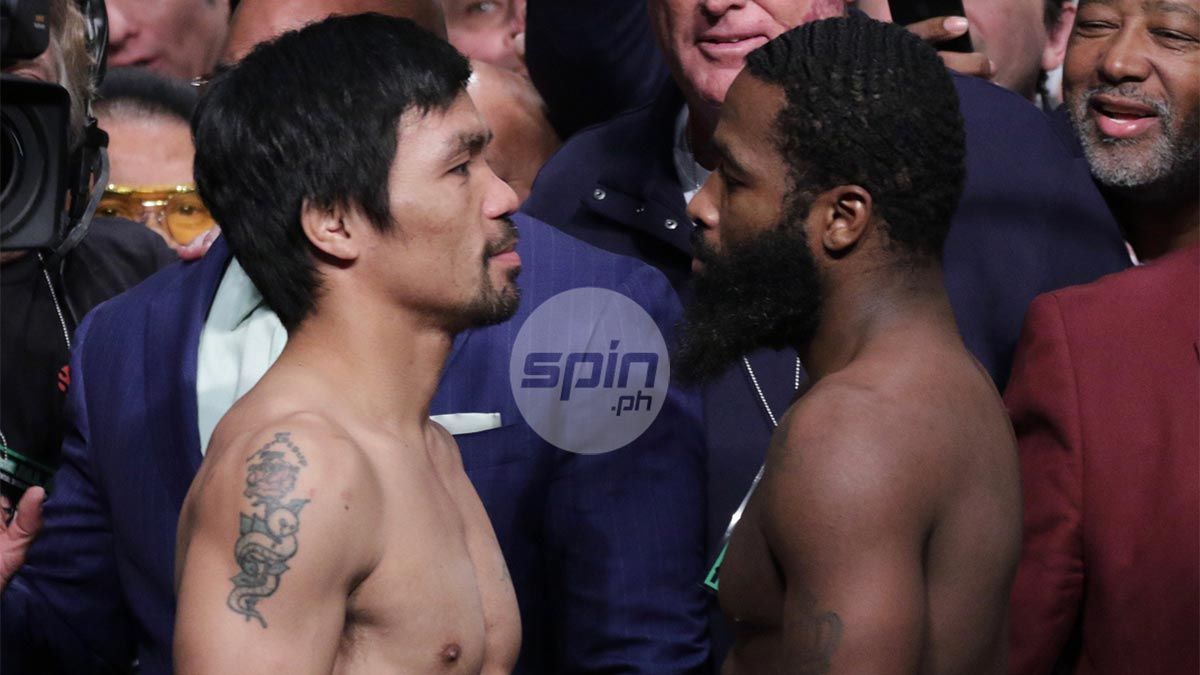 Broner has very limited experience in the welterweight division (147 lbs.). He won the WBA welterweight title in June 2013 with a decision over Paulie Malignaggi but lost it to Maidana six months later. After the loss to Maidana, Broner returned to the junior welterweight (140 lbs.) division. Broner did not return to the welterweight division until February 2017, when he weighed in at 146 lbs. and went the distance against the limited Adrian Granados. Apparently feeling uncomfortable at welterweight, Broner returned to the junior welterweight again for his July 2017 showdown with American Mikey Garcia. Broner lost on points to Garcia.
In stark contrast, Pacquiao has been a fixture in the welterweight class since November 2009, when he stopped Puerto Rican Miguel Cotto for the WBO welterweight tiara. Pacquiao has since defeated notable welterweights like Shane Mosley, Timothy Bradley Jr. and Joshua Clottey. It is interesting to note, though, that Pacquiao's third career knockout loss came in the welterweight division, after he was knocked cold by Mexican Juan Manuel Marquez in December 2012.
Pacquiao has suffered three knockout losses in his entire career. He had been knocked out by Rustico Torrecampo (1996), Medgoen 3k Battery (1999) and Marquez (2012). Broner has never been knocked out in 37 total fights, although he was down in rounds 2 and 8 against Maidana in 2013.
Broner has a twin brother named Andre who briefly boxed as an amateur. Pacquiao has a brother, Bobby Pacquiao, who fought as a pro from 1997 until 2008. The only highlight of Bobby Pacquiao's career was a fourth-round knockout win over former world champ Kevin Kelley in 2006.
Pacquiao is guaranteed to bankroll $10 million for the Broner fight, but is clearly eyeing a whole lot more in a possible rematch with Floyd Mayweather Jr. Broner, who had been paid around $1 million in his recent fights, will receive $2.5 million for the Pacquiao fight. With such a huge payday, perhaps Broner will have enough dough to purchase a new vehicle and attend all the hearings of his pending cases in court. Broner was arrested last December for failing to show up in court in a driving-related charge.