FLOYD Mayweather Jr. was still in his diapers and likely sucking his thumb when his father Floyd Sr. used him as a human shield against a male relative of his mother. The two were both involved in drugs and a botched transaction had the relative chasing Floyd Sr. with a gun.
A shot was fired, but good thing the aim was bad and the bullet grazed Floyd Sr.'s leg and not the heart of the baby. Arguably, this was the only time in his life where Mayweather Jr. had no control over the situation. From the moment he laced on the gloves and pursued a career in pro boxing, Mayweather Jr. was in complete control of his destiny.
Mayweather Jr. adopted a defensive style that was heavily chastised for being boring; but he steadfastly refused to trade punches at close range and took pride in calling himself "Pretty Boy" for winning most of his fights with nary a scratch on his face.
Mayweather Jr. turned pro in 1996 and won his first world title within two years when he knocked out Genaro Hernandez for the junior lightweight (130 lbs.) crown. After a lengthy reign, he moved up to lightweight (135 lbs.) in 2002 and won his second division crown with a hard-earned decision over Mexican slugger Jose Luis Castillo. Around this time, Mayweather Jr. was emerging as a major star, but his father Floyd Sr. wanted to control his career. Cable network giant Home Box Office (HBO) offered a multi-year deal worth around $12 million and Floyd Sr. wanted his son to immediately sign on the dotted line. But the younger Mayweather instead rejected the offer, calling the money "slave wages." When Floyd Sr. insisted on the deal, he ended up being fired as manager-trainer. Of course, Mayweather Jr. told the media that his old man simply left the team.
Continue reading below ↓
Recommended Videos
"He (Floyd Jr.) is a megalomaniac who has to have his own way in everything," promoter Bob Arum once said of Mayweather Jr. "The only voice he listens to is his own."
Arum, who runs Top Rank Promotions, is another personality who tried to control Mayweather Jr., but to no avail. Arum promoted some of Mayweather Jr.'s fights until sometime in 2007, when the fighter accused the former of shortchanging him in several fights. Mayweather Jr. claimed in his lawsuit that he was owed some 80 percent of the revenue for his fights with Arturo Gatti in 2005 and Zab Judah in 2006. Mayweather Jr. stood his ground and refused to be intimidated by Arum's reputation in the fight business.
Mayweather Jr. became a three-division champion in 2005 when he stopped Gatti in six rounds for the junior welterweight (140 lbs.) title. In May 2007, Mayweather outboxed Oscar De La Hoya in 12 rounds to win the junior middleweight (154 lbs.) crown. At that time, it was the richest fight in boxing history, generating over $130 million in pay-per-view revenues. Mayweather Jr. took home $35 million in the fight, but it was "Golden Boy" De La Hoya who got the lion's share with $52 million. A rematch was supposed to take place in September 2008, but Mayweather Jr. demanded a bigger slice of the pie. Mayweather Jr. threatened to walk away from the sport if his demands were not meant, and everybody thought he was just bluffing until he actually announced his retirement later that year.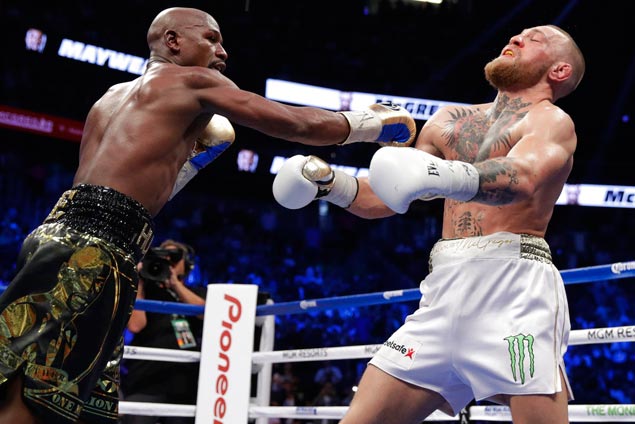 Mayweather Jr. returned in September 2009 and soundly defeated Mexican Juan Manuel Marquez. Marquez gave in to the demands of Mayweather Jr. to bulk up for the fight and as a consequence he looked sluggish in dropping a lopsided verdict.
After years of dodging Pacquiao, Mayweather Jr. finally agreed to a mega bout in May 2015, but strictly under his terms. He took home the bulk of the purse and was so influential he was able to skirt the rules and receive intravenous injections to address his pre-bout rehydration needs.
Mayweather Jr. retired a second time in late 2015, after he defeated a grossly overmatched Andre Berto. He left with a record of 49-0, in a tie with former heavyweight champion Rocky Marciano for the best unbeaten record in boxing. Then again, Mayweather Jr.'s ego is just too big for him to share a mark with Marciano and so he returned to the sport to zero in on the 50-0 mark.
True to form, Mayweather Jr. dictated the terms in his bid to surpass Marciano's mark. He picked mixed martial arts star Conor McGregor, a two-division champion in the Ultimate Fighting Championship (UFC), albeit with a 0-0 record in pro boxing. Mayweather Jr. promised McGregor a huge purse in exchange for fighting under boxing rules. Except for the 'Superman' punch, McGregor was barred from using any MMA move. De La Hoya and the rest of the big names in boxing called the fight a farce, but Mayweather Jr. was the least bothered. When ticket sales initially faltered amid perception of a gross mismatch, Mayweather Jr. amended his rules and allowed McGregor to use smaller, 8-ounce gloves instead of the 10-ounce mitts mandated by the rules. Reports then circulated that Mayweather Jr. was 'knocked out' in a sparring session and that he looked old in the gym. Clearly, it was nothing but an attempt to strike a semblance of competition in the fight with McGregor.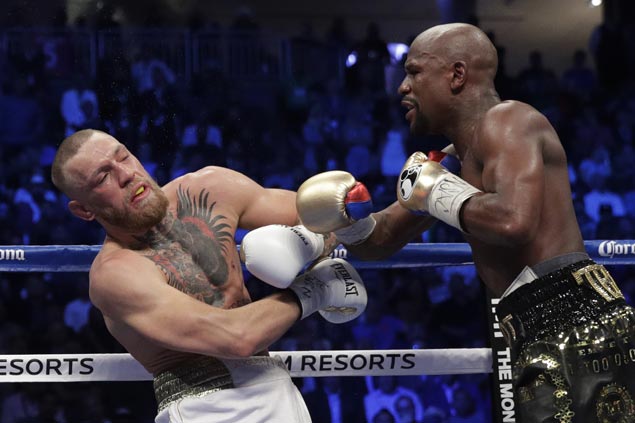 Mayweather Jr. raised his record to 50-0 with 27 knockouts with a walk-in-the-park 10th round stoppage of McGregor. The crowd roared when McGregor landed a stiff left uppercut in the first round, but Mayweather Jr. knew all he had to do was stick to the plan. Mayweather Jr. adhered to a defensive approach in the early rounds with an end in view draining McGregor's fuel tank. By the 6th round, Mayweather Jr. started throwing his trademark counterpunches and, just as he had envisioned, McGregor was panting for breath by the ninth round. In the 10th, McGregor was nothing more than arms and legs and a torrent of punches from Mayweather Jr. forced the referee to stop the contest.
Mayweather Jr. is leaving the sport healthy and superbly wealthy. He is expected to rake in a whopping $300 million for the McGregor fight, boosting his career earnings to over $ billion, a plateau he shares only with golfer Tiger and basketball demigod Michael Jordan.
The fighter Arum once called a "control freak" is retiring as the wealthiest and one of the most successful fighters in pro boxing simply because he refused to be controlled and insisted on fighting on his own terms. Whether it's good or bad is a subject of perpetual debate, but one Mayweather Jr. will leave to his critics as he rests on his laurels.