MACAU - Roy Jones, Jr. has a lot of things in common with Manny Pacquiao, from their great boxing careers to their love for basketball, acting and singing.
And he insists there is nothing wrong with the 'Pacman' playing hoops on the side.
"Of course, that's a good idea. Basketball keeps you in shape, keeps your mind working, such a good sport especially if you play in front of an audience," the former four-division world champion told Spin.ph.
Asked if basketball is not putting Pacquiao's boxing career in great danger, the 45-year-old said risks are part of daily life.
"You can't be worried about dangers, you got dangers in everyday life. What happens, happens. You can't worry about basketball," he said.
Jones was widely criticized at the peak of his career in 1996 when he played basketball the same day he staked his IBF super middleweight title defense against Eric Lucas, who eventually quit on his stool in the 11th round.
"He can go out jogging and when somebody's drunk driving, hit him. Well anything can happen," added Jones. "Danger is everywhere we go."
Jones said he is planning to bring in a team to play pick-up games with the Sarangani congressman's own team soon.
Continue reading below ↓
Recommended Videos
"I told him I will bring my team from Vegas, if he wants me to. I love interacting with people like Manny, because he is such a great sport and person for the sport of boxing," he said.
"And he said, yes. So we're gonna set it up. So I will look forward to him to bring us over there (to the Philippines) and we play," said Jones, whose team includes his two sons.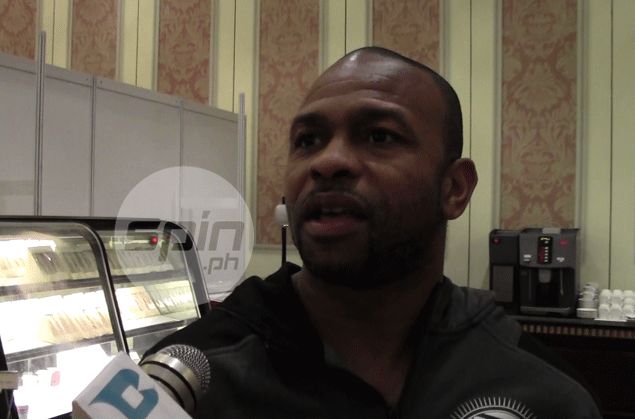 Asked if he has already seen Pacquiao play, Jones said: "I haven't seen him play, but I heard he's good."
As for Pacquiao's boxing career, the boxer behind the rap song 'Who Wants to Get Knocked Out?' said the eight-division world champion can go as long as he wants to.
"Me and Manny have a high-octane tempo, as long as we stay in shape, we contain that tempo," he said.
Asked about the long-overdue Pacquiao fight with Floyd Mayweather Jr, Jones claims he too is waiting for it to happen.
"We all waiting on that. That still can happen too as long as Manny keeps busy. It will eventually (happen)," he said.
Here's a video of the full interview with Roy Jones, Jr.: