COME May 2 (May 3, Manila time), the most valuable advertising space in the world will be Manny Pacquiao's trunks as he climbs the ring to fight Floyd Mayweather in Las Vegas.
Small wonder then that companies are lining up for the chance to put their logos on the Filipino boxing hero's shorts, which can be seen by millions of people who will view the long-awaited fight on May 2 - and in perpetuity each time boxing fans see highlight videos of the 'Fight of the Century.'
But this we've learned: the price tag for ads on Pacman's trunks is nothing short of eye-popping.
According to Team Pacquiao insiders, a simple six-inch-by-four patch on Pacquiao's fight trunks for the Mayweather fight will cost a company no less than US$300,000 or a cool P13.2 million - a couple of millions more than the price tag during the champ's last fight against Chris Algieri.
Smaller logos placed in the front part of the trunks are priced at US$150,000 (P6.6 million) while a logo of the same size at the back part will cost $100,000, or around P4.4 million.
Staggering?
The price tag on the trunks ads can certainly make your pants - err jaw - drop, but that doesn't mean there are no takers. Quite the contrary, as Pacquiao handlers claim they are in talks with several companies, all eager to snap up the chance to have their logos seen each time the cameras zoom in on Pacquiao.
Continue reading below ↓
Recommended Videos
Actually, the evolution of Pacquiao's fighting trunks is a - pardon the pun - rags-to-riches story in itself, its value soaring to unseen heights as the Filipino fighter rose to prominence.
Up until the first fight with Mexican legend Marco Antonio Barrera in 2003, you can see that Pacquiao's trunks was bare except for the emblem of No Fear, which was then his official outfitter.
See the picture: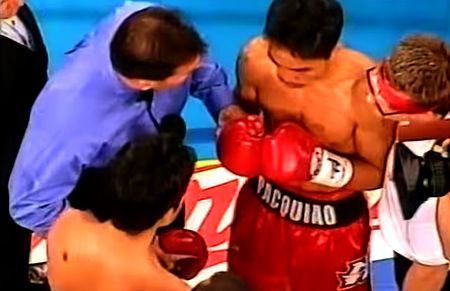 Pacquiao's shorts, however, has since become one of the most sought-after ad spaces in the world of sports, thanks to the General Santos City native's phenomenal success.
So much so that by the time he fought Algieri in Macau late last year, logos of at least six major companies were emblazoned prominently in the trunks together with the Nike swoosh (By the way, Pacquiao's endorsement contract with Nike, which started in 2006, is reportedly worth P100 million for two years.)
Among the companies which have regularly placed logos on Pacquiao's trunks were car battery brand Motolite, Cafe Puro, Ricoa, LBC and Air Asia, which even threw in two chartered flights for Pacquiao's contingent during the Algieri fight in Macau.
Popular phone application Viber joined the fun starting in the Algieri fight.
See picture: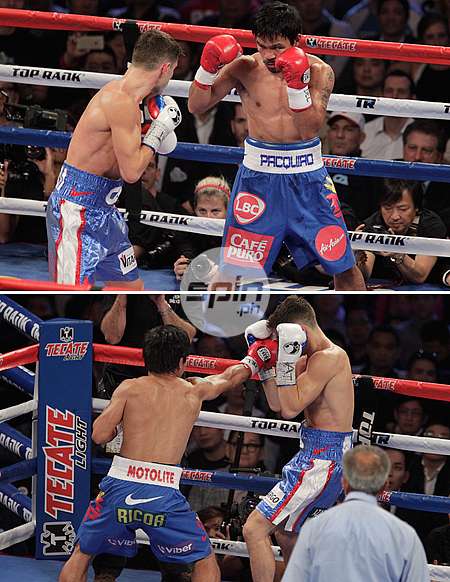 According to insiders, each of those companies paid P10 million each to have their logos on Pacquiao's trunks - a sum that, as eye-popping as it already was, is bound to climb a few millions more for the Mayweather fight.
So as you can see, the ad revenue from Pacquiao's trunks alone is enough to make us ordinary mortals sitting pretty for the rest of our lives. But that's still a drop in the bucket when viewed vis a vis the total earnings the 'Pacman' and Mayweather are bound to get at the end of this megafight.
ALSO SEE:
Pacquiao had a classic retort after Mayweather called him 'reckless'
Basketball talk a welcome distraction for Pacman after hard day at gym
Wondering why Pacquiao never got a shot at Olympic gold medal?
Advertising spots for megafight to cost an arm and a leg. Find out how much
Two Filipino fighters came close to fighting Mayweather. Find out what happened
Mayweather camp better not do anything foolish: 'Boy Kapre' will climb ring with Pacquiao