MANNY Pacquiao has vowed to find ways to help mend the long-standing rift between WBO superbantamweight champion Nonito Donaire, Jr. and his dad.
Spin.ph witnessed how surprised Pacquiao was to see the elder Donaire during the 13th Annual Gabriel 'Flash' Elorde Banquet of Champions Awards' Night at the Sofitel Hotel in Manila on Monday night.
"Oh, andito ka pala? Bakit hindi ikaw ang kumuha nung award ni Jun?" Pacquiao told Nonito Sr., referring to the Boxer of the Year honor bestowed on his world champion son.
Dodong, as he is called by people close to him, answered in the Visayan language: "Ayaw na lang, dili ko otorisado. Basin i-demanda unya ko, (Never mind. I am not authorized. I might get sued)."
"Ha? Hindi pa ba kayo bati?" Pacquiao asked.
The boxing icon then promised to reach out to Donaire as he he gave his insights on a well-publicized falling-out between the once-inseparable father-and-son team that started in 2008.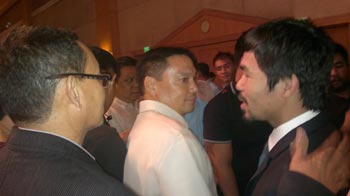 "Makig-istorya ko niya. Dapat mag-amigo na mu. Ayaw na dugaya inyong away. Ang magulang ay magulang. (I will talk to him. I will ask that you two reconcile. The quarrel has taken far too long. A parent will always be a parent)," said Pacquiao.
"Ang mama gali nako isog pero dili na lang nako patulan, magulang is magulang. (My mom is grumpy, but I don't take it against her. I respect her because she's my parent)," added the former pound-for-pound king.
Afterwards, Nonito Sr. said he, too, wishes to reconcile with his son.
The 54-year old former amateur boxer also guaranteed that he never intends to re-join his son's team if and when they mend fences.
"Huwag silang matakot na makikialam ako sa career ni Jun. Sa akin lang, gusto ko na ring magkabati kami, para matapos na," said the elder Donaire. "Kaya maganda yung pina-plano ni Manny para lang magka-ayos na. Matapos na.
"Basta't ang akin lang, siya dapat ang lumapit. Kasi pangit naman na akong magulang pa ang bababa sa kanya."
Donaire Sr. has been in the Philippines since March 18 for a vacation, and he went to the Elorde Awards Night to accompany one of the boxers under his wings who received an award.
Donaire Sr. was the 'Filipino Flash's' trainer early in his career. He was in his corner when he knocked out Vic Darchinyan in stunning fashion in 2008 and two more title fights against Luis Maldonado and Moruti Mthalane before parting ways.