CHICAGO -- While covering the Big 3 basketball championship at the MGM Grand Garden Arena in Las Vegas last week, I ran into the most influential man in combat sports, who has such star power he can turn a church bingo into an all-out mayhem.
He is the the president of Ultimate Fighting Championship, a company that was bought for only $2 million in 2000 and was sold for $4 billion in July, thanks to his astute business acumen and marketing genius.
He showed up at the Big 3 event with only his famous face and ravishing charm. It was more than enough to induce mass hysteria as fans elbowed each other for his attention and made a beeline for a photo-op.
His name is Dana White.
When he finally escaped the mob of worshipers. White was led out by his bodyguard out via the tunnel near Studio 6. That's where I cornered him for a short interview. Fortunately, the affable White spoke to SPIN.ph and didn't tap out.
After the perfunctory "hi" and "hello" I asked White if he would be interested in staging a fight between Conor McGregor and Manny Pacquiao, the Filipino icon who not long ago was boxing's biggest box office draw and the pound-for-pound king.
Continue reading below ↓
Recommended Videos
"Let's get through Mayweather first," White replied. "Let's see," he added, leaving the door ajar for yet another super fight involving an established boxer with Hall-of-Fame credentials and McGregor, MMA's biggest star.
Since there are multiple sides to any story, I sought Pacquiao's side and asked the tireless SPIN.ph contributor Balt Chavez to call the Philippine senator for his opinion. Reached via cell phone late last night, the Pambansang Kamao (National Fist) spoke to Chavez.
"I don't know anything about that idea," Manny said in the vernacular. But if that opportunity presents itself, the eight-division champ is open to the idea of boxing McGregor, saying "walang problema 'yan."
Pacquiao, who correctly picked Mayweather to outclass McGregor, told Chavez that if he ever gets a crack at McGregor it will be at "150 pounds."
The former eight-division champ has a contractual obligation to fight WBO welterweight champion Jeff Horn of Australia sometime next year, but when that rematch is done and a possible encounter with McGregor reaches the negotiating table, Pacquiao revealed that he will be a "free agent" by then, emancipated from the promotional cord that has for years tied him to Bob Arum and the iconic Top Rank, Inc.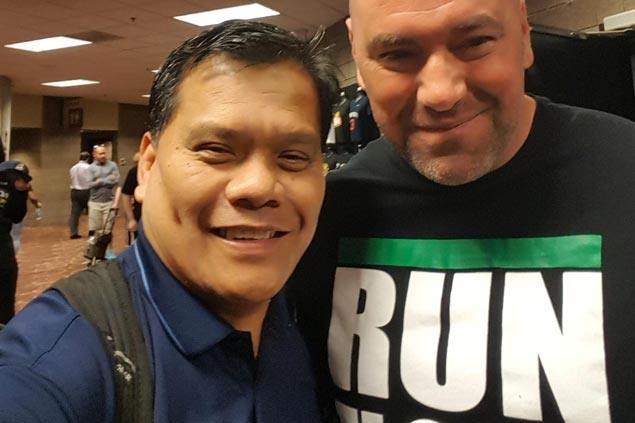 ON DEMAND. Days after Mayweather scored a 10th round stoppage, ESPN ran a story that included a survey asking fans which cross-over fight they want to see next. Mayweather-McGregor 2 topped the list but Pacquiao versus McGregor came in at a solid second.
A duel between the brash, colorful Irishman against the mild-mannered, bible-quoting Filipino legislator will be a study in contrast, one that is salaciously beautiful to sell. It can be marketed as good versus evil or the righteous against the wicked.
Either way, the cash registers will be ringing.
McGregor, with his rabid UFC following, many of whom flew from Ireland and turned Las Vegas into little Dublin last weekend, will definitely drive up pay-per-view sales.
Even with his career at a twilight, Pacquiao, stil has some PPV mojo in his belt. Think of the millions of Filipinos in the US who will snag that fight out of loyalty and gratitude for the man who had brought pride an honor to the Philippines for over a decade.
EXPERT OPINION. Ed Tolentino is a lawyer by profession, boxing expert by recreation. Ed deftly writes about the sweet science on multiple platforms, including SPIN.ph, and he is the main reason why ABS-CBN's boxing broadcasts pack a mean punch.
I asked Ed about the prospect of a Pacquiao-Mayweather fight. As expected, he did not disappoint.
"It will sell, but far from the income Mayweather vs McGregor realized. The novelty is gone, but the interest will be on the exciting, aggressive style Pacquiao offers. McGregor earned a whole lot in the Mayweather fight and it will be easier to convince him to give boxing one more try because it remains a gold mine."
And like only he can, Ed swung a devilish left hook that nearly topped me off my swivel chair.
"Pacquiao, of course, will really make it interesting if he sways Conor to use some MMA moves. That will make the fight really sell," Tolentino said.
If I were not a sports reporter and would have to pay for a ticket to watch Pacquiao and McGregor maul each other, I will gladly do it.
In a heartbeat.