A bulked-up Juan Manuel Marquez is hardly the concern of both Manny Pacquiao and Freddie Roach with almost three weeks left before the fourth – and hopefully final – encounter between the Filipino boxing superstar and his old Mexican rival at the MGM Grand Garden in Las Vegas.
During the conference call hosted by Top Rank Promotions featuring the two Hall of Fame boxing figures, Pacquiao and Roach played down reports emanating from the Marquez camp that the 39-year-old counter-puncher now flaunts a body ripped with muscles, indicating his serious physical preparation for the scheduled Dec. 8 fight (Dec 9, Manila time).
Pacquiao was quick to point out that aggressiveness and speed would be the key in winning the 12-round bout.
"Our strategy for this fight is to be more aggressive," said the Filipino southpaw. "Develop strength more and focus on speed. I am not worried about his strength."
The match is set at the welterweight limit at which Pacquiao had been fighting since 2009.
Marquez had also fought as a welterweight previously – including his third meeting with Pacquiao a year ago – but is actually more of a light-welterweight.
During a media day the Mexican camp hosted Wednesday (Thursday in Manila) at the Gimnasio Romanza dela Ciudad in Mexico City, Marquez showed for everyone to see how big he has gotten in the course of his training camp as reported by Rich Mazon of Philboxing.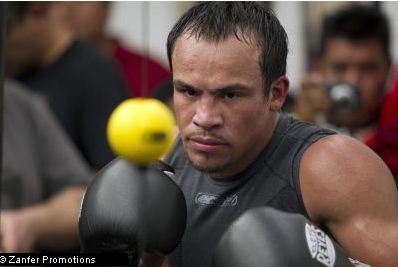 "We have prepared a lot. We know Pacman and know how to fight him and how to beat him," said Marquez, 39, as quoted in an e-mail sent by his promotional company.
"Now we are going for the victory, for the knockout and finally show who is the best," added the Mexican.
Then again, Roach said he's not bothered even if Marquez looks in perfect physical condition with those bulging muscles.
"I don't think it is a factor," he admitted.
"I don't think muscle-men have a better chin. If anything, I think if you put a lot of muscle he will be a little slower than he used to be and we are going to take advantage of that," said Roach.