THE rosin of war had ebbed, but to this very minute boxing fans around the world are still debating on the unanimous decision win Australian Jeff Horn received from the judges to dethrone Manny Pacquiao as World Boxing Organization (WBO) welterweight champion. The fight, dubbed the "Battle of Brisbane," produced a decision that was, in the opinion of many, worthy of disdain.
Pacquiao was the overwhelming pick to prevail over Horn, a ring neophyte whose style was supposed to be tailor-made for the PacMan. The pre-fight scouting report was that Horn offered a defense that contained as many holes as the ozone layer; that his tendency to recklessly lunge in would make him a sucker for Pacquiao's lightning-fast left. The observations were actually on point, but the surprise came with Pacquiao's failure to capitalize on such flaws.
Pacquiao looked every inch the 38-year-old, two-decade, 68-fight veteran of the punch-for-pay business. He was flatfooted for majority of the fight and didn't have the offensive rhythm he used to display. Pacquiao kept a safe distance from Horn and waited for the Aussie to come in, but his timing was off and he couldn't find Horn's jaw even it was just within spitting distance of him.
There was no bounce in Pacquiao's legs and gone were the punches in bunches that in the past left foes wondering if they had just fought an octopus sporting boxing gloves. To aggravate the situation, the 29-year-old Horn showed no fear as he attacked Pacquiao from the outset. Horn knew that he was not fighting the proud son of Gen-San but only the Old-Gen version, and this became clear as he bullied his way into Pacquiao's weary guard.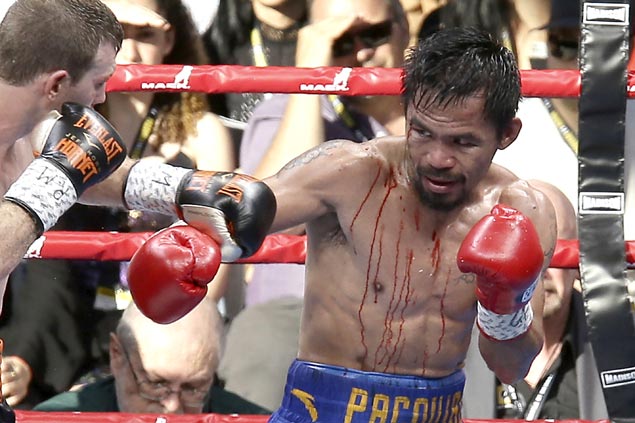 Horn was up in this writer's unofficial scorecard after seven rounds and Pacquiao, arguably sensing that he was losing control of the fight, came out with both guns blazing in the ninth stanza. Pacquiao did not bother to set up his punches and decided to just throw caution to the wind and hammer away. It almost worked as Horn was clearly woozy and barely survived the round.
Pacquiao's whirlwind assault enabled him to regain control of the fight. Pacquiao finished strong and seemed to have the fight in the bag, but to everybody's surprise the three judges all gave the decision to Horn. One judge, New Yorker Waleska Roldan, even scored it an unbelievable 117-111 for Horn. Roldan has judged over 500 bouts, but in the last eight fights he took part in before Pacquiao-Horn, he was limited to mostly six-rounders and one women's title match. The argument that Roldan lacks experience to handle big-time fights is not entirely inaccurate.
To his credit, Pacquiao took the loss in stride. Then again, absorbing his third loss in his last 10 fights, Pacquiao (59-7, two draws, 38 knockouts) now has a lot of soul-searching to do. The contract with Horn contains a rematch clause which Pacquiao can exercise, but it may be pointless at this stage in his career where he has already accomplished enough and has nothing more to prove. Pacquiao no longer has to go through another match with Horn to prove a point because his legacy had been fortified long before they rubbed mitts.
Moreover, Pacquiao's commitment to the sport has not been the same since he started dipping his fists into the political jar and other extracurricular activities. Pacquiao has not scored a knockout since 2009, was knocked out cold by Juan Manuel Marquez in 2012 and dropped a stinker of a match against Floyd Mayweather Jr. in 2015. It is in the Horn fight, however, that Pacquiao's lack of focus and age showed. Even if the decision was given to Pacquiao, he still would have been criticized for a performance that was far from being Pacquiaonesque.
The young Pacquiao would have demolished Horn without working up a serious sweat. Instead, Pacquiao labored for 12 rounds, was cut on both eyes and looked arm-weary. Truth be told, it was not just Horn who put up a fight, but Father Time, too. The "tag team" effort now has Pacquiao mulling if he still has it in him to once again go through the demanding rigors of the sport. Well, when you think about it, sometimes the toughest fight is won by just walking away.