MANNY Pacquiao, who after getting knocked out in the ring absorbed further beating from haters online, said he has forgiven those who continue to persecute him and brushed off the insulting photo memes posted by Justin Bieber over the weekend.
Young Canadian pop artist Bieber posted distasteful illustrations mocking Pacquiao on Instagram, while several posts by an obscure American artist and other fight fans on Twitter suggested that a 'retirement party' was already being held for the Filipino prizefighter.
"Sabi nga sa kautusan ng Panginoon, pray for those who persecute you," said Pacquiao, a devout Catholic who has turned to Bible reading in the company of Protestant pastors since last year. "So we will pray for them. Patawarin natin sila."
The Filipino boxing superstar returned to a hero's welcome in Manila on Wednesday morning after his knockout loss to Mexican rival Juan Manuel Marquez in Las Vegas.
The Canadian singer posted two edited photos of Pacquiao after his defeat — one where the 33-year-old Sarangani representative was pictured with Michael Jackson mimicking the late pop star's trademark 'lean' dance move; the other showing Lion King cartoon character Simba trying to wake up Pacquiao, who laid face down on the canvas after getting knocked out by Marquez's in the sixth round.
Pacquiao, though, welcomed Floyd Mayweather's comments on fighthype.com that the undefeated welterweight champion felt "bad for him… and hopefully he can bounce back."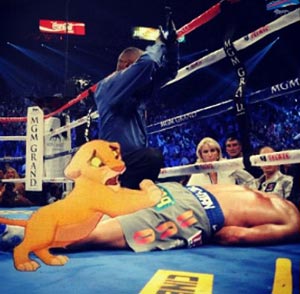 "Amen," Pacquiao simply replied when asked about the Mayweather comments.
With his latest loss, Pacquiao's dream fight with Mayweather could end up only as it was supposed to be: a dream.
But boxing's only eight-division champion believes there's a "higher plan" out there.
"God's plan is higher than our plans," Pacquiao said.