CHICAGO - Fame is supposed to last only 15 minutes, ticking gingerly on borrowed time. And just like the blazing sun, an athlete's celebrity status eventually sets.
You wonder those things about Manny Pacquiao.
He just turned 40. He has a mere 3-2 record in his last five outings, no thanks to a pair of dubious decisions. And he hasn't fought in the U.S. - the world's largest media market - since November 5, 2016.
Usually, accelerating age, the damage from a being victim of judging ineptitude, and prolonged absence collectively diminish an athlete's popularity from bolt of lightning to harmless static. But being around Pacquiao in L.A. last week, I saw no such star power outage.
Pacquiao was introduced as the guest of honor at the Clippers-Hornets game on January 9 at Staples Center where Filipino Heritage Night was celebrated. He was greeted with a thunderous applause and a huge chunk of the 16,540 fans unholstered their mobile phones to capture the moment.
He met with coach Doc Rivers and several players inside the Clippers locker. He was pulled in so many directions by people wanting a selfie or a handshake, all of which he gleefully obliged. I also ushered him to a private audience behind closed doors with two of the NBA's most recognizable personalities. (Sorry, Clippers PR requested me not to release the photo-op).
Continue reading below ↓
Recommended Videos
On January, 10 he held court on Media Day, a pre-fight ritual at the Wild Card gym where he addressed queries on everything about him, including his future political plans. He moved beautifully, worked the mitts with astounding speed, and showed off his washboard abs.
Judging from the size of the reporters in attendance at Freedie Roach's sweat shop, it's clear that Pacquiao still moves the meter in the boxing news cycle.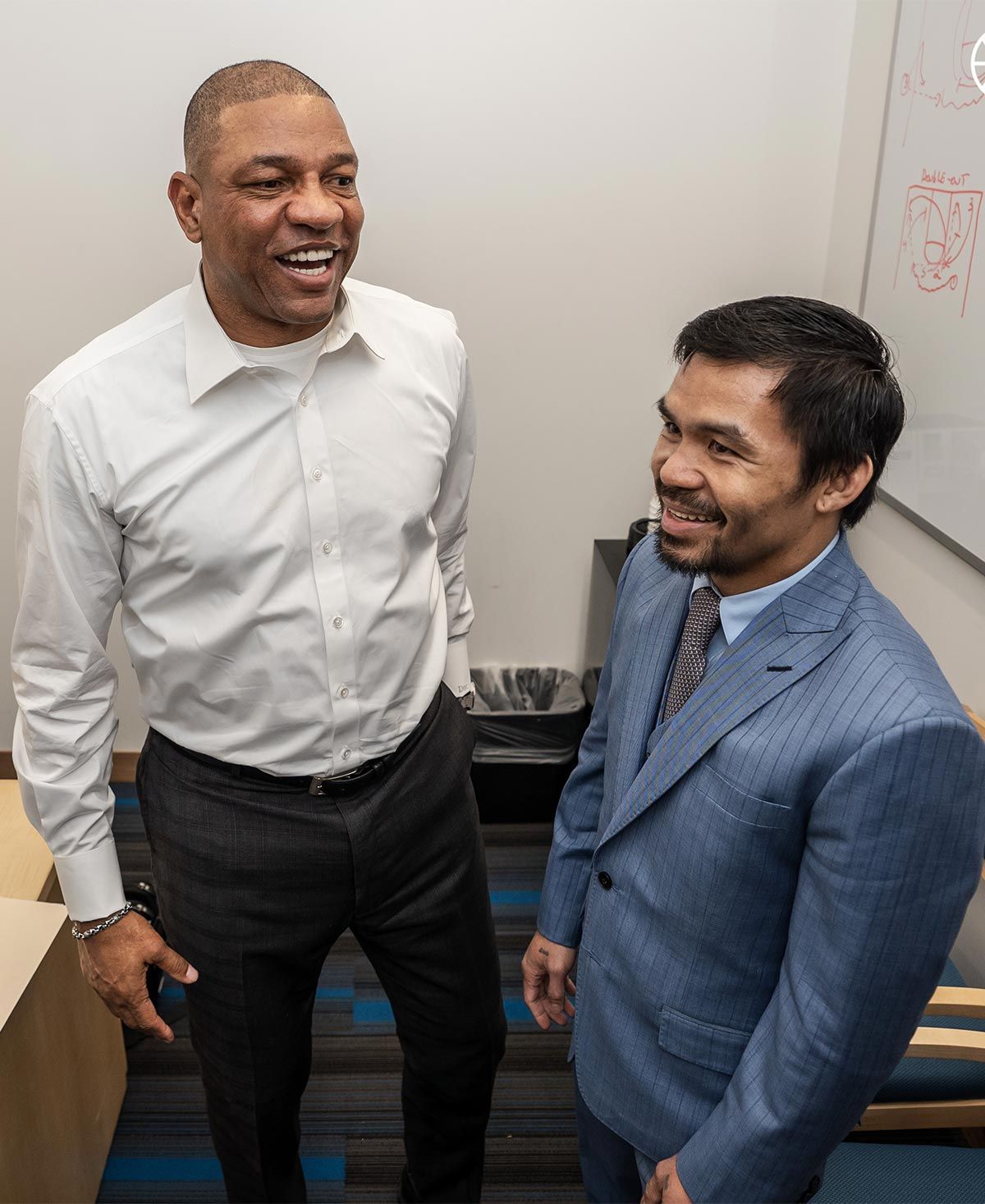 SAME CIRCUS. I visited Pacquiao's sprawling estate near Paramount Pictures Studios during my quick jaunt to tinseltown and the place buzzed with a circus-like atmosphere as it continues to be a hangout for supporters, friends and Team Pacquiao members.
Among those from outside the tight-knit circle who have visited Manny so far includes former Lakers players Ron Artest and Michael Cooper, former Chicago Bull Bill Wennington, MMA fighter Cyborg and comedian Blackstone.
From a Lakers game downtown, I ate dinner there the night before I headed back to Chicago. I summoned the willpower to avoid rice but I did rise to the occasion and destroyed the beef steak, pancit bihon and kare-kare.
Pacquiao sat in the crowded den watching a couple of NBA games and gave away crisp $100 bills to those who correctly predicted the winners. PacMan enjoys the company he keeps and he generously rewards them.
Now a Philippine senator, Pacquiao is boxing's only eight-division champ. But at his core, he is just an ordinary fellow who strives to make the world a better place by bringing happiness whenever he can and in any way he could.
GOLFING PARADISE. Since private spaces can inevitably be shared by the hosts and guests, living in someone else's home can be awkward as a testicular ultrasound.
But when the house has 6,000 square feet of livable space, an elevator, a four-car garage, a giant swimming pool, plus multiple rooms, it is easy to get lost and not be noticed.
Such was the case when I stayed at a friend's mansion inside the Trump National Golf Club in suburban Rancho Palos Verdes. The $5 million abode is perched near Hole No.4, a treacherous downhill par 3.
I'm glad I don't dabble in golf because the green fees at Trump's are astronomical, beginning at $300 for an early morning tee time before dropping to $275 (mid-morning) $250 (midday), $175 (afternoon), $125 (evening) and $80 (sunset).
What a place. The views of the Pacific Ocean were gorgeous, spanning as far as the eyes can see. The waves, stoic in the day time, serenaded at night. And the sunrises were glorious.
Beat that, Air BnB.