The phone rings, and as I pick it up, the fellow on the other line blurts: "Hello, is this the Chief Justice of boxing?"
Knowing who the guy is, I snap back: "And is this the one and only 'Sugar Ray' Ronnie?"
"Partner, I love that moniker," he says. "Even though I am trying to strictly monitor my sugar count."
Mind you, that's only the overture to yet another immersive conversation about boxing and other prevailing issues in Philippine sports. Ronnie coined the 'Chief Justice' nickname after he discovered that I am a lawyer from the Supreme Court. On the other hand, I gave him the alias 'Sugar Ray Ronnie' after Sugar Ray Robinson, arguably the greatest boxer of all-time. I came up with it during one of the episodes of 'Pinoy Pride,' the boxing series for Ala Promotions and ABS-CBN Ronnie and I have been covering for some time, and Ronnie liked it so much I made it a regular part of the prefight introduction.
My friendship with Ronnie goes back over two decades ago, when I started out as a boxing reporter for Champ magazine. There was no internet back then and all the writers had to drop by at the editor's office to submit their respective pieces. I remember dropping by one afternoon and chancing upon Ronnie in a discussion with my editor-in-chief; I  just stood in awe of the guy and was too shy to approach him.
Sometime in 1991, my editor instructed me to cover the biggest fight in Philippine soil at the time, Luisito Espinosa's defense of the world bantamweight championship against Venezuelan puncher Israel Contreras at the Araneta Coliseum. Contreras recovered from an early knockdown to stop Espinosa in five rounds, making the fight big news. Pursuant to my editor's instruction, I approached some of the well-known local boxing experts at the time, but being relatively new to the sportswriting business I was turned down by some of them. I approached Ronnie and was expecting the worst, but within seconds after I introduced myself as a reporter from Champ magazine, Ronnie flashed a winsome smile, tapped me on the shoulder and said: "Oh, so you are from Champ magazine, too? Go ahead, hijo, ask me whatever you want about the fight and I'll answer it." I took out my recorder and ended up hearing the best post-fight analysis ever. As a bonus, Ronnie gave me tips on how to jot down my post-fight piece.
From then on, Ronnie became the chief resource person for my articles. Eventually, I finished my studies and became a lawyer, but I just could not leave the world of sportswriting. Things started to become interesting when I started appearing on television, occasionally serving as the boxing analyst for Silverstar Promotions and PTV-4. I was contented living life at this level, as a lawyer and occasional sports analyst, when Ronnie gave me a call egging me to go full blast as a sports broadcaster. I told Ronnie I do not like the travel part and he gave me this piece of advice: "Hijo, it is time for you to get out of that computer table and cover the fights live with me. There is no better experience and if you turn out to be as colorful a broadcaster as you are now as a writer, you will go places."
Ronnie, of course, had all the necessary connections, what with his rich media background dating back to the time he served as liaison officer in the 1975 showdown between Muhammad Ali and Joe Frazier in Manila. I actually turned down Ronnie's offer, but he kept on calling me. Before I knew it, the big boss of ABS-CBN Sports, Peter Musngi, also called me and offered to secure tickets for me to travel by ship if I was hesitant to travel by air. I finally gave in and started doing fights live from different places within the country with Ronnie. My only regret today? I should have heeded Ronnie's advice pronto.
Ronnie guided me every step of the way, to the extent of fixing my tie which to this day I have never really mastered. Ronnie was the absolute suave, always making it a point that not a single strand of his hair was not in place and his suit in order.
For his age, Ronnie was an astonishing bundle of energy during the fights; as if covering them was part of his therapy. He mingled with everybody, leaving the broadcast table during commercial breaks to shake hands with just about anyone who called out his name at ringside. He willingly posed for photos and, oh, you should have seen him with the round card girls; Ronnie had a way with words and was charisma personified with the women. No fight coverage is complete without the usual  post-fight conversation to cap the evening. Despite his known political affiliation, Ronnie and I only talked about sports, particularly his concerns about the athlete and the overall sporting discipline. Ronnie didn't mince a word in criticizing but was quick to propose alternative solutions.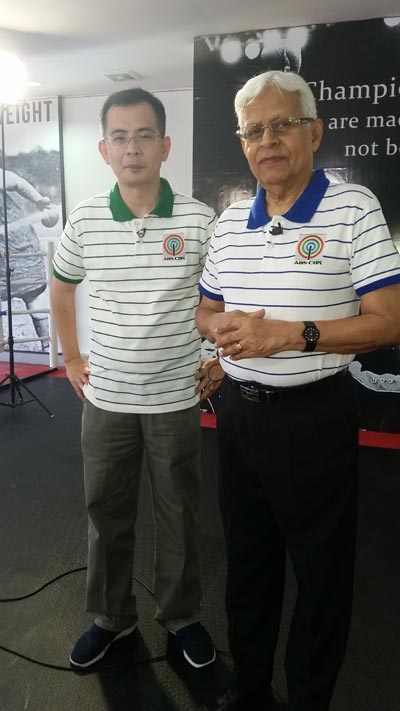 Ronnie was a tireless workhorse when it comes to writing. Late in the evening, after we have finished our coverage and headed back to our respective hotel rooms, he would call and ask for some details about something he was writing.
Last Friday, Ronnie passed away at age 81. He succumbed to a heart attack while he was, you guessed it, en route to watch the Manny Pacquiao-Jessie Vargas fight in Las Vegas. Somehow, I sensed something was wrong because Ronnie always made it a point to call me and exchange views about the fight. Around this time, too, I was expecting another invite for his birthday celebration; a simple lunch with friends at his farm in Laguna.
No phone call came and only the unfortunate news that he has passed away. Ironically, our last conversation had nothing to do with boxing; it was about him serving as 'ninong' on the day I tie the knot. "Partner, when will you get married? C'mon, I don't have all day," he jokingly said.
Oh, most of the time Ronnie and I talked about the history of the fight game. There were occasions when we engaged in spirited conversations about boxing history, and just when I thought I had him cornered, he would whip out this reply that was too hard to rebut: "Ah, but remember my friend, I was there when history happened."