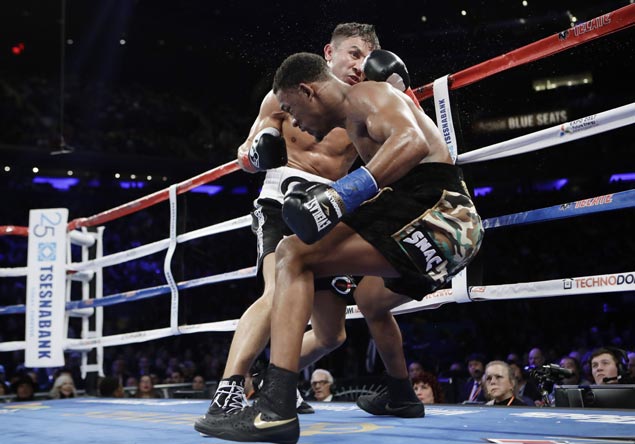 NEW YORK — Gennady Golovkin outlasted Danny Jacobs in an exhausting 12-round defense of his middleweight titles on Saturday (Sunday, Manila time).
Both fighters are knockout artists, yet this one went the distance — the first time GGG has not had a KO in 24 fights, and his first time going 12 rounds. The Kazakh won 115-112 on two judges' cards and 114-113 on the other.
The AP had it 114-113 for Golovkin.
In the toughest fight of his stellar career, Golovkin often was stymied by Jacobs changing to a left-handed style. But a series of hard rights throughout the bout were enough — barely — to bring his record to 37-0.
"Daniel did a very good job," Golovkin said. "Daniel is my favorite fighter. I can't destroy him."
He didn't, unlike so many other opponents who felt the fury or GGG.
"I thought I won it by at least two rounds minimum," said Jacobs, nicknamed Miracle Man after he overcame bone cancer in 2011-12 to win 10 straight fights. "I did feel like I had to win the 12th round to make sure."
He won it on two of the three cards, but it wasn't enough, perhaps because he was knocked down in the fourth round, which went to Golovkin 10-8 on all three cards.
Still, with Madison Square Garden reverberating from chants of "Triple G" or "JACOBS," no one could be sure of the outcome right until the final punch.
Jacobs is 32-2. Golovkin holds on to his belts and took Jacobs' WBA middleweight title.
Golovkin, a world champion since 2010, is 5-0 at the Garden, which he calls a "second home." But Jacobs, from Brooklyn and, oddly, a representative of the competing arena the Barclays Center, tested him more than anyone has.
Golovkin keeps his WBC and WBO crowns — the IBF belt was not at stake because Jacobs skipped that organization's fight-day weigh-in. On the horizon for GGG could be that elusive meeting with Canelo Alvarez if the Mexican wins his fight in May against Julio Cesar Chavez Jr.
ADVERTISEMENT - CONTINUE READING BELOW
"Of course I am ready to fight Canelo, of course I want that fight," Golovkin said. "I am like an animal for that fight."
But there's another option, GGG admitted.
"I will give Danny Jacobs a chance for a rematch."