LAS VEGAS - In every field of sports, age has constantly been the Grim Reaper of an athlete's career.
Time slays every competitor. It never gets tired, feels no emotion. It just keeps on ticking.
At age 40, it was supposed to be over for Manny Pacquiao at the MGM Grand Garden Arena on Saturday night (Sunday, Manila time). Keith Thurman had a warrant for the Filipino champion's retirement, effectively arresting what would have been a glorious 24-year run.
But midnight did not strike.
What arrived instead was the glorious dawn of another chapter in a legendary career.
Manny was right, after all. Forty might just be the new 30.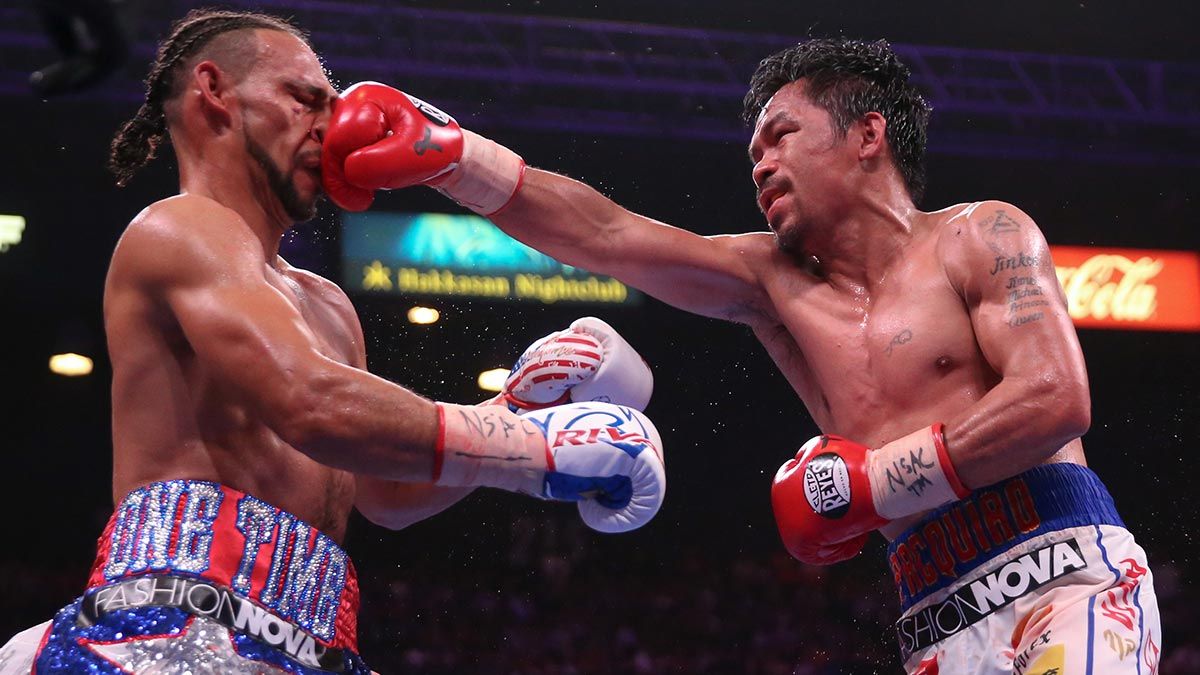 Continue reading below ↓
Recommended Videos
Against an unbeaten foe who was taller, stronger and ten years younger, Pacquiao was pushed to uncomfortable limits before somehow carving out a bloody split decision win. (114-113 and 115-112, twice).
It was a dazzling performance that mesmerized the 14,356 fans in attendance. Manny outworked Thurman by throwing more punches overall, 686-571, and landing more jabs, 82-18.
But this one left scars, too.
Pacquiao ate 192 of Thurman's 443 power punches. The most he's ever absorbed in 43 bouts since CompuBox numbers were introduced. He looked gassed at times, was bloodied and swollen, by a relentless foe who recovered gallantly from a first-round knockdown.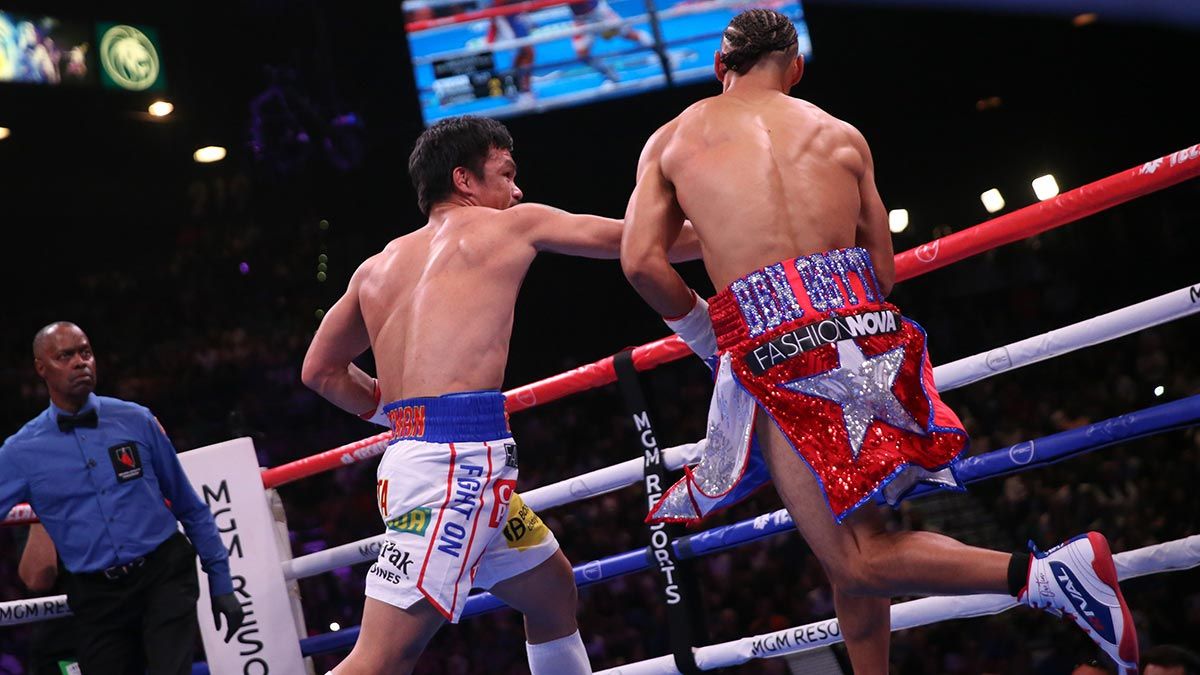 Ironically, being 40, the point in his life that was suspected to usher his demise was what saved him.
Age and the 71 fights it accumulated provided the wisdom to pick the spots when and when not to engage. It also lent the familiarity to wade the dangerous deep waters of the later rounds.
He may be close, but Pacquiao clearly isn't done yet.
When the skills of an old boxer begins to plummet, the legs are supposed to be the first to go. Manny obviously still has plenty of lift as evidenced by the pursuit he gave, running after Thurman like a Manila cop chasing away an illegal street vendor.
His timing and accuracy were both spotty on occasion, but the hand speed remained intact as Pacquiao constantly unleashed stinging punches in bunches that often stunned the game Thurman.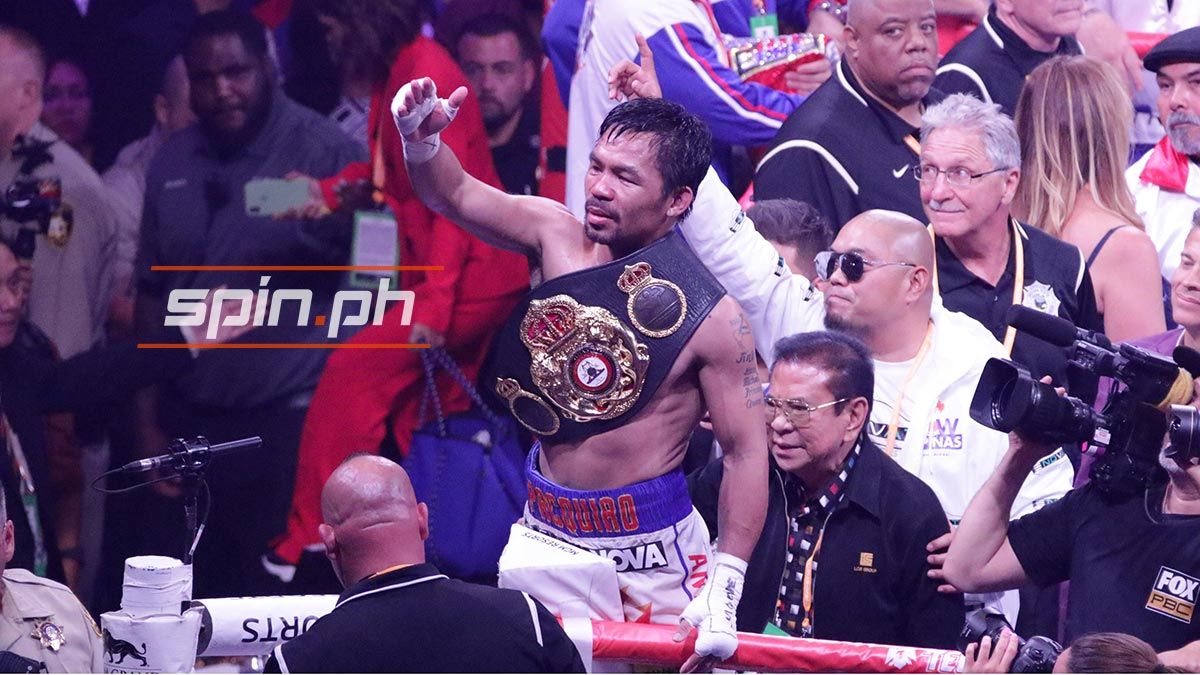 If there are lingering doubts that PacMan's power has dipped, he erased it with a malicious left hook to the body that induced Thurman to backpedal and catch both his breath and his senses.
Father Time is undefeated, so the adage says. And Pacquiao probably won't beat it if he keeps on fighting. But for at least one triumphant night in the desert, the People's Champion slowed its advance.
In the afterglow of his 62nd win, Manny was asked who he would fight next, Errol Spence Jr. or Shawn Porter?
The better question should have: How many more times will you tempt fate?