LAS VEGAS - The son of a US Navy commodore, Sean Gibbons was born to a more comfortable upbringing than most boxers who enter the fight game to escape poverty.
But the gift of blue blood - the six-foot frame, the striking good looks, and dimples deep as the Pacific Ocean - isn't the reason why Gibbons has risen to become one of the sport's most influential power brokers.
Gibbons, an international matchmaker and manager, found success in the fistic trade by putting in a lot of old-fashioned hard work.
Steered to boxing by his uncle Pat O'Grady, a distinguished trainer and promoter whose son Sean O'Grady once held the WBA lightweight title, Gibbons fought as a light heavyweight for 11 years, a 24-fight career that ended with a 14-7-3 slate in 1996.
Continue reading below ↓
Recommended Videos
By his own admission, he was a "bad fighter, a bum," he says in honest jest. But this one is no joke: Sean Gibbons is a gem in the promotional and managerial side of the business.
According to The Las Vegas Sun, Gibbons promoted 150 fight cards in Oklahoma since 1985 before moving to Sin City in 1998 "to accept an offer from Top Rank."
For an executive chef to be a master of his craft, he must not only have a complete command of the kitchen, he must also be well-versed in the other aspects of the culinary world, which includes a vast knowledge of first-class meats, fresh produce, fine wine, and food presentation.
That's pretty much what Gibbons is to boxing, a jack of all trades. "A mechanic," he offers.
In an April 2019 interview at Jerwin Ancajas' survival camp in Cavite, Gibbons told PowCast that "I started from everything. I set up the ring, fought a few times, sold the tickets, sold the program ads, did the matches. In Oklahoma you're the promoter, the matchmaker and sometimes you have to fight in the ring."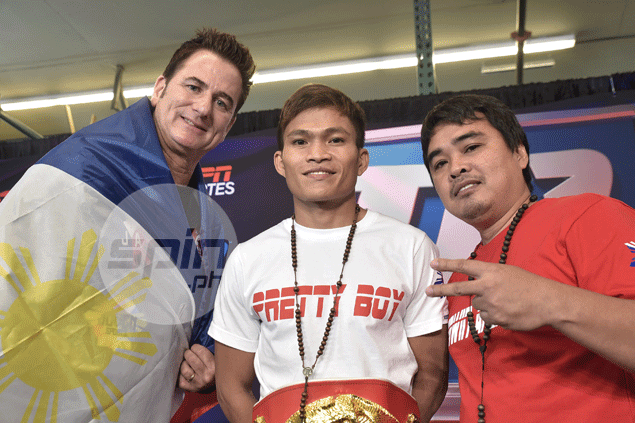 WHILE IN VEGAS, the epicenter of the boxing universe, Gibbons honed his craft working with Hall of Fame matchmaker Bruce Trampler. After his stint with Top Rank ended in 2004, Sean brought his talents to the Native American tribe-owned Sycuan Ringside Promotions where he developed up and coming fighters.
Gibbons first met Manny Pacquiao in 2005, during one of his epic bouts with Erik Morales. A friendship was struck and Gibbons helped match up Manny's undercard fighters including Bernabe Concepcion, Ronnie Baldonado and Jayar Inson, to name a few.
Their first major collaboration was in Kuala Lumpur, Malaysia in July of last year where the Pacquiao-Mathhysse WBA welterweight title showdown took place. It was a successful event that many boxing insiders thought would fail.
The rest, as they say, is history.
Having earned Pacquiao's trust and confidence, Gibbons was bestowed the role as president of Manny Pacquiao Promotions where he manages a murderer's row of Filipino champs and prospects - Jerwin Ancajas, Jhack Tepora, John Riel Casimiro, Marlon Tapales, etc.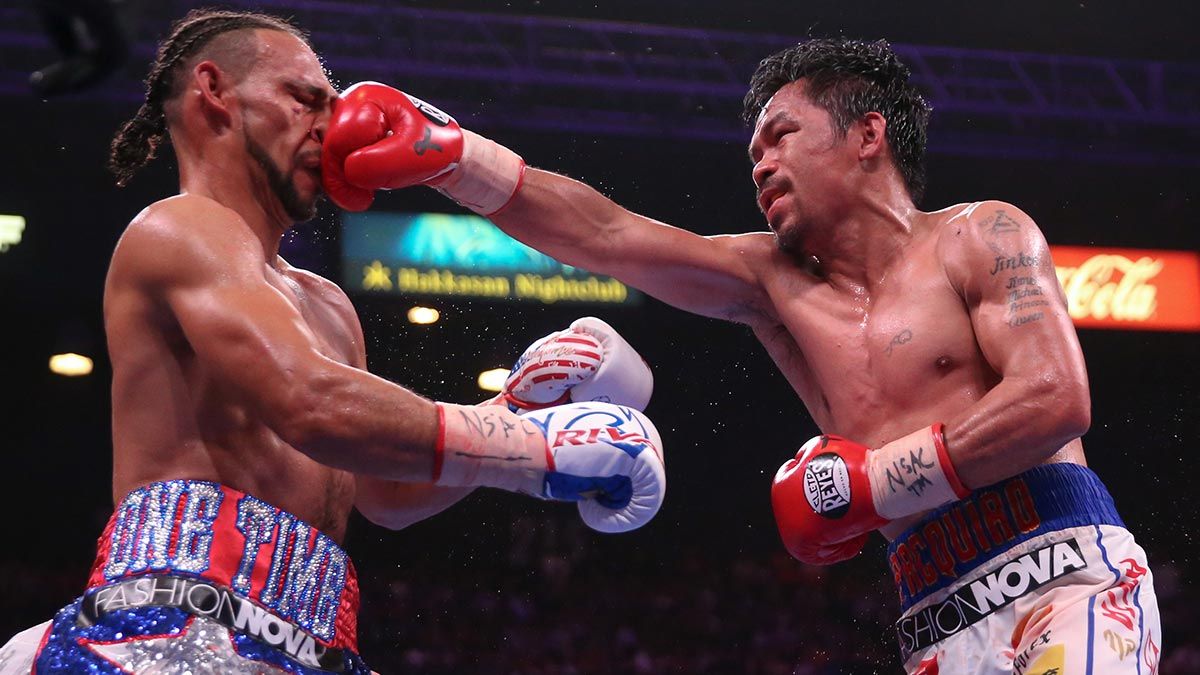 This is why Gibbons comes and goes to the Philippines as often as an OFW. This is why we always see him and his impeccably tailored suits next to Pacquiao during boxing related functions.
I wonder what that life is like, the constant travel, the hectic schedule. So I called Gibbons on the phone. He gave me an ample 28 minutes and 27 seconds of his precious time.
"It's been a dream ride and I'd like to thank Senator Manny for the opportunity. We share the same passion and desire to help other Filipino fighters get the chance to perform at the highest stage."
Why is Manny chasing a Mayweather rematch as though he was Captain Ahab to Floyd's white whale? I asked.
GIBBONS explained that Pacquiao, boxing's only eight-division champ and a beloved ambassador of the sport for the past 24 years, has earned the right to choose whoever he wants to dance with in the ring.
And whether or not he gets to avenge his May 2015 defeat to the undefeated Pretty Boy Floyd, Gibbons insists that Manny's legacy is "cemented."
The only thing paramount right now is to let Pacquiao's body heal and allow him to perform the more important task of being a Senator of the Republic of the Philippines.
Retirement, Gibbons says, is not in 40-year old lawmaker's immediate future.
"The speed is still there, the power is still there, And he continues to be a draw," observed Gibbons. But once he sees some slippage that would put him in harm's way, Sean says he would ask the senator to seriously think about what the future holds.
But that's a conversation for another day, said Gibbons.
Being around Filipinos regularly, Gibbons confessed to liking Filipino food. He has willed himself to eating balut but don't hold your breath that he will dare taste our lovable durian, that pleasantly malodorous fruit whose overpowering aroma is banned at some hotels and public transportation across Asia.
Gibbons describes the thorny fruit as someone's gym bag. Used and unwashed.
Apparently, like some of the boxers he is molding, Gibbons' appetite for certain Pinoy eats is a continuing work in progress.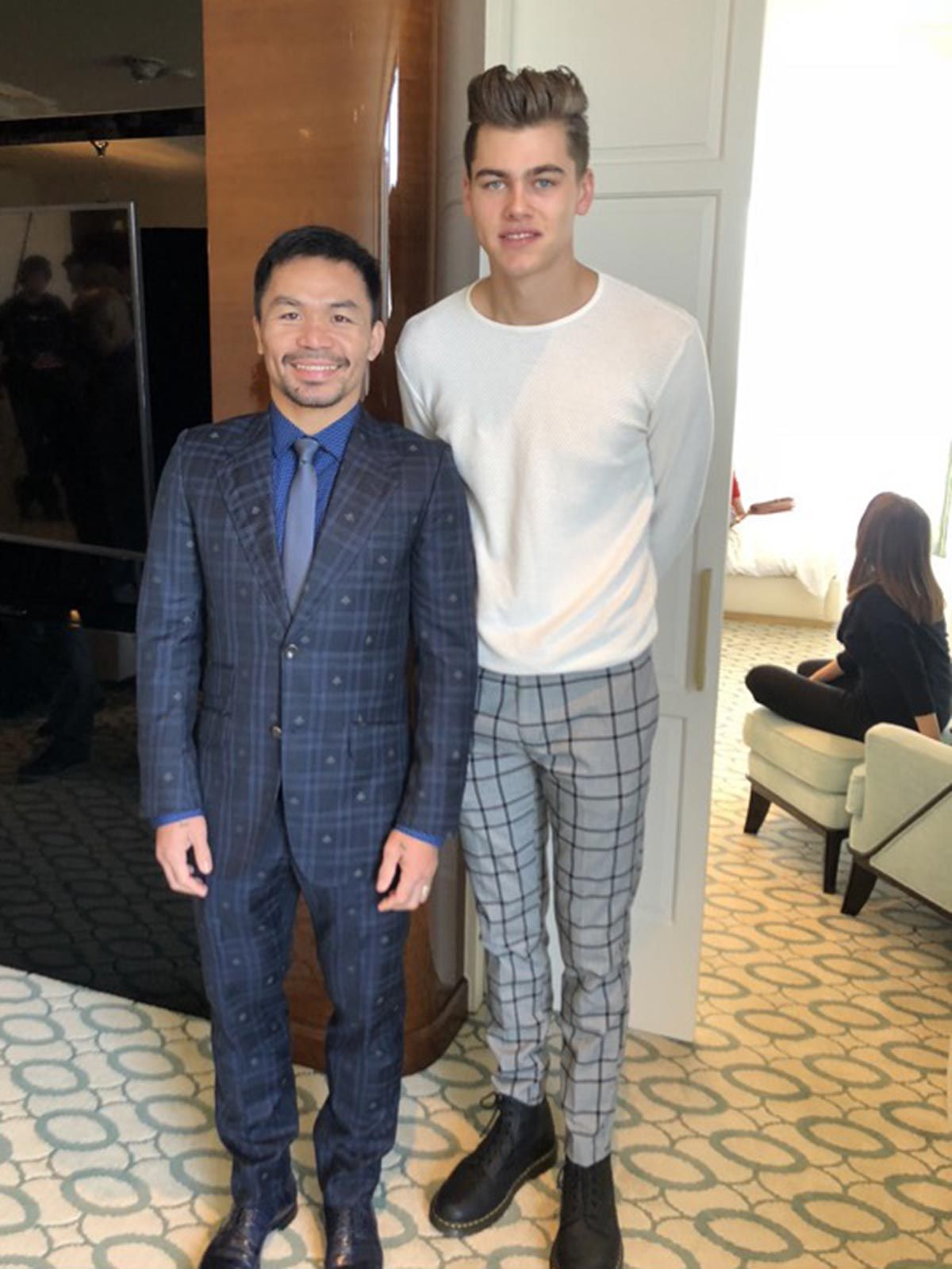 Sean's son Brendan, 20, is a similarly familiar figure around PacMan. The younger Gibbons, a ramp model who has graced a few billboards, has inherited his dad's length and looks.
I pried if Brendan has considered pursuing a modeling/acting career in the Philippines.
"He's finishing doing some personal stuff right now. Maybe somewhere down the road," the doting dad assures.
As for Sean, the focus is presently lasered on an upcoming August 24 MP Promotions offering headlined by the title defense of IBF minimum weight champion Deejay Kriel against challenger Sammy Salva.
It's going to be an extremely busy next couple of weeks in Manila. But Sean, now 52 going on 51, got no complaints. He's ready to rumble, eager for more action.
This is, after all, the path he chose. One that is shaping up to be a very enviable, beautiful life.