THERE is no story in boxing more inspiring than that of a challenger bucking huge odds to dethrone the incumbent, hitherto invincible world champion.
On June 13, 1935, journeyman James Braddock, down on his luck and nursing chronically injured hands, stunned murderous puncher and 10-to-1 favorite Max Baer to win the world heavyweight championship on a 15-round decision. Braddock was hailed by the American media as the 'Cinderella Man' for his unbelievable upset of Baer.
On February 11, 1990, James 'Buster' Douglas, a 42-to-1 underdog, knocked out then undefeated champion Mike Tyson in 10 rounds to claim the heavyweight crown. Douglas survived an eighth round knockdown to pummel and floor Tyson in the 10th round and hand him his first defeat in 38 fights.
Last weekend, the boxing world welcomed the arrival of the latest 'Cinderella Man' in Srikaset Sor Rungvisai, the unheralded Thai who defeated Nicaraguan superstar Roman 'Chocolatito' (Little Chocolate) Gonzalez for the World Boxing Council (WBC) junior bantamweight (115 lbs.) championship.
Gonzalez reported for battle at New York's Madison Square Garden with an imposing record of 46-0 with 38 knockouts (he was also 88-0 as an amateur) and the reputation as boxing's pound-for-pound king. Rungvisai toted a record of 42 wins against four losses, with majority of his victories arguably coming against patsies and donut-knitted foes. The disparity in the fight purses underlined the great difference in talent between the two fighters: Gonzalez was guaranteed $500,000, a huge sum for a lower-weight fighter, while Rungvisai's paycheck was only $75,000.
ADVERTISEMENT - CONTINUE READING BELOW ↓
The fight turned out to be worth every dollar. Noticeably heftier being a natural junior bantamweight, Rungvisai stunned the crowd by knocking down the diminutive Gonzalez with a well-timed right to the body in the first round. It was a portent of things to come as Gonzalez found himself in the fight of his life against the game Rungvisai. Rungvisai's left, delivered off a southpaw stance, repeatedly caught Gonzalez who tried to press the action. Rungvisai also used his size to bully Gonzalez along the ropes and pummel him on the inside.
Gonzalez sustained a huge cut on the right eye following an accidental clash of heads in the third and the blood that flowed profusely clearly bothered him in the remainder of the fight. But Gonzalez refused to hand the crown on a silver platter and battled his way back with some vicious haymakers of his own. It was a toe-to-toe slugfest until the final round. The decision was razor-close, but Rungvisai pulled off the upset with a majority decision, winning on the scorecards of two judges (114-112; 114-112) while settling for a stalemate in the scorecard of the third (113-113).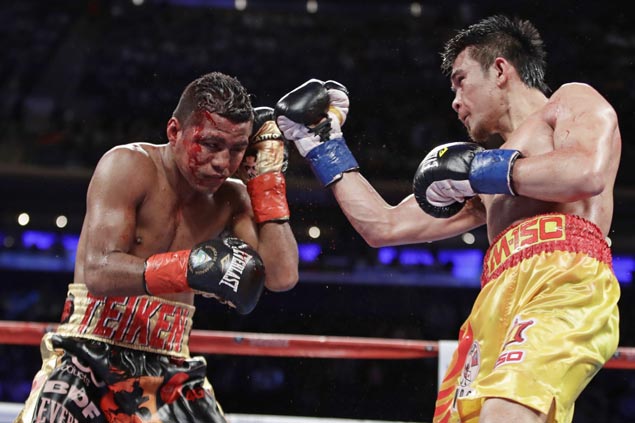 That Rungvisai rumbled for 12 rounds with the fearsome Gonzalez and actually pocketed the decision instantly earned him the tag 'Cinderella Man.' Rungvisai initially won the WBC junior bantamweight title in 2013 and made a handful of defenses against nobodies before losing the title to Mexican Carlos Cuadras in May 2014. He was unbeaten in his last 14 fights going into the Gonzalez fight, but nobody gave him even a ghost of a chance to dethrone the Nicaraguan. Rungvisai was actually picked by Gonzalez's camp as a mere tune-up for the Nicaraguan's anticipated rematch with Cuadras.
As it turned out, Rungvisai had plans of his own which included pulling the rug from under the feet of Gonzalez. Rungvisai's second coronation as WBC junior bantamweight king is easily the highest point of his career and caps a story that started literally from the gutter.
Born Wisaksil Wangek in real life, Rungvisai left Sisaket province in Thailand at age 13 to look for odd jobs in Bangkok. He initially worked as a security guard. When the money was not enough to buy food, he searched for leftover food from the trash he collected at a nearby department store. To augment the family income, he moonlighted as a Muay Thai (Thai kick boxing) fighter.
Pro boxing provided Rungvisai a ticket out of poverty, but the transition to the gloved sport was not easy as he was knocked out in his first two fights in 2009. Rungvisai did not post a win until his fourth fight in November 2009, when he scored a third round knockout over countryman Prakaipech Aunsawan.
ADVERTISEMENT - CONTINUE READING BELOW ↓
After suffering another loss to Japanese Kenji Oba in February 2010, Rungvisai reeled off 26 straight victories that came to an end in 2014 when he lost the WBC junior bantamweight title to Cuadras. Rungvisai went on another winning streak that encompassed 15 fights, including the huge upset of Gonzalez.
Rungvisai's overall record stands at 42-4, 1 draw with 38 knockouts. Rungvisai's camp, led by his promoter Thainchai Pisitwuttinan, disclosed that they vividly scouted Gonzalez's style starting from the time the Nicaraguan started training and fighting in Japan. While Gonzalez paraded the reputation of a heavy puncher, Pisitwuttinan boasted that Rungvisai's 81 percent knockout percentage was also something to crow about.
Gonzalez predictably claimed he was robbed of a win and immediately demanded a return match. It will be interesting to see how Gonzalez will fare in the return bout amid observations that the junior bantamweight division may be too heavy for him. Gonzalez was devastating during his two-year (2008-2010) reign as World Boxing Association (WBA) minimumweight (105 lbs.) champion, but as he moved up in weight he started showing signs of vulnerability. Gonzalez held world titles in the light flyweight (108 lbs.) and flyweight (112 lbs.) divisions before invading the junior bantamweight class in September 2016 against Cuadras. Gonzalez bled and struggled against Cuadras before escaping with a decision win. The fight with Rungvisai was only Gonzalez's second appearance at 115 pounds whereas the Thai has been a fixture in the weight class for the last seven years. Rungvisai averred that his familiarity with the weight class was a key factor in his victory.
A rematch is definitely on the cards, but until then Rungvisai will take the time available to savor his victory. Boxing fans may still be having a hard time pronouncing his name, but over in Thailand Rungvisai is already a household name.
The trash picker who stumbled on a pot of gold.