LAS VEGAS – Angel Heredia, the controversial strength and conditioning coach of Juan Manuel Marquez, found himself in the line of fire as expected amid doping suspicions raised by Mexican's bulked-up physique ahead of his fight against Manny Pacquiao on Saturday (Sunday, Manila time).
Obviously, his reputation preceded him.
Heredia, who once testified before a US federal grand jury that he once gave illegal performance-enhancing drugs to former track stars Marion Jones and Tim Montgomery, immediately pointed an accusing finger at Pacquiao's trainer Freddie Roach as he went on the defensive.
"The allegations on my client and on me as well, I think, are unfair and illogical from someone who is a hall of famer to say something like that," said Heredia, obviously referring to Roach.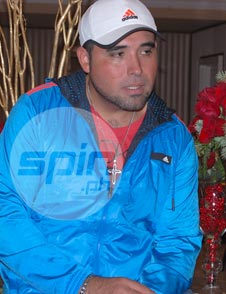 Heredia also declared that he's open to have Marquez undergo Olympic-style drug testing under the supervision of the World Anti-Doping Agency (Wada) provided Pacquiao would also do it.
Roach had earlier commented that Marquez "looked big" when he saw a photo of him during the Mexican boxer's media workout at the Romanza gym.
But the five-time Trainer of the Year explained all he said was that Marquez's body "does not look natural."
Heredia would have none of it.
"We're surprised why Freddie Roach has sparked things two weeks before the fight. Maybe it's his way of taking away his (Marquez) concentration," said Heredia.
Because of the nagging allegations, Heredia said that starting next year all athletes and fighters under him will be made to sign a contract that they will agree to be tested by Wada all-year round.
He said what people do not understand is that weight training has evolved over the past few years.
"In the past you don't see strength and conditioning coach around a boxer. It was only the manager and the boxer," Heredia said. "But today, it's the boxer, strength and conditioning coach, and the manager. It's sort of like a team that works together."
Heredia stressed that he's doing everything according to the rules, adding, "it's always in the law. No illegal stuff."
Marquez doesn't see any problem either undergoing drug-testing as long as his opponent does the same.
"I'll be happy to do it, whatever they want as long as the fighters I will be fighting will also be doing it. It should always be a level field for everyone," said the 39-year-old Mexican.