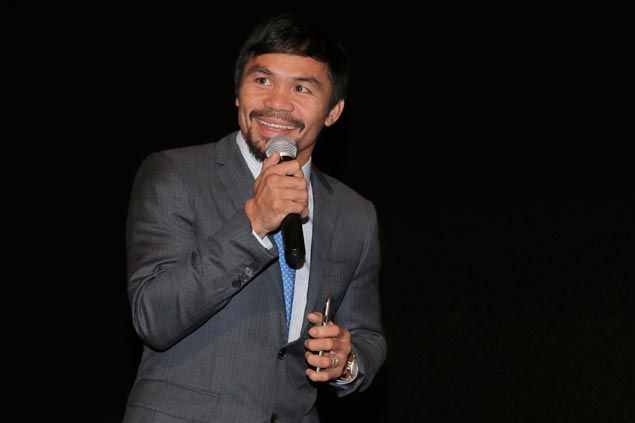 EVEN among the ladies, Manny Pacquiao is no. 1
The Filipino boxing champion had the opportunity to be the first to ask question among the Top Five candidates of the Ms. Universe 2014 on Monday morning in Doral, Florida.
Ms USA Nia Sanchez picked the name of the 36-year-old Pacquiao from among the panel of judges to ask her the question.
Wearing a black suit over white long sleeve and black tie, a smiling Pacquiao asked Ms USA the question, "If you were given 30 seconds to deliver a message to a global terrorist, what would you say?"
Sanchez, a taekwondo practitioner since childhood, answered, "I would send message of hope, love, and peace as message to a global terrorist."
An eight-time division champion, Pacquiao's winning ways though failed to rub off on the Ms. USA bet who settled for runner-up honor behind eventual Ms. Universe winner Paulina Vega of Colombia.
 Joining Pacquiao as judges in the 63rd edition of the annual beauty pageant were Grammy award winning musician Emilio Stefan,  Washington Redskin wide receiver DeSean Jackson, Marie Claire Magazine creative director Nina Garcia, MTV's Rob Dyrdek, Miami Marlins right fielder Giancarlo Stanton, reality star Kristin Cavallari, film heartthrob William Levy, tv star Lisa Vanderpump, and fashion journalist Louise Roe.
Also a congressman from the province of Sarangani, Pacquiao is the first Filipino athlete to become judge in the Ms. Universe, but the seventh from the Philippines to be named as such.
Previous Filipinos who acted as judges in the prestigious beauty event were 1969 Ms. Universe Gloria Diaz, the diplomat Carlos P. Romulo (1974), fashion designer Josie Natori (1989), singer Kuh Ledesma (1991), media magnate and philanthropist Emilio Yap (1994), and Miss Saigon star Lea Salonga (2011).
Pacquiao came over to Miami from London where he had dinner with Prince Harry and met up with potential future opponent Amir Khan.
He is still awaiting whether his May 2 fight with unbeaten American Floyd Mayweather Jr. will push through as scheduled.