LAS VEGAS — Nothing moves the local Las Vegas economy faster than a night of championship boxing at The Strip. And it doesn't get any richer with Manny Pacquiao's name on the marquee.
Atop one of the Towers of the sprawling 6,852-room MGM Grand Hotel and Casino, the Filipino icon rests behind the heavily guarded doors of a majestic suite that overlooks this oasis of sin and blood sport mecca.
Weigh-in is in a few hours, but that shouldn't be a problem. It never has for Pacquiao, a stern disciplinarian when it comes to dedicating himself to training and keeping in shape year-round.
Meanwhile, as PacMan wrestles with boredom, the cash registers are ringing.
The rains and mild chill have washed away some of the desert heat, but the WBA welterweight title showdown remains a hot item.
Tickets are on demand, sold way above face value. At seekgeek.com, for instance, floor seats go up as high as $4100. For those with shallow pockets, a ticket at section 215 can be had for $223. I myself was supposed to procure four floor seats for my friends at face value of $1,500 each but the price point increased to $2,500, way beyond our reach.
Continue reading below ↓
Recommended Videos
At the Art of Music store which sells sports and celebrity memorabilia near the MGM Grand Garden Arena, the demand for signed Pacquiao items is high, said Jose Macias, who was minding the shop.
Macias told SPIN.ph that their establishment sold a Pacquiao-Mayweather fight poster signed by the two pugs for $2000 last 2015 while a Pacquiao-autographed and cased red Everlast gloves went for $450.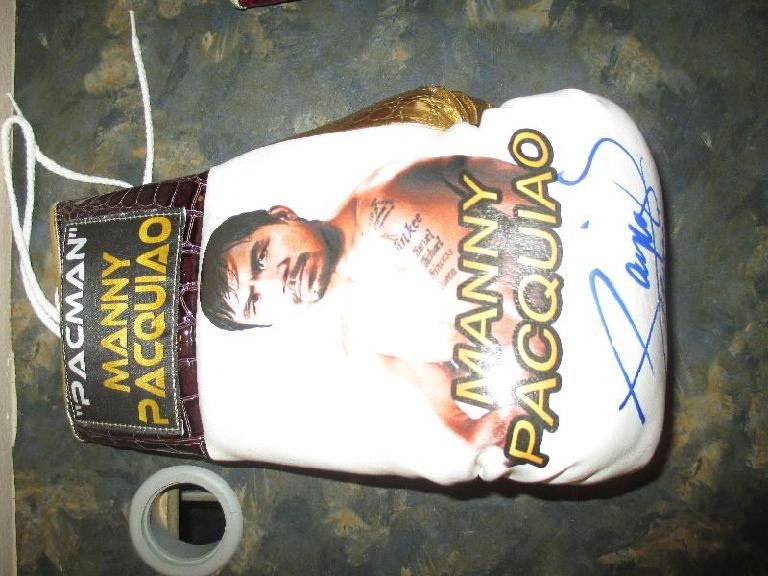 We are not privy to how much MGM is paying as a site fee to host the fight but based on the gaming action on the casino floor on Thursday night, it looks like whatever was paid will command a high return of investment.
The blackjack tables were full while people screamed and moaned playing dice. Most important;y, the slot machines were swallowing money faster than a 13-punch Pacquiao combination.
Pacquiao's fight purse hadn't been released yet and it will be weeks before he knows how much his share will be on the pay-per-view event that is sold at $74.99 per purchase. He will probably make at least $20 million but the real pot of gold at the end of the rainbow is the Mayweather rematch.
That, however, only happens with a Pacquiao victory.
So can the fighting Senator turn back time and beat a skilled challenger 11 years his junior?
Pacquiao camps thinks so. And the Vegas odds makers agreed by making Manny a minus 280 favorite, which means a $280 Pacquiao bet wins only $100. Adrien Broner, meanwhile, is a plus 230 underdog, which means a $100 bet on the American will yield a $230 windfall.
Manny bought 1,061 tickets for family and friends. None of the political heavyweights from the Philippines have flown in yet but they'll start to trickle in by Friday night. According to a source, it is unlikely for President Duterte to make the trip to watch the action live here in Las Vegas.
VIVA LAS VEGAS. I rented a car for three days and $209 plus taxes to make my way around town. I wish I hadn't. Parking at the MGM is pricey. Valet starts at $12 and escalates higher as you stay longer. Self parking begins at $9 and rest at $15 if you park over four hours
Ride share Lyft has dispatched self-driving BMWs for their customers here while over at one of the fancy hotels a robot tends the bar, two more clues as to where mankind is heading.
But on Saturday night, the only machine that matters is ready to go — Manny Pacquiao.