LAS VEGAS - With the biggest fight of his life fast approaching, handlers of Manny Pacquiao are taking no chances as they put a security clamp around the Filipino ring hero days before his match against Floyd Mayweather.
Usually overly accommodating to guests, Pacquiao has been forced to change the rules, so much so that his 60th-floor suite at the Delano Hotel is now virtually off limits to people especially those who do not have any business being there.
There are also new rules like 'No Holding' and 'No Hugging,' but they are not for the boxers squaring off inside the ring but for the fighting congressman's visitors.
Also, Pacquiao now only accommodates guests until 8 p.m. or 9 - at the latest.
"Naghigpit na si boss kasi malapit na ang laban n'ya. Alam niyo naman napaka-importante nun," said Pacquiao's head of security Caloy Homo.
Even before a visitor sees even just a shadow of the popular boxer, a poster will greet them outside the door of the suite.
It enumerates all the guidelines strictly enforced which prohibits, among others, physical contact with Pacquiao including kissing, hugging and shaking of his hand.
Here is the sign posted on the entrance to the suite:
Continue reading below ↓
Recommended Videos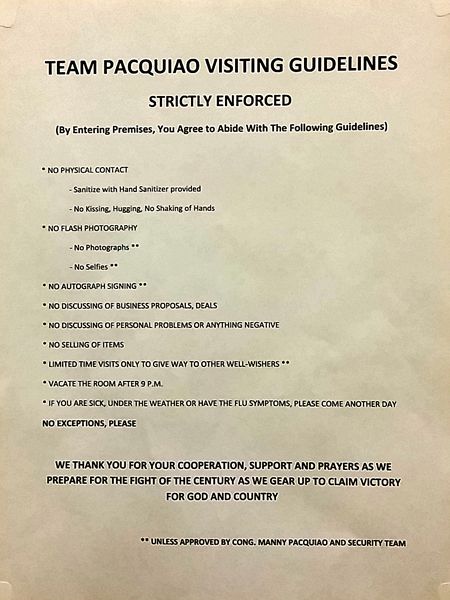 Other activities allowed in past Pacquiao fights inside the suite, like photo-ops, selfies, autograph signing, business discussions and - would you believe - salesmen offering items for sale to the Pacman, are no longer allowed.
Visitors are also disallowed from bringing up 'negative' matters to the champ.
Homo bared that it was his boss' initiative to impose a more stringent security so as to prevent him from catching illness and lose focus on his upcoming fight.
Even VIP's who fails to coordinate their visits with Pacquiao will not be allowed entry into his suite under the guidelines set after a bible study session on Wednesday evening (Thursday, Manila time).
"Mahirap rin kasi na ma-distract. Pati nga shake hands, hug lahat bawal kasi baka may iba na may ubo… mahawa siya," said Homo.
Asked why Pacquiao suddenly imposed a 9 p.m. curfew on guests which used to stay in his suite until close to midnight, Homo said: "Si boss (Pacquiao) 'din ang nag-decide n'yan.
"Kailangan kasi eksakto siya sa tulog. Maagang magising. Supposedly 8 p.m. siya dapat natutulog. Tulad ngayon (bago 'yang rules na yan) may iba pang bisita, ngayon pa lang kumain," he said.
Even VIP's will have a hard time getting into the suite to greet Pacquiao as the security personnel are strictly enforcing heavy screening of guests.
"Yung mga VIP naman usually may coordination 'yan kay boss. Alam nila kung kelan sila pwede umakyat. Yung wala, eh kailangang dumaan sa holding area," said Homo.
The new rules are a bummer for supporters and friends who used to get unhampered access to the Pacman, but Homo said the boxer's handlers expect them to understand.
As the poster outside his room said: "We thank you for your cooperation, support and prayers as we prepare for the fight of the century, as we gear up to claim victory for God and country!"