AT 40 years of age, it could be Manny Pacquiao's toughest test yet.
The Filipino great faces loudmouth but dangerous American Keith Thurman for the World Boxing Association (WBA) super-welterweight championship that has all the makings of a thrilling slugfest.
Thurman, 30, and undefeated in 29 fights (with 22 KOs), has vowed to beat Pacquiao and turn the 12-round fight at the MGM Grand on Saturday in Las Vegas (Sunday, Manila time) into a retirement ceremony for the only man to win eight world titles in as many divisions.
"I say I'm going to put him to sleep because I've got power," said the native of Clearwater, Florida, "I want to remind the world of something. Something very simple: I'm Keith 'One Time' Thurman. I have the name for a reason. Not a short season."
And Pacquiao's response?
"I hope he will live up to it," said the former Fighter of the Decade.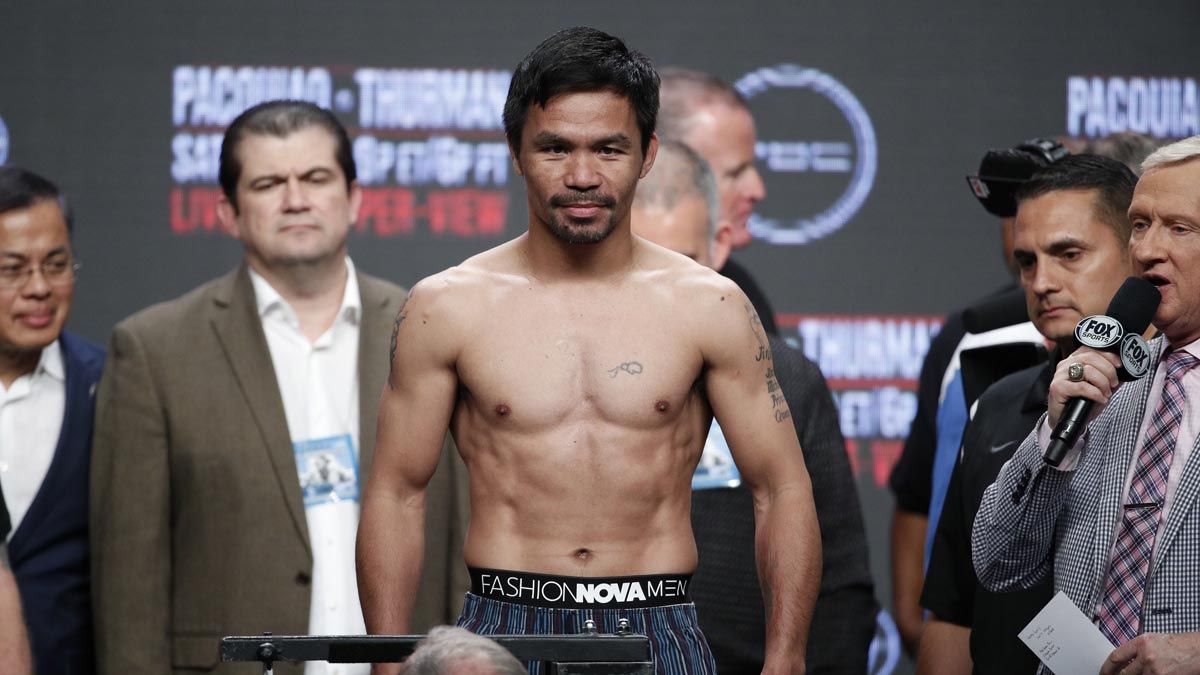 Continue reading below ↓
Recommended Videos
Both Pacquiao and Thurman tipped in at 146.5 lbs. during the official weigh-in on Friday.
As per the Nevada State Athletic Commission, official purse for the fight will have Pacquiao receiving $10 million and Thurman $2.5 million, although both fighters are guaranteed to receive millions more.
The Filipino boxing great is also a 2-1 favorite over Thurman on the eve of the fight.
Pacquiao is fighting for the second time since turning 40 last year. And while he passed his initial test with flying colors following a 12-round unanimous decision over Adrian Broner, it was clear the 29-year-old Broner came just to collect his paycheck rather than trade punches with the Pacman.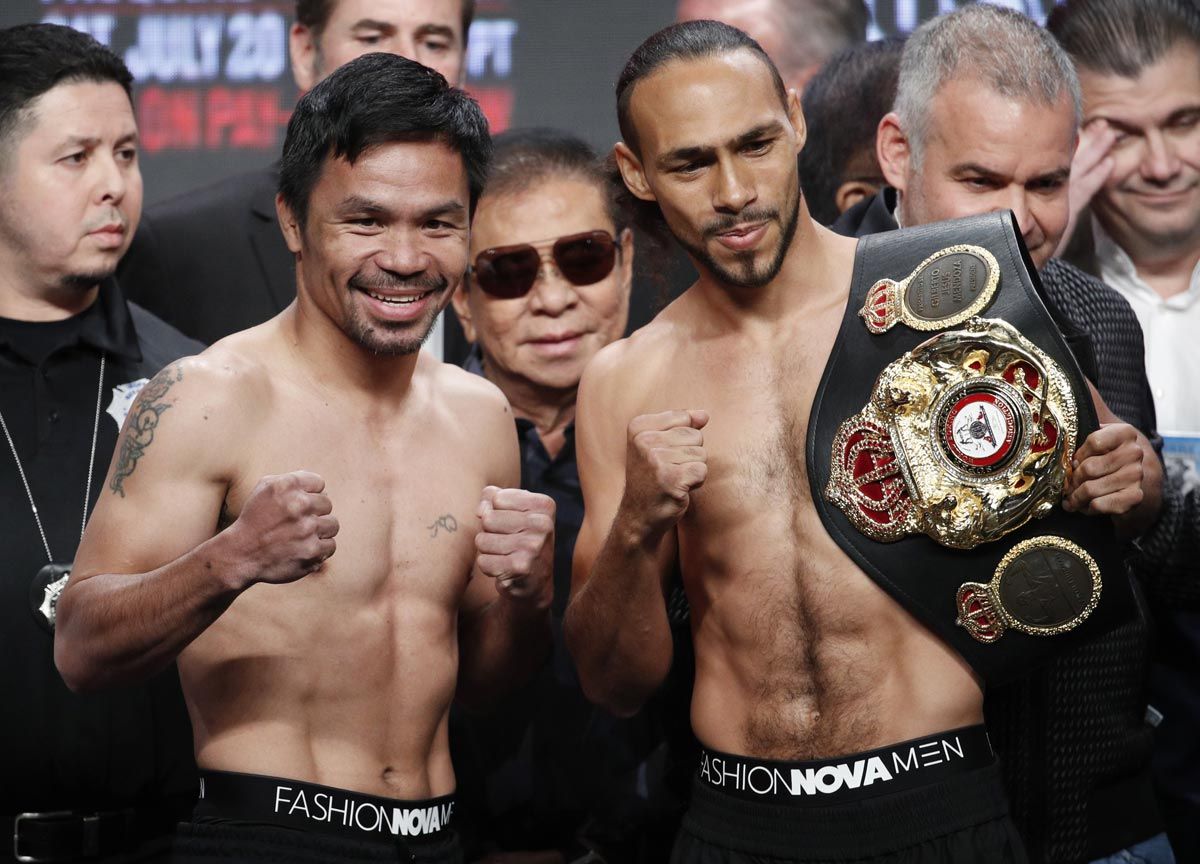 But Thurman is an entirely different animal.
The American champion, who stands an inch taller than Pacquiao and holds a two-inch advantage in reach, is one of the best counter-punchers in the division who's also not afraid to stand toe-to-toe against his opponent.
He holds huge victories over the likes of Robert 'The Ghost' Guerrero and former Pacquiao sparmate Shawn Porter, although his most significant win thus far was a split decision win over Danny Garcia in a 2017 fight pitting two undefeated fighters for the world welterweight unification match.
But a shoulder and elbow injury slowed down Thurman and forced him to be inactive for the next two years until making a comeback this January in a not-so impressive majority decision win over Josesito Lopez.
Despite struggling in his comeback bout, Thurman is confident he'll emerge victorious in the biggest fight of his career.
"I'm looking forward to the fight. I'm looking forward to the final moment when my hand is raised," he said. "It's been a build-up and a progression my whole career toward this moment."
While he downplays Thurman's trash talking, Pacquiao (61-7, 39 KOs) still maintains respect to his opponent.
"I respect my opponent because we both believe we can give a good fight to the fans," said the Filipino senator.
Besides, Pacquiao still wants to prove himself that even at 40, he remains competitive and can hold his own inside the ring against an opponent as good as Thurman.
"My feeling right now is happiness and excitement to prove that at the age of 40, I can still show my best," he added.
Veteren referee Kenny Bayless will serve as the third man in the ring, while the three judges scoring the bout are Glenn Feldman, Carl Moretti, and Tim Cheatham.