A BLINDING light awaits Manny Pacquiao at the end of the tunnel.
And all he has to do is win another world title and look good against Lucas Matthysse in their welterweight championship showdown in Malaysia three months from now.
Michael Koncz, the longtime Pacquiao adviser, bared plans of a face-off with top pound-for-pound fighter Vasyl Lomachenko later in the year should the 39-year-old Filipino boxing icon get past Matthysse in their July 15 encounter at the Axiata Arena at the heart of Kuala Lumpur.
A convincing victory by the Filipino senator would indeed, make a fight against the 30-year-old Lomachenko an enticing one.
"It sets up a potential big fight that Manny has been talking about in the fall and that's against Lomachenko," said Koncz, who arrived together with the Matthysee entourage in the country on Wednesday morning.
"The whole goal is we look very impressive, we walk away with the win, nobody gets injured, then we fight Lomachenko in the fall (around November)."
The plan doesn't exactly mean looking past Matthysse, who Pacquiao faces in what Koncz describes as a 'telling fight.'
"We're not overlooking it (Matthysse fight) because we know it's a live opponent," he said. "It's not a Brandon Rios-type of opponent so we're gonna focus on this fight."
Continue reading below ↓
Recommended Videos
A loss of course, would derail the staging of the bout which Koncz expects to generate a 'million buys in pay-per-view.'
"If we can't be successful here and have a good showing, how can we convince Lomachenko to fight us?" stressed the Canadian.
Lomachenko also has to do his part, needing to win his defense of the World Boxing Association (WBA) lightweight crown against Jorge Linares on May 12 at the Madison Square Garden.
"He (Lomachenko) will have to prevail in his upcoming fight too, so this has a lot of moving parts," Koncz said.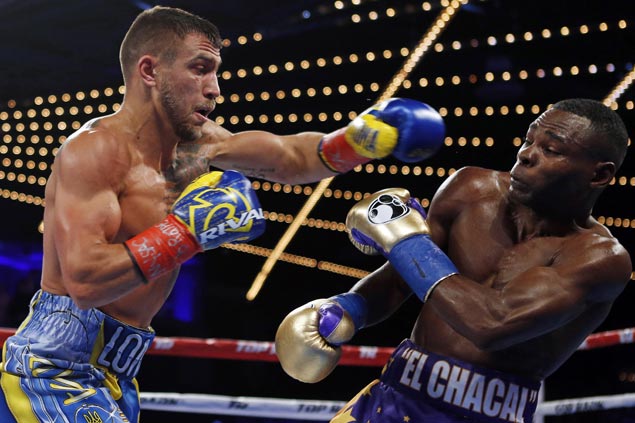 If everything comes into play, the Pacquiao-Lomachenko bout will again be held in the Malaysian capital.
Koncz mentioned the need for the fight against Matthysse to be financially successful for them to convince the same Malaysian supporters to stage another world title fight involving Pacquiao before the end of the year.
'Our goal now is to maximize the returns so the investors will be happy and we go back there in the fall," he said. "We have to show that we know what we're doing and we can give them their return, then we'll have another one (fight) with the same group."
Koncz added the fight against Lomachenko, a Ukrainian, will be at 140 pounds. The parties, according to Koncz, have already reached a verbal agreement.
"I've already talk to Manny about that, I've already talked to (Bob) Arum about that because Lomachenko is their (Top Rank) fighter and they're okay with going there (Malaysia)," he said.
Now everything boils down to Pacquiao taking care of business against Matthysse, the 35-year-old reigning WBA champion. And Koncz knows the eight-time world division champion can do it.
"If Manny focuses on his training and focuses on the fight, I believe he will be successful (against Matthysse)," he said.