LAS VEGAS - With the zeal of a determined stalker, Manny Pacquiao chased Jessie Vargas all over the Thomas and Mack Center ring apron on Saturday night (Sunday, Manila time), landing 147 of 409 punches as a blood thirsty crowd of 16,132 roared in approval.
Aging gracefully like fine wine, Pacquiao showed the speed and quickness that betrayed his 37 years. He repeatedly stepped under his much taller foe's jab and allowed Vargas to land only 104 of 562 blows, a tepid 19 percent clip.
After 12 entertaining rounds, Vargas, 27, became a canvas with which Pacquiao painted another masterpiece, one that netted him the judges' nod and a championship belt.
Pacquiao. who collected a guaranteed US$4 million plus pay-per-view upside, improved to 59-6-2 (38 KOs). The vanquished Vargas dropped to 27-2 (10 KOs) but he now has a fat checking account, thanks to a $2.8 million purse.
After 36 exhausting minutes of harassing Vargas from pillar to post, the fighting senator retreated to his 30th floor suite at the Wynn Hotel, where he entertained family and friends, sponsors and well-wishers, and select members of the media.
Security is tight. Manny, after all, is not just a boxer now. He is a sitting senator of a sovereign republic and therefore a visiting dignitary in these United States. Again, thanks to my connections inside Manny's camp, friendships that have been nurtured for years, I got the golden ticket to enter Manny's suite.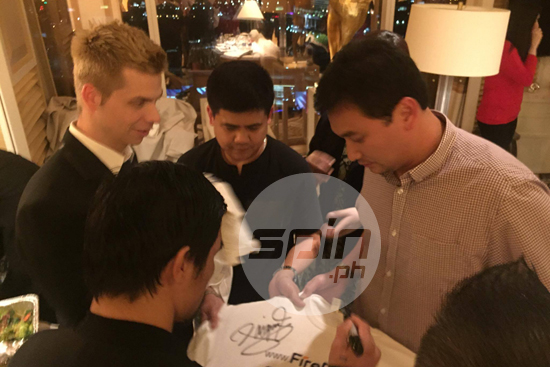 After passing through a gauntlet of security officers along the bank of elevators by the Tower Suites, I arrived at Manny's refuge at 2 a.m. Vegas time. The place was packed, small talk bounced around the walls, while an impressive spread of Chinese food sat on the corner, begging to be devoured.
Manny signed autographs and posed for photographs. He played chess in between, matching wits with former PBA player Zaldy Realubit and 23-year old Wesley So, a wunderkind who became a grandmaster at 16 and is currently ranked the No.6 chess player in the world while represented the US.
The first interview went to scoop queen Dyan Castillejo of ABS-CBN. The gals at GMA 7 and TV-5 followed while SPIN.ph and yours truly came next in line.
I asked Manny to rate his performance in a scale of 10. He politely declined, saying only, "I can't put a number on it, but I'm very happy with my effort," in the vernacular. He also said that training for big fights while performing his senatorial obligations at the same time is a new reality for him moving forward.
Another interview from GMA came and went. More chess matches were played while a steady stream of people came in and out of room.
I left the suite at 5 a.m., a deadline was waiting to be written. Like Manny, sleep is not in my agenda in this paradise of decadence called Sin City.