AFTER Manny Pacquiao's controversial loss to now World Boxing Organization welterweight champion Jeff Horn last Sunday came the blame game, oddly within the Filipino boxing great's camp.
Pacquiao's promoter, Top Rank boss Bob Arum, called out the 'morons' in the boxer-turned-Senator's camp for underestimating the unbeaten Australian in their pre-fight comments, particularly noting that the only way for Pacquiao to lose was if he 'trips his way to the ring.'
A few days before the title bout at Suncorp Arena in Brisbane, handlers of the then reigning WBO welterweight titlist were quoted as saying Horn didn't do his homework well as the Aussie failed to train against superior sparring partners in the US.
Arum had warned them repeatedly to not take Horn lightly, the Top Rank CEO bared in an interview with boxingscene.com on Tuesday. But Pacquiao's media relations chief Aquiles Zonio fired back in a separate interview with the Manila Times, hinting that the disputed loss was part of Arum's plan to build up a new 'cash cow' in Horn.
Pacquiao himself also shared that he felt the loss was a 'set-up' as he arrived in his GenSan hometown, and called for a WBO inquiry similar to the probe on his controversial 2012 loss to Tim Bradley Jr.
Continue reading below ↓
Recommended Videos
[See Pacman seeks WBO probe into controversial loss]
But with all this mudslinging, who really deserves the blame for Pacquiao's shocking upset?
One could point in the direction of Pacquiao's training camp for being remiss in its job to prepare the eight-division champion as they should have. They instantly dismissed Horn trainer Glenn Rushton's warning that their camp was preparing a 10-point plan on how to beat the eight-division boxing champ. They even belittled Horn's sparring mate Czar Amonpon.
Pacquiao's team failed to realize that such 10-point ploy included the well-worn attack-clinch-hold-headlock strategy Horn exploited to the hilt from the opening round on to the last, oddly with the full permission of referee Mark Nelson. Horn even added his own version to the arsenal in strangling Pacquiao in the neck, whenever the chance arose, and headbutting.
They expected Horn to run as soon as he felt Pacquiao's punches, only to be left stunned as Horn brawled and executed the Rushton strategy to perfection.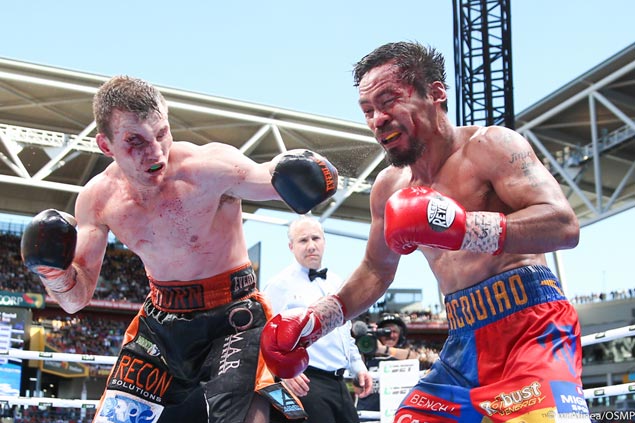 Pointing the finger to the 'Four Blind Mice' – referee Nelson, and judges Waleska Roldan of New York, Chris Flores of Arizona and Ramon Cerdan of Agentina — has also been popular among analysts, broadcasters and fans.
They blamed Nelson of Minnesota, a veteran of refereeing 80 world title fights, for not even warning Horn for elbowing, headlocking, and headbutting Pacquiao repeatedly all throughout the 12-round showdown.
While a few accepted Flores' and Cerdan's identical 115-113 decision favoring Horn, many believed Roldan's 117-111 verdict was, to say the least, ridiculous if not completely anomalous. Roldan only gave Pacquiao three rounds while the other two had the Filipino icon winning five rounds.
[See Pacquiao believes he won by four to five rounds]
A survey conducted by a media outfit among press people who covered the fight also revealed that 55 out of 67 interviewed expressed belief, righthfully so, that Pacquiao lost. Only seven voted for Horn, while the rest saw the fight as a draw.
There are also those who blame Pacquiao himself for allowing the fight to be held in Australia in the first place. As the crown-holder, isn't it his right to choose the place where he should defend it? As champion, he should have also given the priority to choose who the third man should be in the ring with him and his challenger, as well as the judges, too.
This blame game, though, could go on endlessly, and not even a rematch or Pacquiao's retirement could put an end to the questions the brawl in Brisbane left unanswered.