LEAVE it to Manny Pacquiao to continue rewriting the record books even if his career is supposedly on its final leg.
Pacquiao, 40, added another glorious chapter to his boxing resume by beating American Keith Thurman for the "super" version of the WBA welterweight title. Pacquiao actually entered the fight as the "regular" holder of the WBA crown, but the "super" version held by Thurman was generally considered the superior belt and the one really on the line.
Pacquiao turned back the clock against Thurman, flooring the cocky American with a blistering left to the body/right hook to the head combination in the opening round. Pacquiao dominated the first five rounds and bloodied Thurman's nose in the fifth stanza.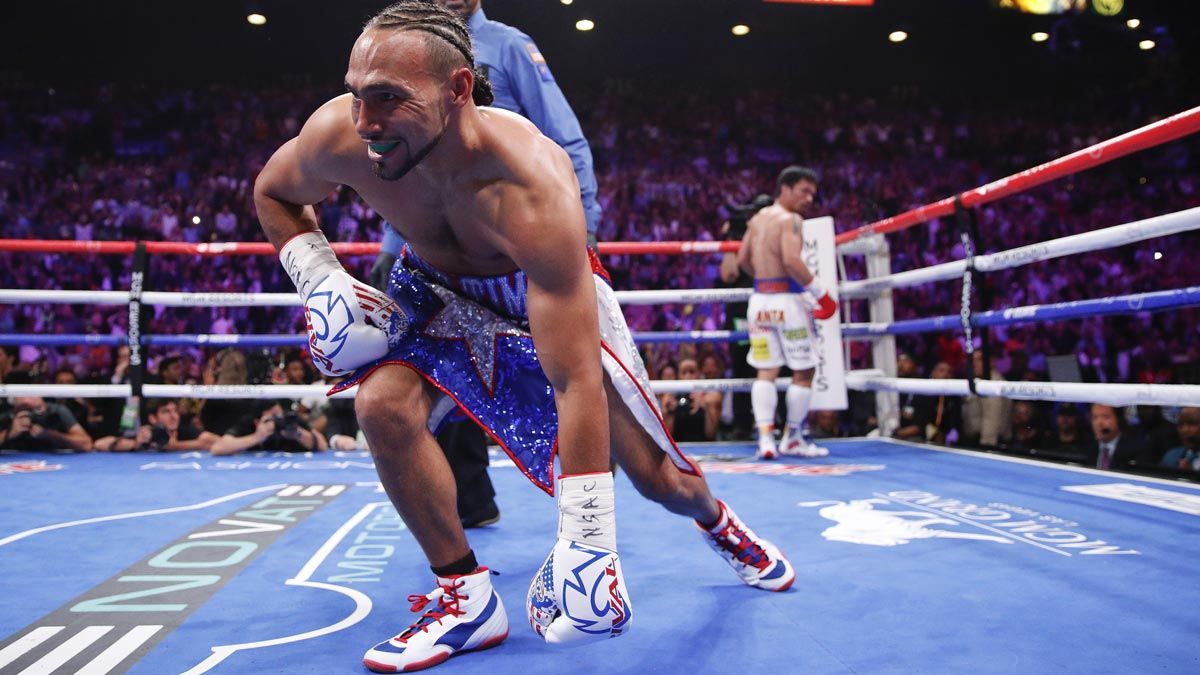 Continue reading below ↓
Recommended Videos
Thurman rebounded in the middle rounds when Pacquiao decided to coast along the ropes. Thurman started employing lateral movements and began landing some nifty left jab-right straight combinations in the sixth and seventh rounds. Thurman had a huge ninth round when he bombarded Pacquiao with a series of unanswered right bombs. Thurman's right straight, dubbed the "southpaw" killer by experts, landed flush on Pacquiao's jaw on several occasions but failed to put the Filipino away.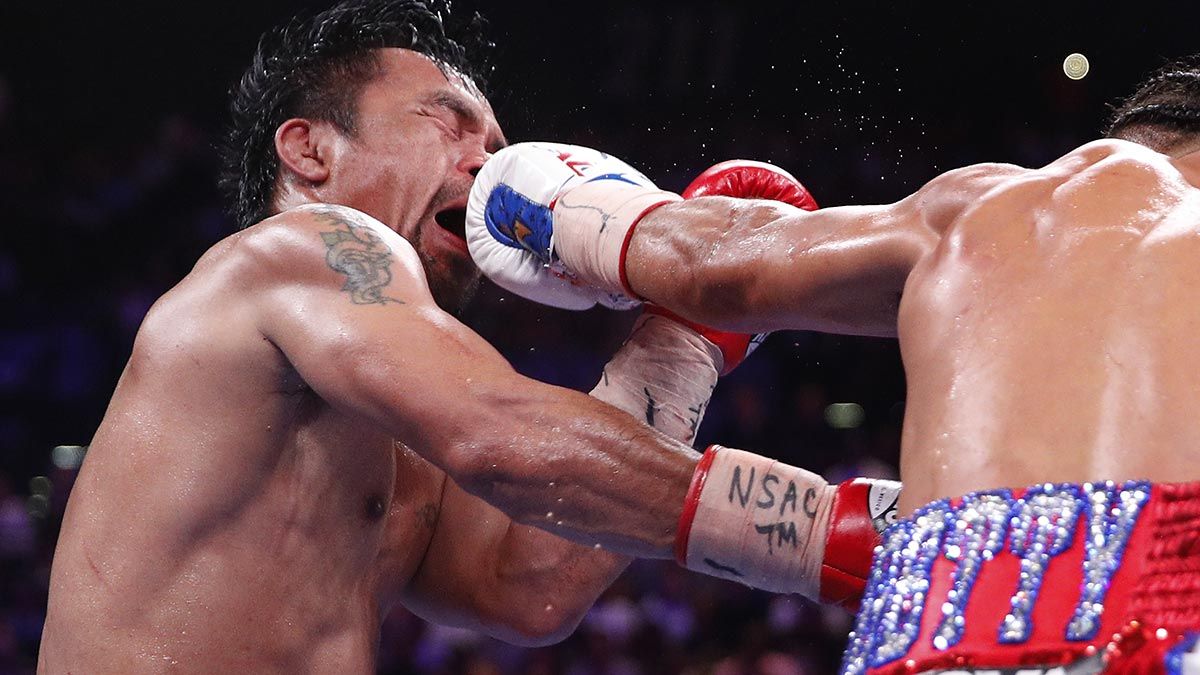 Pacquiao regained control of the fight in the 10th stanza, when he landed a debilitating left to the body of Thurman. Thurman sagged along the ropes like a rag doll and almost spat out his mouthpiece as he tried to suck in some air. Thurman was on the verge of getting knocked out, but Pacquiao failed to muster enough strength to capitalize.
Thurman captured the 11th round, but it was Pacquiao who finished the fight strong by taking the final round. In the end, this writer scored it 115-112, the same score given by judges Dave Moretti and Tim Cheatham. Officially, though, Pacquiao won only by split decision because one judge, Glenn Feldman, inexplicably scored it 114-113 for Thurman.
Thurman, who absorbed his first defeat in 30 fights, readily accepted defeat. For all the acerbic words he threw at Pacquiao in the pre-fight conferences, Thurman was a gracious loser, even noting that Pacquiao still has a lot of fights left in him.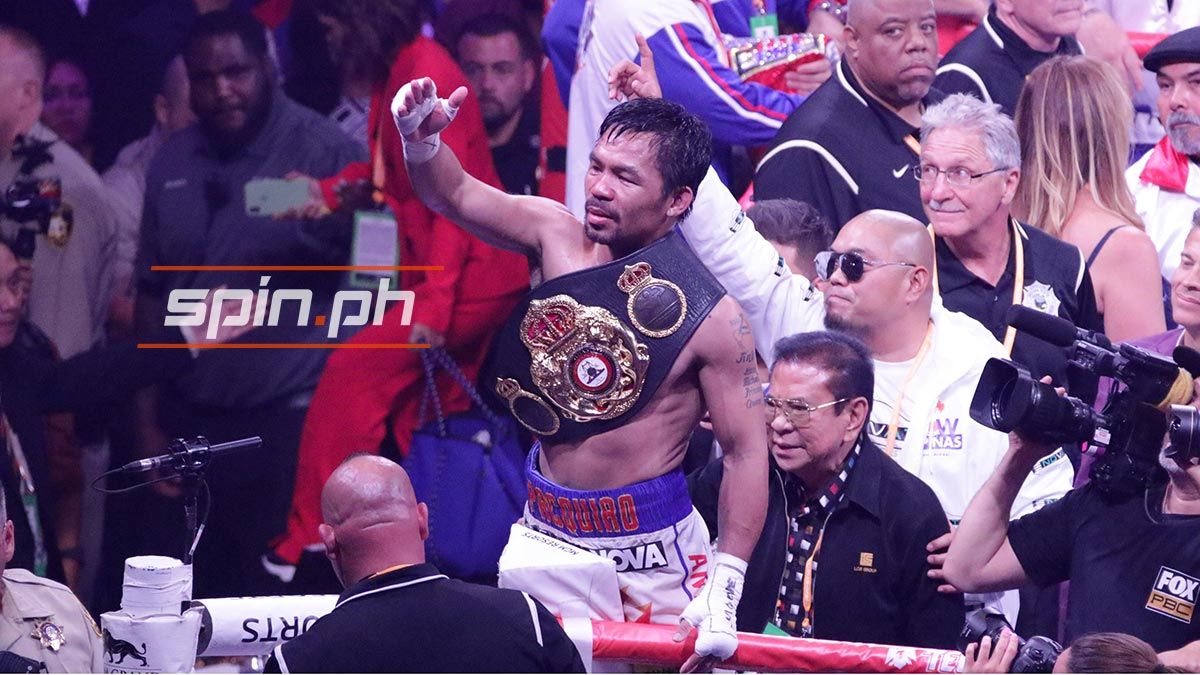 Pacquiao became the oldest boxer to be crowned world welterweight champion. Overall, Pacquiao became the fifth oldest boxer to be crowned world champion.
American Bernard "The Executioner" Hopkins holds the record for being the oldest boxer to be crowned world champion. Hopkins was 46 years old when he won the WBC light heavyweight title in May 2011 over Jean Pascal. Two years later, a 48-year-old Hopkins broke his own record by beating Tavoris Cloud for the IBF version of the light heavyweight title.
George Foreman was 45 when he knocked out Michael Moorer in November 1994 to win the heavyweight crown. South African Sugar Boy Malinga was 41 when he captured the super middleweight title in 1997 while Briton Bob Fitzsimmons was 40 when he won the light heavyweight plum in 1903.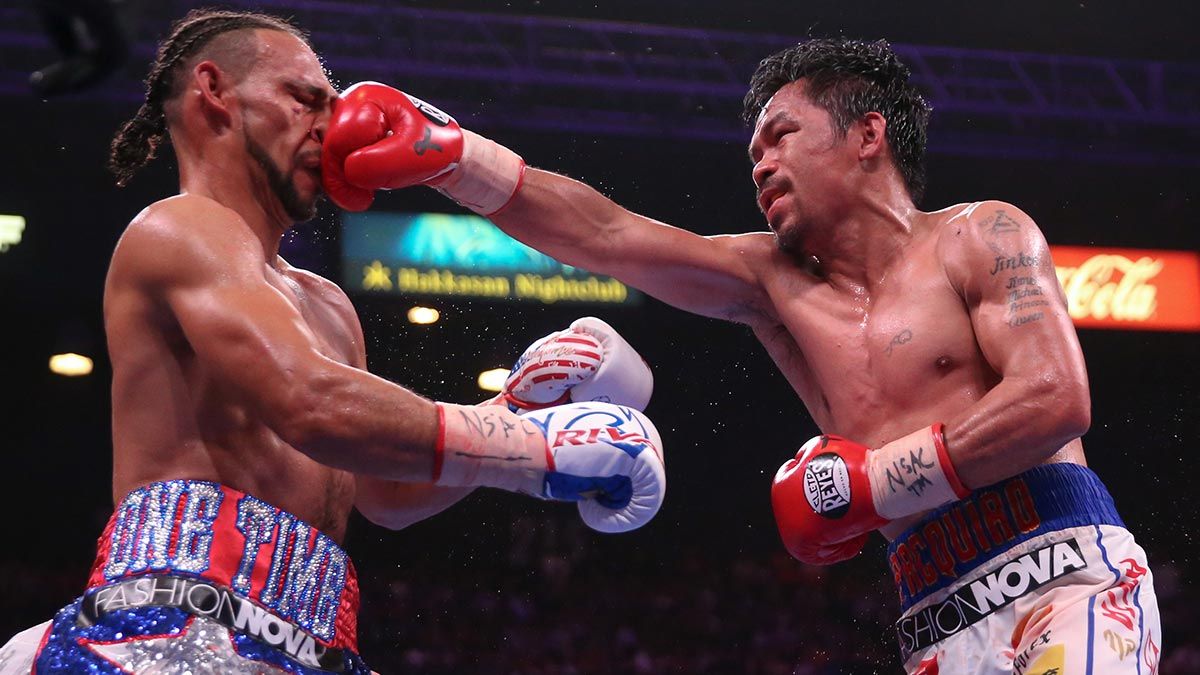 Pacquiao is on the aforementioned elite list of 40-plus world boxing champions, the only Asian to pull off the feat.
The Philippines has produced 42 world boxing champions, but no other Filipino boxer has ever won or regained a world title at age 40.
Going over the list of Filipino world champions, the following competed beyond the age of 35: Dado Marino, Ceferino Garcia, Gabriel Elorde, Bernabe Villacampo, Luisito Espinosa, Jesus Salud, Malcolm Tunacao, Gerry Penalosa, Sonny Boy Jaro, Brian Viloria, Donnie Nietes, Nonito Donaire Jr. and Pacquiao.
Marino was 37 years old when he fought for the world flyweight title in November 1952, albeit dropping a decision to Japanese Yoshio Shirai in what turned out to his farewell fight.
Penalosa was 36 years old when he received a shot at the junior featherweight crown held by Juan Manuel Lopez in 2009. Penalosa was stopped in his last shot at a world boxing crown. He fought two more times before retiring for good in 2010.
Nietes (37) and Donaire (36) are still very competitive for their age, but it is unlikely that they will be able to duplicate Pacquiao's feat of being a world champ at 40. Nietes has been inactive since December, when he defeated Japanese Kazuto Ioka for the WBO junior bantamweight crown.
Donaire returned to world champion status in November 2018, when he defeated Ryan Burnett for the WBA (super) bantamweight crown. Donaire is tentatively booked to take on Japanese superstar and WBA-IBF champ Naoya Inoue in a unification showdown.
Pacquiao's longevity is unlike anything we have seen in the history of Philippine boxing. Pacquiao's showdown with Thurman was his 71st paid contest in a pro career that started in 1995 and encompassed eight weight divisions.
Admittedly, nobody can defeat Father Time, but it will be interesting to see how much more Pacquiao can accomplish before he takes his place in the pantheon of boxing immortals.