MACAU - Before he retires, Manny Pacquiao wants one final fight before home fans.
As he enters the final phase of his buildup for his WBO welterweight title defense versus Chris Algieri, the Philippine boxing hero told Spin.ph he has already advised his longtime promoter, Top Rank big boss Bob Arum, to study the possibility of a return fight in the Philippines.
Pacquiao, 35, last fought in the country on June 2, 2006 when he gave Mexican Oscar Larios a neat boxing clinic at the Smart Araneta Coliseum. He also fought Fahsan 3K Battery of Thailand in Taguig.
"Pag kaya na dalhin sa Pilipinas, pina-plano namin na sa Pilipinas ganapin (ang last fight ko) bago man lamang magretiro," Pacquiao told Spin.ph.
Since becoming a worldwide sensation after upsetting heavy favorite Marco Antonio Barrera in 2003, Pacquiao has been urged by his home fans to once again bring his act to the Philippines before he retires.
[See Pacquiao on brash, confident challenger Algieri: 'He's a boy]
The availability of world-class stadiums like the 55,000-capacity Philippine Arena and the Mall of Asia Arena in Pasay City makes the dream easier to stage, Arum said, although the huge sum needed for the prize purses and logistics may prove a major challenge.
"Sure, before he calls it a day and hangs up his gloves, we'd (Top Rank) love to do a major event with Manny in the Philippines," Arum said.
"We're definitely doing a fight in the Philippines, before he hangs up his gloves. We'll definitely do that, last fight or one of his last fights in the Philippines," he added.
"He wants to do it (Philippine fight) and so do we."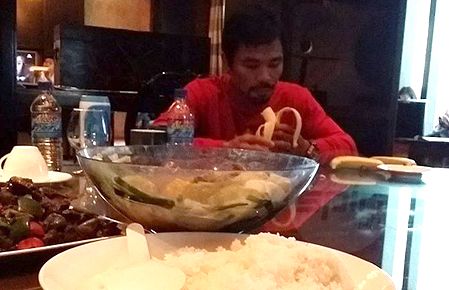 Arum, however, also emphasized that he believes that farewell fight is still far away, saying the fighting congressman from Sarangani still has a long way to go in his career.
"We talked about it. But you know, there's a lot of stuff between his retirement and where he is now," he said.
Aside from this, Arum also stated that there is no way they can bring a fight against Floyd Mayweather Jr. to Manila if the long-awaited mega-fight finally pushes through.
"Obviously, if we go into a Mayweather fight, there's no way we'll gonna get Floyd to the Philippines," said Arum, the same architect behind the successful Muhammad Ali-Joe Frazier's "Thrilla in Manila" fight at the Big Dome.
[See Pacquiao says door still open for big fight against Mayweather]
But more than anything else, Arum admitted it is "'economic considerations" particularly the feasibility of a multi-million dollar fight card in the Philippines should be the main issue for a Manil fight.
"We deem a lot of economic considerations and we have to work on those considerations," he said.
But when will that final fight be?
"It depends on Manny," Arum said.
For video of full interview with Pacquiao and Arum, see: