SO long as Manny Pacquiao doesn't get careless the way he did against Juan Manuel Marquez, the Filipino boxing icon stands a very good chance of pulling off an upset against Floyd Mayweather Jr. exactly a month from now.
Former world title contender Edito 'Ala' Villamor stressed Pacquiao needs to retain his relentless attitude in the ring but not to the point of being reckless especially against a smart opponent like Mayweather in their May 2 (May 3, Manila time) welterweight title showdown at the MGM Grand in Las Vegas.
Villamor noted that's exactly what happed to the Filipino boxing great in the fourth installment of his great rivalry against Marquez in 2012 when he momentarily let his guard down and allowed the Mexican warrior to sneak in a perfect right counterpunch which found Pacquiao's chin just as round six was about to come to an end.
What followed next was the worst loss Pacquiao ever suffered in his stellar boxing career as he was knocked out unconscious for about a minute that signaled an end to the brutal fight.
ADVERTISEMENT - CONTINUE READING BELOW ↓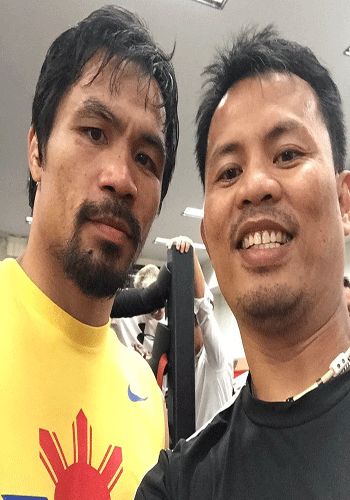 The 44-year-old Villamor, the lead trainer in the famed ALA boxing gym in Cebu City, stressed Pacquiao should be more disciplined in the ring against a fighter as crafty as Mayweather.
"Basta huwag lang maulit yung kay (Juan Manuel) Marquez, I think maganda ang chance ni Manny kay Mayweather," Villamor shared to Spin.ph before leaving for the US to start training Milan Melindo for his coming May 9 title fight against reigning International Boxing Federation (IBF) light flyweight champion Javier Mendoza.
ADVERTISEMENT - CONTINUE READING BELOW ↓
"Yung kay Marquez nanggigil lang si Manny kaya medyo naging careless. And that's a no-no against Mayweather. Alam din naman natin ang kalibre niya (Mayweather)."
Like anybody else, Villamor believed Marquez was ripe for the picking had Pacquiao survived that fateful round.
"Paupos na si Marquez. Isang round pa kuha na ni Manny. Kaso nga napasukan (ng kanan), " recalled Villamor, who once fought and lost to the great Mexican warrior Ricardo Lopez for the World Boxing Council (WBC) minimumweight championship in 1996 at the MGM Grand in Las Vegas, Nevada.
Villamor, who compiled a 29-2-1 record, with 26 KOs before retiring following his fourth-round loss to Lopez, said one advantage Pacquiao has against Mayweather is his ability to win the fight both ways – either by knockout or decision.
"Si Manny puwedeng maka-score ng knockout or decision if he plays his card right," he pointed.
Such is not the case of Mayweather, Villamor added.
ADVERTISEMENT - CONTINUE READING BELOW ↓
"Si Mayweather decision lang."
Not unless of course, the ghost of the fourth Marquez fight haunts Pacquiao again.