LOS ANGELES – Here's one more reason to cheer for the 'Pacman.'
Two big fans, both afflicted with cerebral palsy, waited for almost seven hours outside the Wild Card gym on Tuesday (Wednesday, Manila time) hoping for the chance to personally wish Manny Pacquiao luck in his 12-round battle against Floyd Mayweather Jr. two weeks from now at the MGM Grand in Las Vegas.
The long wait proved worth it as Guatemalan Jember Carcamo and Mexican Memo Gomez soon met Pacquiao, who, after a tiring day at the gym, still found time to spend with the two fans.
The Filipino ring icon later had a short talk with his two fans, signed autographs, and granted photo ops before bidding them goodbye.
The two were naturallty over the moon.
"We hope he wins the fight," said Gomez who, despite his condition, still pushes close pal Carcamo around in his wheelchair in the streets of Hollywood.
Carcamo said Pacquiao's friendly and humble ways have endeared him to people - regardless of nationality.
"He inspires a lot of people whatever nationalities and whatever condition they are in," said Carcamo, a Guatemalan now based in California.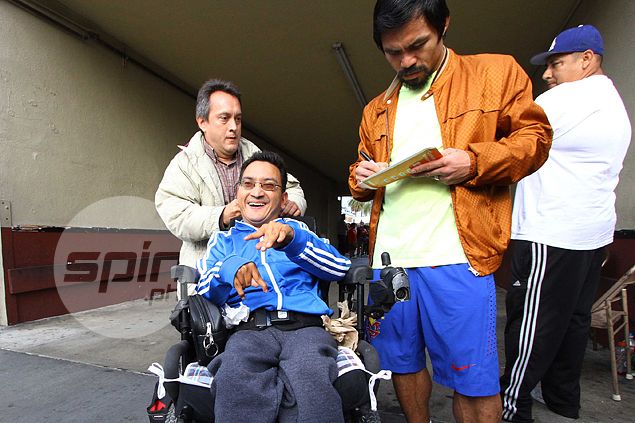 Continue reading below ↓
Recommended Videos
ALSO SEE:
View VIDEO: Apl.de.ap perks up Pacquiao training with impromptu rap session
Floyd Sr. on Pacquiao: 'We're not fighting Cassius Clay; we're fighting an ordinary guy'
Judge who made costly error in Pacquiao-Marquez I back for Mayweather fight
Learn more about Mayweather strengths, weaknesses. See ALL ANGLES podcast
The champ meets his match. View VIDEO
Even in terms of 'Class A' imitations, Pacquiao shirts still a class unto itself
Price tag of ads on Manny Pacquiao's trunks nothing short of staggering
Pacquiao had a classic retort after Mayweather called him 'reckless'
Basketball talk a welcome distraction for Pacman after hard day at gym
Wondering why Pacquiao never got a shot at Olympic gold medal?
Advertising spots for megafight to cost an arm and a leg. Find out how much
Two Filipino fighters came close to fighting Mayweather. Find out what happened
Mayweather camp better not do anything foolish: 'Boy Kapre' will climb ring with Pacquiao