BOXING sensation Manny Pacquiao is not about to engage his promoter Bob Arum in a verbal public spat on the matter surrounding the rehabilitation of his newly-operated shoulder.
The Filipino ring icon was quick to play down the tirade made against him by Arum on Saturday as nothing but a minor gripe by a concerned father to his beloved son.
"I respect Bob Arum. He's just like a father to me. I believe he's just voicing out his concern for me and I appreciate it. I don't take it negatively," said the 36-year-old congressman from the province of Sarangani in an official statement made through his public information officer Aqui Zonio on Monday.
The eight-time world division champion made the remark in light of Arum's scathing comments about Pacquiao's failure to go to the US early this month for the start of his rehabilitation program following the surgery performed to repair the torn rotator cuff in his right shoulder.
He aggravated the injury during the course of his 12-round mega-fight against Floyd Mayweather Jr. last May.
[See Bob Arum expresses frustration over Pacquiao failure to go in time to US for rehab of shoulder injury]
Pacquiao was supposed to go to the U.S. for his rehabilitation with famed Los Angeles orthopedicsurgeon Dr. Neal ElAttrache, who also performed the surgery.
Continue reading below ↓
Recommended Videos
But the Filipino boxer opted to put off his US trip, infuriating Arum who spoke out in Macau where Top Rank did a special boxing card over the weekend that featured comebacking former world champion Nonito Donaire Jr.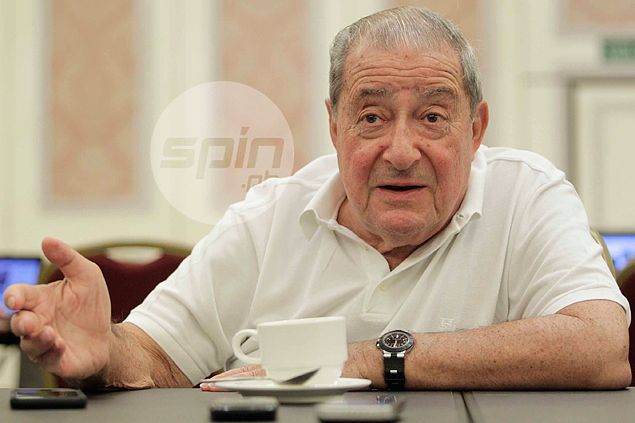 "Well, Pacquiao was supposed to come in to see the doctor, and for some reason, he decided to cancel it and come later," said the 83-year-old Arum in an interview by ABS-CBN sports reporter Dyan Castillejo.
"You know, he's not acting very professionally, in my opinion," Arum added.