WE'RE pretty sure every Filipino has the Pacquiao-Mayweather megafight penciled in their calendar on May 3 (May 2 in the US) which falls on a Sunday. The three major TV networks have agreed to simultaneously air ' Pacquiao vs. Mayweather Battle for Greatness' but we all know free TV will not be showing the fight live — the commercials that paid for it will certainly result in long delays. So unless you go offline for the duration of the fight, soundproof your home or hide under a rock … you better look for other options.
For most folks, something this BIG deserves to be watched in real time, under the best viewing experience. Here's a Spin.ph shortlist of recommendations on D-Day:
1. Call the Cable Guy (Estimated cost: P2,500 for pay per view)
Nothing beats watching a pay-per-view match in the comfort of your own home where you can scream, cheer, curse and rant to your heart's content. You can host a party with your family and best buddies (if you have the best home entertainment system amongst your barkada, offer to host a viewing party while they bring the chow and drinks). Your bathroom is nearby and that's a big plus when you don't want to miss any of the action.
Continue reading below ↓
Recommended Videos
If you are a Sky Cable subscriber, be prepared to shell out a cool P2,500 for both Standard and High-Definition live feeds with "exclusive bonus features." The bonus features included with the pay per view are ANC-produced pre-fight documentary focused on Pacquiao's training for the Mayweather fight, the making of Kid Kulafu, Pacquiao The Movie (with actor Jericho Rosales as Pacquiao) as well as a 15-day free viewing of selected channels.
Rival Cignal, on the other hand, is offering an early bird special for the 'Fight of the Century' at a cheaper P2,000 until April 18 after which the regular rate of P2,500 kicks in.
Some drawbacks would be: the size of your television screen might limit your viewing pleasure, unwanted guests, and spotty cable connection. Plus, there's the risk that you ended up paying P2,500 for a fight that takes less than a round - or three minutes - to finish.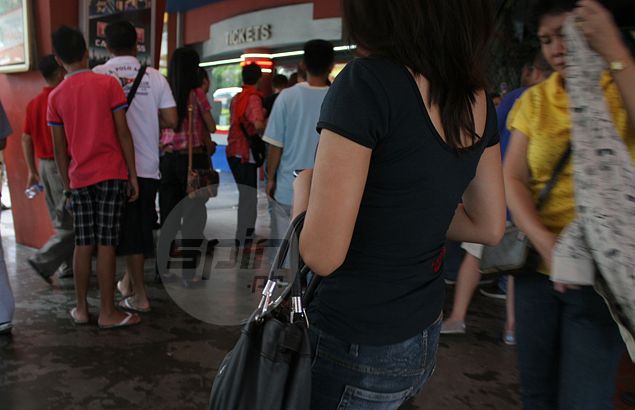 2. Relax, See A Movie (Estimated cost: P800 for standard, P1200 for IMax, not including expenses for parking, gas, and food)
One (literally) cool way to watch the fight is to go to the nearest SM or Robinsons mall since practically all their theaters will be showing the fight. The going rate is up at P800 for a ticket, a considerable rise from Pacquiao's previous fights. Extras such as IMax and Lazy Boy seats will cost a lot more and hovering to four-figure range. You'd also have to leave the house early for choice seats (unless you have reserved tickets) - the doors open at 8 a.m. for a main event that usually happens around lunchtime.
SM Cinema has offered early bird ticket prices. For Metro Manila Regular Cinemas (including Taytay and Masinag) it's Php 800 while tickets for a Provincial Cinema is Php600. For higher-end venues, HD Cinemas (nationwide) is Php1,000 and Director's Club Cinemas (for block screening only) is Php1,000 per head with a buffet option for an additional Php 250 (8am to 10am). If you want to watch in an IMAX theater it's going Php1,200 a ticket (nationwide). Take note that SM will increase prices by Php 100/ ticket starting April 13, 2015.
There's a certain 'Ooooh' factor watching Pacquiao's biggest fight on the silverscreen though. That and top of the line audio systems surrounded by a largely partisan crowd that can surely drown out said surround sound while basking in the cold temperature in the middle of tropic summer.
Of course there are the long lines to contend with at the parking lot, the entrance, the restroom and the food concessionaire. Consider also cash forked over for parking fees, fuel for the car and of course, and the inevitably overpriced refreshments.
3. Dining In Style (Estimated cost: P500 per person, consumable)
Many dining establishments have widescreen televisions installed in their premises. The combination of Sunday brunch and what is undoubtedly the most awaited boxing match in decades is not lost on owners of restaurant and sports bars that are set to make a killing. Just like a buffet line, there will surely be a lot of options — from swanky hotel restaurants, family-friendly bistros, sports bars and pizza joints. Here's a tip: find a place that offers entrance fees that are consumable. And do come in early (especially if you don't have a reservation) since the more popular places tend to fill up rather quickly.
[See Good times here again as bars, restos out to cash in on Pacquiao fight]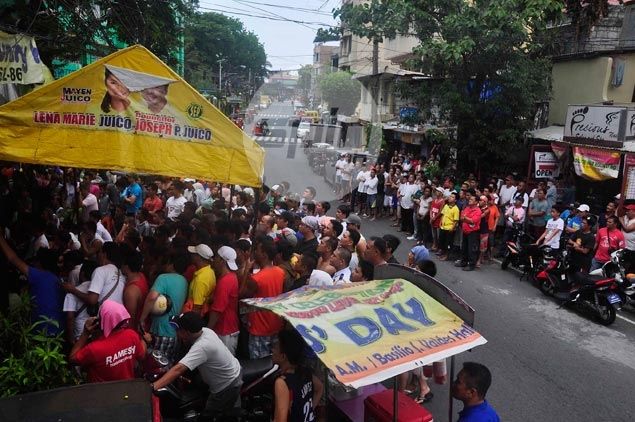 4. From the Office of the Mayor (Estimated cost: Free, courtesy of taxpayers' money)
The Philippines will have its national elections in 2016. This means a lot of people will be running for office. It also means there will be a LOT of would-be candidates more than willing to sponsor a public viewing. So if you are cash-poor but vote-rich (and possessing a valid voter's ID) just keep your eyes and ears open for free live viewings courtesy of (Insert Candidate's Name Here) in your area. Usual venues are large spaces that include ventilation-challenged gymnasiums and auditoriums. But hey, it's live and it's FREE (or sometimes shouldered by taxpayers' expense). These are where the fans are their loudest, rowdiest and funniest. But if you want to witness pure adulation from Manny's diehards, this is the place to be.
5. Video Killed the Radio Star (Estimated cost: Free)
When all else fails, or circumstances force you to be out of pay-per-view range, radio is your last resort. GMA-owned DZBB Super Radyo secured the rights for the live radio broadcast of the Las Vegas bout. You can find it in 594 kHz on the AM band. And if you happen to be behind the wheel, keep your emotions in check since jubilation or 'weeping and gnashing of teeth' can be dangerous while driving.
We're pretty sure there are other additions to this modest list such as websites promising live streaming video online but wherever our kababayans have decided to watch Pacquiao vs. Mayweather, it will surely be a show for the history books. And you would remember where you were when it happened.