UKRAINE'S Vasiliy Lomachenko, the consensus pound-for-pound king in pro boxing today, just expanded his trophy room by stopping Venezuelan Jorge Linares in 10 rounds for the World Boxing Association (WBA) lightweight championship (135 lbs.).
The victory gave Lomachenko his third division crown and was the fastest to get there. Lomachenko needed only 12 fights to win world titles in the featherweight (126 lbs.), super featherweight (130 lbs.) and lightweight crowns. Previously, Australian slugger Jeff Fenech posted the record by winning his third division crown in his 20th fight in 1988.
For Lomachenko, though, the third time was not a walk in the park. Moving up to 135 pounds, Lomachenko had to work doubly hard to take down a taller, heavier Linares. In the 6th round, Lomachenko made the common mistake of a southpaw; he walked into a right straight from Linares and found himself getting dumped to the canvas. To his credit, Lomachenko remained composed and continued to methodically break down Linares. In the 10th stanza, Lomachenko peppered Linares with head shots and then sneaked in a short left to the liver that dropped the Venezuelan to a knee. Linares got up, but was clearly in no shape to continue as the referee waived the fight over.
Continue reading below ↓
Recommended Videos
The victory improved Lomachenko's record to 11-1, with 9 knockouts. More importantly, it kept alive a proposed dream showdown with Filipino ring icon Manny Pacquiao, who is booked to fight slugger Lucas Matthysse on July 15 for the 'regular' WBA welterweight (147 lbs.) hardware. Pacquiao has been talking about swapping leather with Lomachenko since last year, knowing well that it is only the big money fight available in the limited market. Fight fans initially dismissed the thought owing to the weight difference, but they started salivating for it when Lomachenko decided to slowly move up in weight.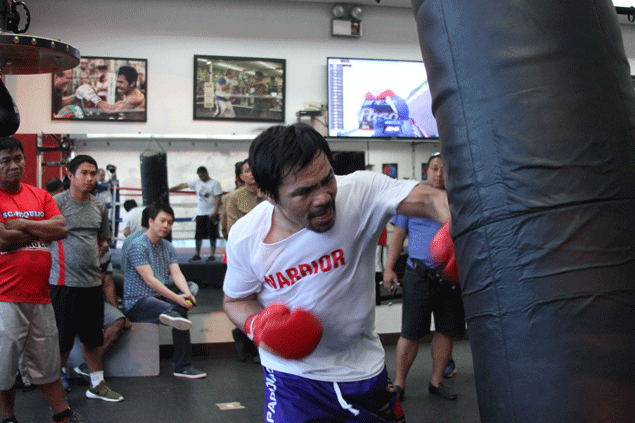 In fact, after seeing Lomachenko getting knocked down by the bigger Linares, not a few started nurturing the view that Pacquiao might just have a solid shot at scoring an upset.
Before the Linares fight, the prevailing view was that Pacquiao should avoid Lomachenko at all cost as he might end up getting humiliated by the multi-skilled Ukrainian. At 39, the prognosis is that Pacquiao is just too old and is no longer the same fighter.
But in the Linares fight, Lomachenko also showed that the additional weight has made him slower and vulnerable. Lomachenko was Quicksilver-fast at featherweight (126 lbs.), but he has since added nine pounds to his frame as he moved up to fight Linares.
Pacquiao, who now campaigns in the 147-pound division, is likely to meet Lomachenko at a catch weight, possibly in the vicinity of 140 to 144 pounds. Lomachenko had said that he can only go as high as 140, arguably because he will be already hard-pressed to remain agile at that weight.
Pacquiao, who defeated bigger foes in his quest for eight division titles, will find himself in a different situation when he faces Lomachenko. Pacquiao will be the 'bigger' fighter,' the one in a position to bully Lomachenko.
Pacquiao is no longer that fast with his fists, but consider this: While his speed has diminished because of the proverbial wear and tear, Pacquiao was so fast during his heyday that the dip aside, he remains faster compared to the regular boxer. Of course, Lomachenko is no ordinary fighter, but he is expected to be slower as his waistline expands.When the bell rings, the speed of both men will be basically in the same plateau.
Punching power will be an issue. Pacquiao has not scored a knockout since 2009, but note that he has been facing boxers bigger than him. Pacquiao will be facing a smaller guy in Lomachenko and it will be interesting to see how Lomachenko's chin will handle Pacquiao's left taking into account that he fell from one right hand from the bigger Linares.
Lomachenko is fully aware of the need to get accustomed to the extra weight. He plans to leave the super featherweight class for good and stay in the lightweight division. An August date with WBO counterpart Ray Beltran is reportedly in the works. Beltran is one-dimensional, but he can punch and Lomachenko definitely wants to get familiar with the power the big boys bring.
If Pacquiao carves out a convincing win over Matthysse and Lomachenko prevails over Beltran, a match between the two is expected by the end of the year.
Lomachenko will remain the favorite, but nobody will be betting the entire money on him as Pacquiao will be a live underdog.