IGNACIO 'Nacho' Beristain's association with boxing started at age 11, when he was invited by some professional boxers to train with them in Veracruz, Mexico. Growing up in a place where kids beat each other up for marbles, Beristain took up boxing as a means of self-defense. He briefly fought as a light flyweight before retiring early due to an eye injury.
Beristain never went far as a fighter, but he remained glued to the sport as a manager and trainer. He initially trained members of Mexico's Olympic boxing team before bringing his expertise to the pro ranks. In 1985, Beristain produced his first world boxing champion when Mexican Daniel Zaragoza defeated Freddie Jackson for the World Boxing Council (WBC) bantamweight (118 lbs.) title.
Beristain has since trained a host of Latino fighters, the most recognizable being the Marquez brothers Juan Manuel and Rafael. Beristain is known for putting premium on a boxer's technical skills and this explains why many of the champions he has produced (notably Juan Manuel Marquez, Giberto Roman and Ricardo Lopez) eschewed the typical gung-ho approach of Mexican boxers.
Now 77 years old and having been training boxers for the last 55 years, Beristain is embarking on what could be his final project – the return to world-class form of former middleweight champion Julio Cesar Chavez Jr.
Continue reading below ↓
Recommended Videos
Chavez Jr., the son of legendary Mexican champion Julio Cesar Chavez Sr., is booked to take on fellow Mexican superstar Saul 'Canelo' Alvarez on May 6 in Las Vegas, Nevada. The all-Mexican affair has been generating a lot of buzz and the arrival of Beristain in Chavez Jr.'s camp definitely merited attention.
This early, many see the rebuilding of Chavez Jr. as a very daunting task for Beristain. Chavez Jr. has the tools but is sorely lacking in motivation. He was previously trained by Freddie Roach and Roberto Garcia but both walked away because of the fighter's personal issues.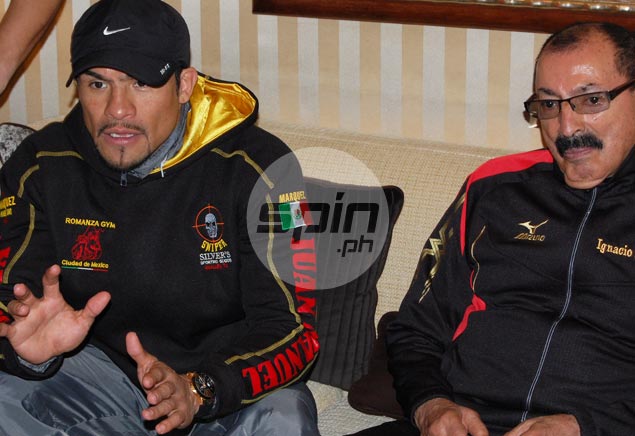 The issues on Chavez Jr. include drunk driving charges and drug abuse. In 2013, he was fined a whopping $900,000 by the Nevada State Athletic Commission for testing positive for marijuana after his decision loss to Sergio Martinez in September 2012. It was Chavez Jr.'s second drug-related offense in Nevada. In 2009, he was suspended and fined $100,000 for also taking a banned substance in a fight. And then there are the questionable training habits of Chavez Jr. that include training in a living room instead of a regular gym.
At his best, Chavez Jr. (50-2, 1 draw, 32 knockouts) is a debilitating body puncher who loves to trade toe-to-toe using short but effective hooks. When Roach took over, he briefly convinced Chavez Jr. to box, use his jab and throw combinations. Chavez Jr. impressed many in 2011, when he displayed above-par boxing skills in stopping Peter Manfredo Jr. Chavez Jr. briefly held the World Boxing Council (WBC) middleweight (160 lbs.) title in 2011-2012 before losing it to Martinez. Chavez Jr. was heavily criticized in the Martinez fight for being too tentative on offense. He only unloaded in the 12th and final round, when he hurt and floored Martinez. Martinez kept his composure and ran away with a lopsided decision win.
Chavez Jr. has since been a walking pile of mess. Weight issues hounded Chavez Jr. and the lackluster wins he compiled after the Martinez debacle showed utter lack of dedication. In 2013, Chavez Jr. barely escaped defeat at the hands of trialhorse Brian Vera. In April 2015, Chavez Jr. tipped the scales at an obese 171 ½ pounds and was stopped in nine rounds by Andrzej Fonfara.
Chavez Jr. has been relatively inactive before the deal with Alvarez was sealed. The mega-fight will be fought at the contracted weight of 164.5 pounds, making weight a pivotal issue again for Chavez Jr. Chavez Jr. has weighed 170 pounds in three of his last five fights. The last time he weighed in below 165 pounds was 2012, when he checked in at 159 pounds for his middleweight title fight against Martinez.
"It's a challenge (to train Chavez Jr.)," Beristain admitted to ESPN. "You have to work with him because he is in the best position to train. I asked him to put all the meat on the grill, the intention, the idea, that he has to win. It's going to be a great fight."
Beristain has also been the subject of criticisms, with some suggesting that he only agreed to train Chavez Jr. for the money. Beristain has dismissed the insinuations and vowed to whip Chavez Jr. into shape. If Beristain succeeds, Chavez Jr. will give Alvarez a serious run for his money. If Beristain falters, look for Alvarez to devour Chavez Jr. like, well, nachos.