LAS VEGAS - Keith Thurman is guaranteed to earn a $2.5 million purse when he squares off against Manny Pacquiao on Saturday (Sunday, Manila time) at the MGM Grand Garden Arena here in the heart of Sin City.
Including his share of the pay-per-view, which is sold at $74.99 a unit, the unbeaten American (29-0 with 22 KOs) could possibly earn up to $8 million, according to Forbes.
It's easily the biggest take-home pay in Thurman's career, which is why he can afford to wager three bets on himself at $10,000 a pop.
"We're going for the first-round knockout, second-round knockout, and then lucky seven-round knockout," he told Boxingscene.com.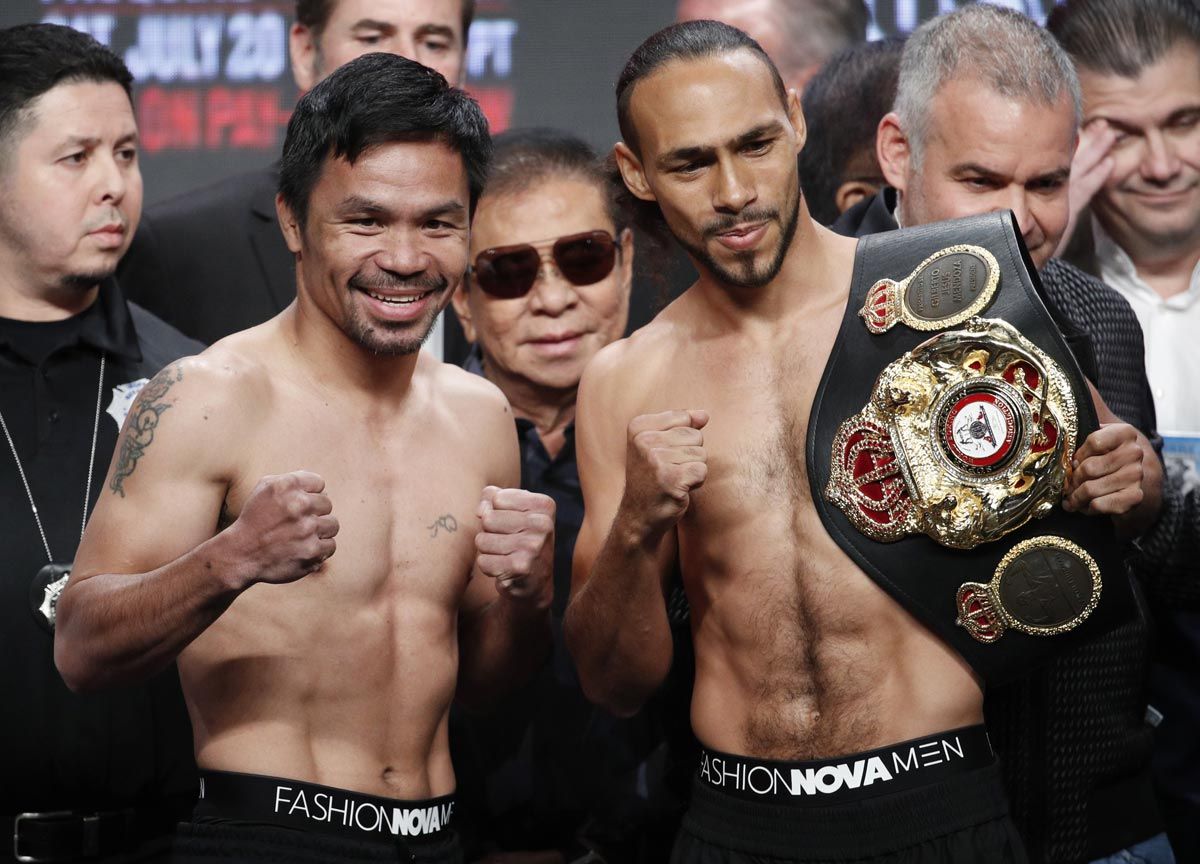 Continue reading below ↓
Recommended Videos
If Thurman can somehow wipe out Pacquiao in the first or second round, his $10,000 bet will yield a $500,000 profit. A seventh-round stoppage yields a slightly less dividend of $400,000.
But Thurman's hopes for a bonus jackpot could end up only as lost wages.
Following Friday's official weigh-in for the WBA welterweight unification bout where both protagonists tipped the scales at 146.5 pounds, the betting odds continue to favor Pacquiao at minus 155 while Thurman is a plus 135 underdog.
"I don't bet on myself," Pacquiao said.
He doesn't have to. He is guaranteed a $10 million purse plus a pay-per-view upside that could balloon his earnings to $20 million. Besides, gambling goes sharply against the grain of the senator's strong Christian faith.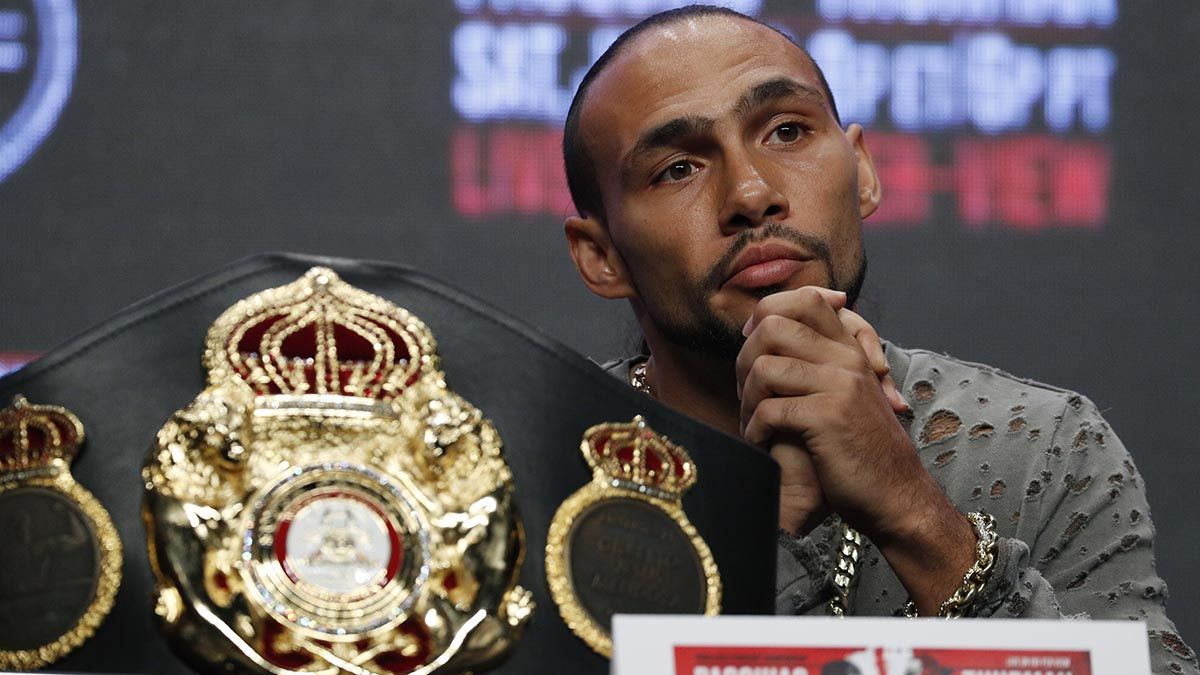 Although Pacquiao (61-7-2 with 39 KOs) made no promises of a short outing, he has an incentive to end matters early because when the bell rings on Saturday night, a private jet stands by at a McCarran international airport tarmac ready to take Manny straight to Manila in time for Monday's State of the Nation Address (SONA).
NOT 100 PERCENT. While navigating my way from the Media Center to my hotel room on the 28th floor of the MGM Grand, a fellow sportswriter, a friend I've known for years covering the NBA, caught my attention.
A sweating cold Stella Artois Belgian gripped tightly on his left hand, he sat by the bank of elevators at the Grand Tower, mindlessly feeding his precious dollars into the hungry mouth of a 7-7-7 slot machine.
"I bet a lot of money on Pacquiao and you should, too," he said.
Immediately, like being hit by a reckless Pacquiao left hook, my ears began ringing.
And then he told me the scoop. Which I wholeheartedly believed because my source isn't just some random dude. He has more connections than PLDT. And he proved that to me years ago when he mailed my son a pair of Steph Curry shoes that weren't available in the market yet.
"Thurman is not 100 percent," he whispered. "I heard he is taking cortisone shots, affecting his training," he added.
Wow.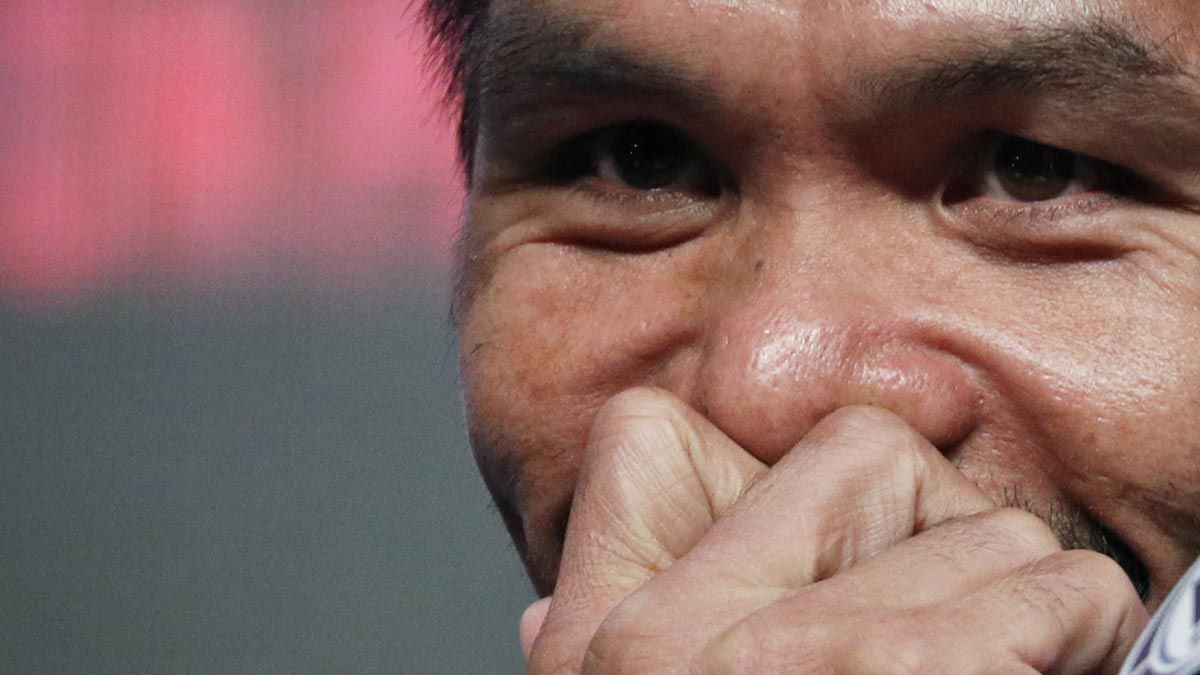 Somehow, the story makes sense. Thurman did have surgery on his right elbow in March 2017, a procedure that sidelined him for 22 months. Elbow injuries are not only painful, they're nagging, capable of ending careers.
Maybe this why Thurman vowed to open up during the fight and just "swing, swing, swing" for an early knockout.
Maybe that elbow is really acting up and could be a fatal liability in a long, drawn-out brawl.
Maybe I should tell Manny.