CHICAGO - It's early morning in Birmingham, England, but one of the treadmills at the 24-hour The Gym on Broad street is already humming with the beautiful sound of two happy feet pounding the conveyor belt.
Dug, dug, dug, dug, dug......
On top of the device is a straddling John Riel Casimero. He's been breaking sweat for nearly an hour now, his eyes lasered forward, his ears glued to a pair of headphones that make him sway.
He weaves. He ducks. He occasionally punches an unseen foe.
The muscles burn and his lungs descend into a fiery hell.
No pain. No gain.
To Johnriel's right, Sean Gibbons is crushing another helpless machine. A retired light heavyweight fighter, the towering American is now an internationally-renowned matchmaker and president of Manny Pacquiao Promotions.
A hissing fountain of positive vibes, Gibbons is also Casimero's No. 1 cheerleader, chief motivator, and doting father figure rolled into one.
"There's the champ," he points to Casimero before yelling "cuadro," a shout out to Johnriel's monicker as "Cuadro Alas" or Four Aces.
Since assuming the role as MPP boss, Sean has quickly resuscitated a comatose stable that once was teeming with disgruntled fighters. Right now. all boxers under the Pacquiao umbrella are taken care of at a world-class level.
Continue reading below ↓
Recommended Videos
It's not rocket science, it's old-fashioned common sense. A happy fighter is a hungry fighter who will go the extra mile and throw every punch he's got until his arms fall off his shoulders.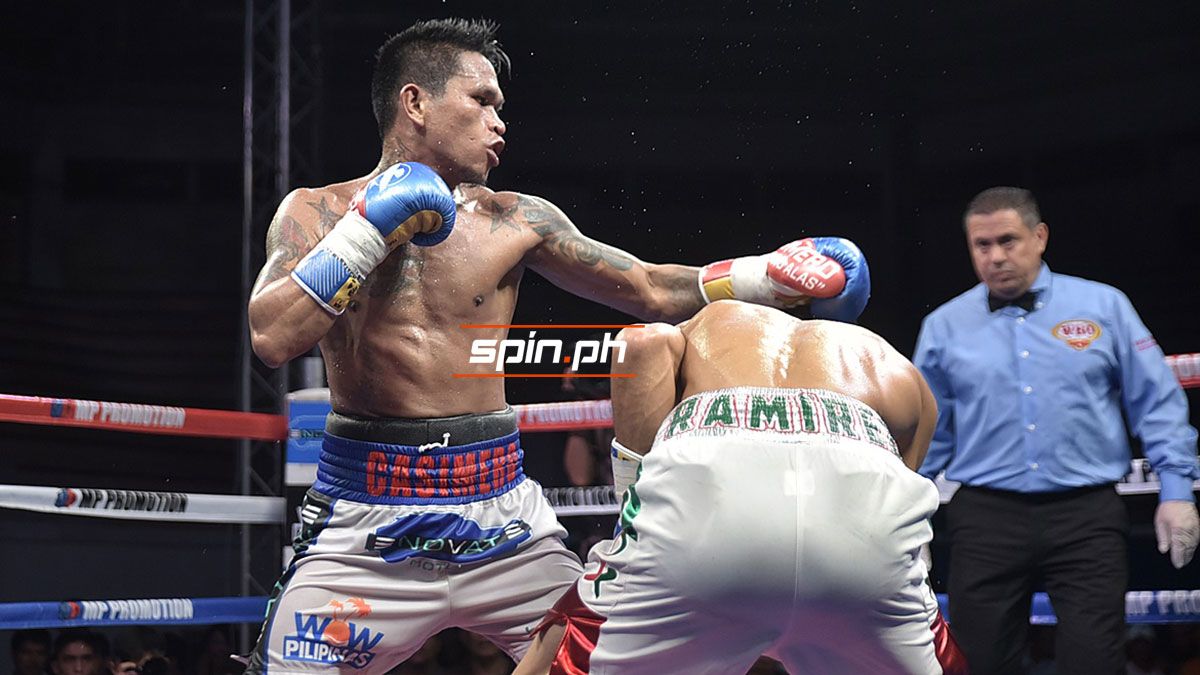 In the flight from Los Angeles to England, Johnriel sat on first class. Upon arrival at Birmingham, Sean made sure Team Casimero had everything they needed to cook within their confines at the Jury Inn.
Pot and pans, a portable stove, the whole shebang.
More importantly. Sean, a seasoned traveler, discovered Pabili Po, the only Filipino grocery store in the area.
Gibbons cannot give or take a punch for his fighters. But he will put them in the best position to succeed.
Sean is boxing's one-man Make-A-Wish Foundation. All you gotta do is knock on his door, work hard everyday, and he will make your dreams come true,
THE GRIT AND THE GRIND. Johnriel climbs off the treadmill and meanders over to the mirrored part of the sweat shop where yoga and Pilates practitioners lay down their mats to flex their bodies in hopes to stretch their life span.
Barely noticing the pony-tailed blonde on the corner to his left. Casimero surveys the space and then jumps slowly up and down. He flings a left jab and mimics a right. He catches his rhythm and suddenly explodes in a balletic flurry of combinations.
"It's fight week, baby. it's fight week. It's here, " Sean eggs on.
Casimero hurls another staccato of punches and Sean turns up the volume, "This is where it pays off. This week, baby. Can't be denied. Cannot be denied. Destiny can't be stopped!"
Later in the evening, Johnriel does the mitts with trainer Noynoy Neri while the rest of team, including coach Titing Ariosa, looks on.
John Riel Casimero will challenge for the WBO bantamweight title this Saturday night (Sunday morning in the Philippines) at the Arena Birmingham. And this is what a world-class level training camp looks like.
But the hard work is the easy part for the 30-year old from Ormoc City. The more difficult task is unseating a four-time defending champion who is five inches taller with an eight-inch reach advantage.
That man is Zolani Tete, a 31-year old southpaw with 181 rounds of ring experience. Beating Tote (28-3, 21 KOs) in his backyard is like bearding a lion in its den.
But if someone can do it, that will be Johnriel.
THE PATH. In a December 2009 interview piece for PhilBoxing.com. Rene Bonsubre Jr wrote that Johnriel used to fight in the streets as a 12-year kid back in his home province of Leyte, Sometimes, he'd slug three foes at a time.
It didn't take long before he eventually monetized his weaponized fists.
Bonsubre, a ring physician who also contributes articles to asianboxing.info and topclassboxing.co.uk, opined that Johnriel's chances to win hinge on his ability to turn this bout into a street fight.
Otherwise, Tete will simply pile up points on the scorecards by jabbing and running.
Edito "Ala" Villamor, the coach and trainer of the vaunted ALA Boxing stable, is himself one of the biggest, meanest little champions in his time.
Villamor believes that Casimero's granite chin allows him to take risks necessary to cut the ring against the blinding jab of a distance fighter. And there must be heavy emphasis on body shots, Villamor added.
After 12 years of being a pro, after 216 bruising rounds, the 5-foot-4 Casimero (28-4, 19 KOs) has finally arrived at the grandest stage.
One swing at greatness. One shot at immortality.
When this bantam war ends, a nation hopes to hear two of the sweetest words in boxing.
"And new!!!............"