LAS VEGAS - When used properly, words can be an effective tool for persuasion. Unlike Latin, a dead language, English is a vibrant form of expression that can cleanse ugly truths and soften some of life's hard blows.
A coffin, for instance, isn't just a box for the dead. It is a containing vessel for a deceased person's journey unto the afterlife.
Perhaps to blunt the stigma of a divorce, actress Gwyneth Paltrow described her 2014 split with husband Chris Martin as a "conscious uncoupling."
In this politically correct world we now live in, short people are referred to as "vertically challenged," the crazy ones aren't nuts but merely "eccentric," while a used merchandise sells better as "pre-owned."
Which brings me to the ongoing social media sparring between Floyd Mayweather and Manny Pacquiao. If boxing's two greatest fighters of all time are trying to sell the public a rematch to their underwhelming May 2015 scrum, they are not doing a convincing job.
Continue reading below ↓
Recommended Videos
Whoever is in charge of Floyd's and Manny's social media handles need to be reminded that sales is not just about the product. Sometimes, it's all in the pitch.
Pretty Boy supposedly started this latest spat with an Instagram post following Pacquiao's impressive win over Keith Thurman, saying, "The man's entire legacy and career has been built on its association with my name and it's about time you stop using my brand name for clout chasing and clickbait and let that man's name hold weight of its own."
The Filipino senator, apparently miffed at the false accusation, punched back, "You come to my fight and then use my name in a post but I'm the one trying to stay relevant. If you want to be relevant again...#MayPac2."
If that "dare" wasn't subtle enough, PacMan doubled down with this post: "Excuse me Floyd, your name has not been on any PBC contracts. But if you'd like to be on the next one, I'll have one drawn up and sent to you."
Cute but predictable.
If Manny's desire for a rematch is meant to avenge a hallow defeat or rectify a wrong, his messages only succeeded in making the pursuit seem desperate.
Am I missing something here?
Here's Mayweather's take on a Pacquiao rematch: "I was only at your fight supervising you, my employee, as any real BOSS would do. You made $10 million for 12 rounds when I just made $9 million under three minutes playing around in an exhibition with a pizza delivery guy. I beat you mentally, physically and financially. Remember, you fight because you have to, I fight when I want to."
The hashtag on this one should be "corny."
If Pretty Boy really isn't interested in a rematch, why keep talking?
Isn't silence the kryptonite for hype?
All of these back-and-forth jabs prove that both Floyd and Manny will likely fight again.
A collision between two gladiators in their 40s may not look appealing to the paying consumer base, but the names Mayweather-Pacquiao on the marquee will still definitely sell pay-per-view units.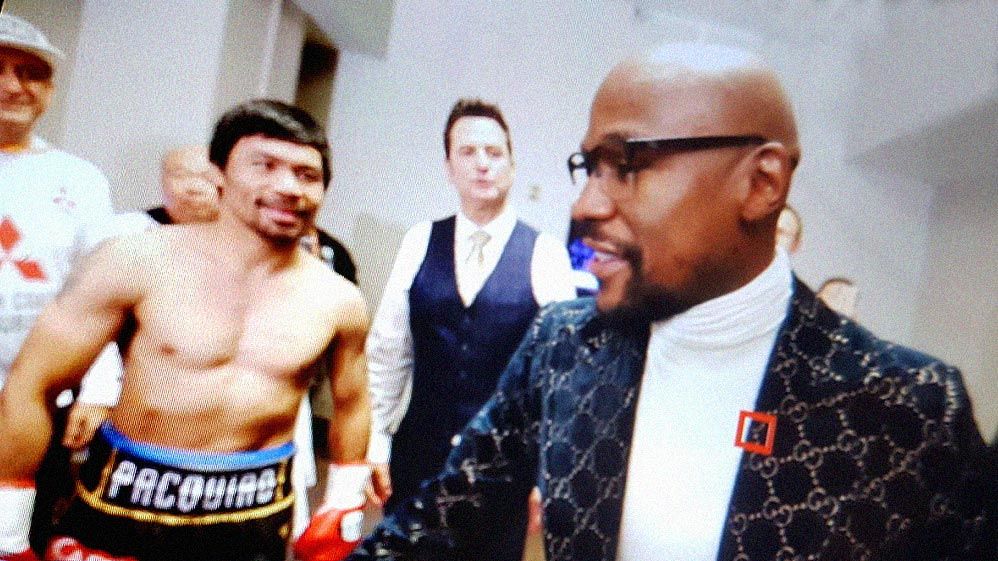 Even when they are no longer at their peak, Floyd and Manny remain the top draws in their sport. As bland as their initial encounter was, the mere promise of a do-over tickles the imagination in a way none of boxing's current stars ever could.
To those pulling the strings on trying to make MayPac2 happen, here's an unsolicited advice. Just get it done.
And please, spare us from any more of those "chance" encounters and "fake" outrage.