LAS VEGAS - Typical of any big fight, hordes of of media members from all over the world are attending the Floyd Mayweather versus Conor McGregor fight at the T-Mobile Arena.
When asked. an employee from Magna Media, the giant PR firm that sifted through the deluge of requests, won't say exactly how many credentials were issued but a quick visit at the Media Center provides an easy assumption of at least high hundreds, if not low thousands.
America's largest publications, such as USA Today, New York Times and the LA Times, are represented here.
Outside of the U.S., SPIN.ph received credentials as a member of the international media. Homer Sayson, Spin.ph's U.S. editor and columnist, was also credentialed through Fight News Asia where he sits as editor and pens a fight column.
A huge air-conditioned tent serves as a media center. Buses ferry reporters from there to the T-Mobile Arena.
ADVERTISEMENT - CONTINUE READING BELOW ↓
Viewed as the biggest fight event in the history of combat sports, the Mayweather-McGregor showdown is breaking all sorts of box office records. Tickets to the arena start at $1,500 each while the most expensive was paid for at $164,000 in the secondary market. Pay-per view is $89.99 for low definition and $99.99 for H.D.
Over $90 million have been bet on this fight, a record in Nevada history.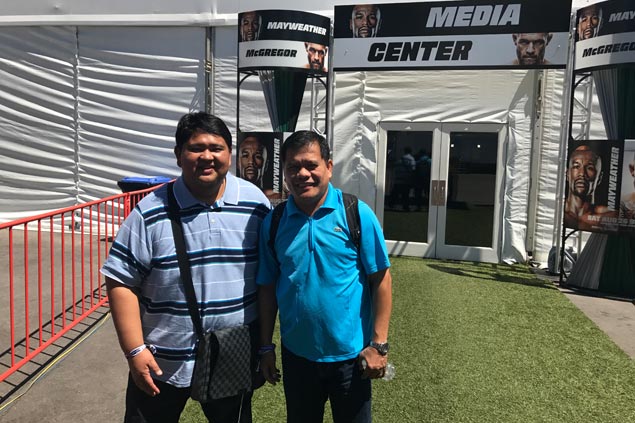 ADVERTISEMENT - CONTINUE READING BELOW ↓