NOT a few saw 'smoke billowing from the chimney' when Manny Pacquiao and his camp announced that they are joining forces with Oscar De La Hoya's Golden Boy Promotions to bring about a June 24 fight between the 'Pacman' and World Boxing Association (WBA) welterweight champ Lucas Matthysse in Malaysia.
Many sensed trouble because Bob Arum's Top Rank promotion was left out in the cold. Pacquiao was quick to pull the trigger, insisting that the July 2017 fight with Jeff Horn was his last under his five-fight, 2014 deal with Top Rank. Arum countered by maintaining that he still has an existing deal with Pacquiao, although he failed to expound on the subject.
Issues relating to fight contracts are no longer new for Pacquiao. In 2006, Pacquiao ignited a legal brawl between Golden Boy and Top Rank after he signed with both companies. Pacquiao upheld the contract he signed with Top Rank in 2006 which was good for four years.
Thereafter, Pacquiao ironed out another deal with Top Rank that was supposed to keep him with the company until December 2013. But sometime in 2012, the said contract was extended for another year, or until December 2014, with Pacquiao reportedly receiving a signing bonus worth $1 million.
Continue reading below ↓
Recommended Videos
In April 2014, shortly after he defeated Tim Bradley in their rematch, Pacquiao inked a fresh two-year deal with Top Rank, thus extending their partnership until December 2016. This contract is now the subject of heated debate between Pacquiao and Top Rank.
Atty. Brando Viernesto, who handles Pacquiao's business affairs and contracts, disclosed to this writer in an exclusive interview that the 2014 deal was signed by Pacquiao on April 19, 2014, just seven days after the Bradley rematch.
"This was a four-fight contract with one fight remaining from the 2006 deal, which makes the (2014 deal) five fights in all," said Viernesto. "From the date of the signing, Pacquiao fought Chris Algieri (November 2014), Floyd Mayweather Jr. (May 2015), Bradley (April 2016), Jessie Vargas (November 2016) and Jeff Horn (July 2017). That makes it five fights in all."
It must be pointed out that the 2014 contract called for five fights until December 2016. Pacquiao injured his shoulder in the May 2015 fight with Mayweather and was inactive for one year or until April 2016 when he met Bradley for the third time. Following Arum's contention, the contract was automatically extended for one more year (until December 2017) to give Pacquiao time to recover and fulfill the five-fight deal. Verily, when Pacquiao fought Horn in July 2017, he fulfilled his 2014 deal with Top Rank.
But here's the catch: Arum is insisting that he still has a deal with Pacquiao that runs until 2018. This may very well be the rematch with Horn which Pacquiao agreed to in their July 2017 meeting. The rematch clause with Horn gave birth to one more fight for Pacquiao under Top Rank, but it should not be interpreted as bringing about a whole new contract.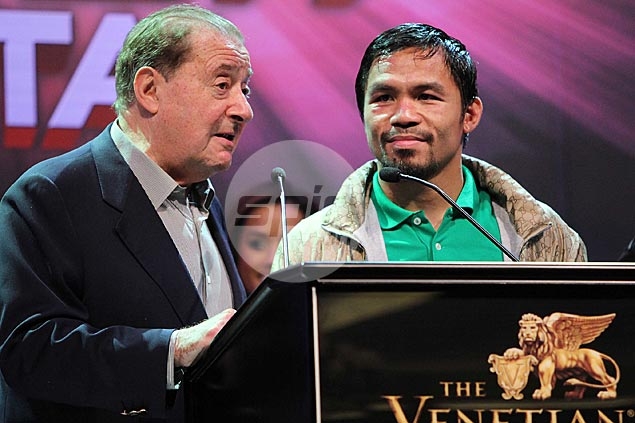 For all intents and purposes, the 2014 contract has been fulfilled and Pacquiao has been merely left with a dangling obligation, the rematch with Horn which is not immediately demandable since no timetable was fixed for the rematch. In fact, Horn has already fought another opponent (Gary Corcoran, December 2017) after beating Pacquiao and is now booked to fight Terence Crawford. Pacquiao can thus choose another opponent (in this case Matthysse) and Top Rank no longer has any say on the matter. At the very least, Top Rank's hold on Pacquiao is limited to the Horn rematch.
"That fight (rematch with Horn) is not (even) immediate," reiterated Viernesto as a parting shot. "In fact, Horn already fought once (December 2017, against Gary Corcoran)."