WHILE it remains to be seen if a deal can be finalized on time, what with promoter Bob Arum appearing lukewarm on the proposal to have the fight staged in the United Arab Emirates, the emergence of Briton Amir 'King' Khan has made the wait for Manny Pacquiao's next fight far more interesting.
Setting aside the fragmented information relating to the negotiations, here are five reasons why Khan, at the moment, is the best opponent for reigning World Boxing Organization (WBO) welterweight champion Pacquiao:
First: Khan is a far more recognizable name compared to the original choice, Australian Jeff Horn. Horn, though unbeaten, is not even a household name in his own household. Trying to sell the Pacquiao-Horn fight is like trying to sell homemade ice cream to the people in the North Pole. In stark contrast, Khan won an Olympic medal at age 17; has a 10-3 record against former, current or future world champions; and has held world titles in the junior welterweight division (140 lbs.). Overall, Khan has a record of 31-4 with 19 knockouts.
Second: Khan is the only marquee name available at the moment. When negotiations with Horn's camp started going nowhere, Pacquiao conducted a poll via his Twitter account and asked boxing fans on their choice for his next foe. Pacquiao limited the choices to Khan, Terence Crawford, Kell Brook and Horn. Khan, who topped the poll, is the only one available for a fistic date. International Boxing Federation (IBF) welterweight champ Kell Brook is already booked to defend his crown on May 17 against unbeaten Errol Spence Jr. WBC/WBO junior welterweight king Terence Crawford is also working on a title defense on May 17 in New Jersey. Crawford-Pacquiao is also a super fight that needs additional time to hype and it's difficult to arrange this kind of fight within Pacquiao's projected April timeline. Also, the fans have spoken: the fight they want to see now, given the circumstances, is Pacquiao-Khan.
ADVERTISEMENT - CONTINUE READING BELOW ↓
Third: Khan gives Pacquiao an opponent who can assure him of that mega payday. Pacquiao reportedly balked at the $5 million offer for the Horn fight, but truth be told, it is hard for the Pacman to get more dough considering that it is only his marketing power (which is no longer that commanding, mind you) which will try to pull in the fans. This is different in the case of Khan because the Briton also has his share of followers. It is even easier to sell Khan-Pacquiao in the UAE because Khan is a devout Muslim who traces his roots to Pakistan. But here's the bigger catch: Pacquiao can get the hefty payday he covets and Khan will not be able to haggle for parity considering he is coming off a huge knockout loss to Saul 'Canelo' Alvarez in his last fight.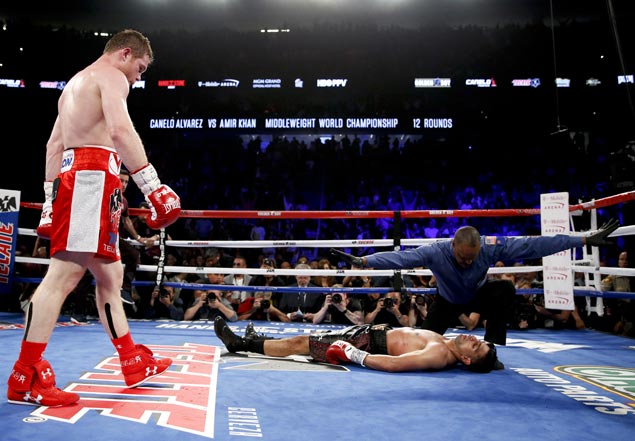 Fourth: Style-wise, Pacquiao-Khan makes for an exciting fight. Khan is a good boxer with tremendous handspeed. The only problem with Khan is his fragile chin which definitely is not built like the Big Ben. The Big Ben has survived the test of time; Khan's chin can only take in so much bombardment. When the brawl goes into the trenches, Khan often ends up humming "London Bridge is Falling Down." There are also questions if Khan can whip himself back into shape with the proposed fight some eight weeks away. In his last fight, Khan ballooned to 155 pounds for his middleweight title fight against Alvarez. For Pacquiao, Khan will have to go down to the welterweight limit of 147 lbs. This early, experts see Khan's suspect jaw bolstering Pacquiao's chances of ending his knockout drought. Win or lose though, Khan is always in a good fight and it will be no different against Pacquiao. Khan may be even more motivated considering that another huge debacle could mean the end of his career.
Fifth: There are a lot of storylines involving Pacquiao and Khan that will fill the headlines and whet the fans' appetite before fight time. They used to be sparring partners and you can say Khan raised a few eyebrows when he boasted in 2015 that he beat up Pacquiao in those gym wars. Freddie Roach, who used to train Khan, was more neutral, telling reporters that Khan won the early rounds before Pacquiao surged in the middle rounds.
Of course, sparring sessions do not make for real fights. When King Khan and the Pacman finally and officially square off, the world will find out just who is telling the truth.